When Lissa Bachner was a baby, crying endlessly for reasons no one could understand, happiness was always found on the back of a horse. Placing her there made her stop. It was the one way to calm her down.
Those rides came before she had memories or any idea about the challenging years ahead. Horses were already offering a lifeline.
"They were my salvation," Bachner said. "From Day 1 they were always my happy place."
Bachner never believed she would lose her vision, no matter how much evidence was presented to the contrary. It was a scary thought. An impossible thought. Something easy to dismiss for the sake of convenience.
Two rare immune disorders plagued Bachner from childhood. Juvenile rheumatoid arthritis inflamed her joints and uveitis attacked her eyes. Her vision was always impaired. By the time she reached her late 20s, it was mostly gone.
Bachner jokes about it today. It's the reality that has ridden alongside her.
"People ask me all the time, 'Don't you want your vision back?'" she said. "I think if I had my vision back now and I saw myself in the mirror I would die. In my mind I still look like I did when I lost my vision: 29 or 30. It's OK. I'm good."
Eventually her sight became so limited she could no longer ride. Bachner thought she had to walk away from her salvation.
Milo brought her back.
***
Bachner initially told her trainer to sell the horse. Keeping him around seemed pointless. Painful even. The idea to sell proved too traumatic so she backpedaled and leased the horse instead.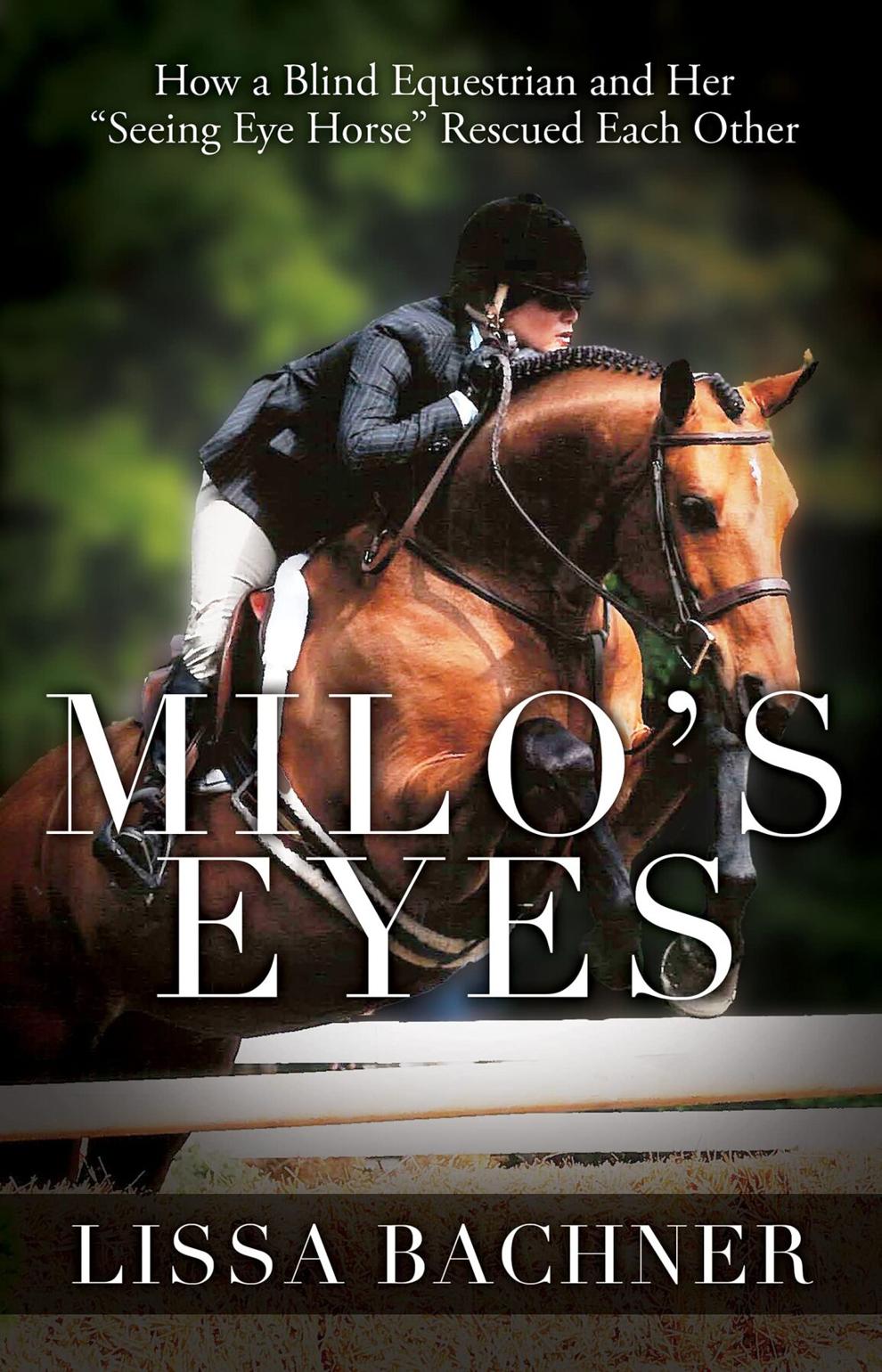 One day she took Milo for a walk. It wasn't an advisable decision. She didn't know the grounds and could have easily lost her balance and hurt herself.
A great discovery was made during that walk. Bachner realized that Milo wasn't going to let her falter. Somehow he knew his owner needed guidance.
"The minute I took a step forward I realized that Milo was picking his head up and he would rest his chin on my shoulder," Bachner said. "He was directing me. As I walked, he was pushing me. I knew there were holes out there. I never fell. I never tripped."
An exciting idea clicked in Bachner's mind. Maybe she wasn't finished with horses after all.
"It dawned on me that he was steering me," she said. "If he'll steer me when I walk, maybe I can ride him again."
Bachner entered shows even though she couldn't see the course. Milo and she walked it before each contest and he made sure she was safe.
"Milo was a little freakish," Bachner said. "If I were to steer into a standard, he would ignore whatever I was telling him and make sure I never ran into anything. It wasn't that he was going to hit it, it's that I was going to hit it with my left leg. Milo learned he had to take care of me."
Serendipity brought Bachner and Milo together. It wasn't an instant connection. She purchased the gelding from Germany when he was 5 years old without ever meeting him. Their first interactions were memorable but not very friendly.
Milo was a handful. It took some time for the bond to form.
"He smelled bad, the poor thing, and he didn't trust people," Bachner said. "The first thing he tried to do was bite me. I've always known this about horses. It's not their fault. It's not in their nature to be evil or cruel. If they are, it's something we've done to them. I immediately wanted to undo whatever happened to him."
Abuse is a trigger for Bachner. She wants to intervene and help. That nurturing instinct is what brought her to Milo.
Bachner still cries as she recounts the story of how Milo helped her ride again even after two decades have passed.
"This horse was my life," she said. "He needed me. At that point making a fool of myself or tripping and falling, all of those things didn't matter anymore. Eventually, I was out there every day."
***
The connection with Milo was so important that Bachner felt compelled to write down all of her thoughts. The words flowed and the pages became a book.
"Milo's Eyes: How A Blind Equestrian and a 'Seeing Eye Horse' Rescued Each Other" will be released by Behler Publications on June 7.
"It was really more cathartic than anything else," Bachner said. "Then after Milo died I needed to have him back in my life and the only way was to continue writing about him."
Bachner started by dictating the words to a close friend. She then met Margo Melnicove who helped turn the thoughts into a cohesive story.
Writing a book without the ability to see was a whole new challenge. Bachner used a program called Dragon that helped turn her speech into text.
The process included many stops and starts. The idea was not always well-received.
"I would send it out to agents," Bachner said. "The rejections were unbelievable. Just piled up and piled up. I would walk away from it and then I would come back to it because I missed my horse."
To Bachner, this is a story of accepting something that's less than perfect. She's blind and her horse supposedly had no heart. They found a magical union.
"When I was a kid I wanted to be the best rider and I wanted to have the best horse," Bachner said. "That's what I kept asking the universe for. I didn't get there until I lost my vision. It was a gift in disguise. I don't love what I went through but I wouldn't change it."
Bachner is still riding. Her new horse is named Mango because of the color of his coat after he was clipped a little too short. His show name is Magnetic.
From her early days on the backs of ponies until her present days riding in competitions, one horse changed Bachner's life.
There could only be one Milo.