An oasis always waited for Kathy Stumpf at the end of the two-hour drive her family took most weekends. It was a chance to get away.
Everyone hopped in the car and ventured from Middle River, Maryland, to Hancock, which was near the Pennsylvania border. Those trips left an indelible mark. They created lifetime memories.
"I couldn't wait to get here to see the horses and the ponies," Stumpf said. "There was nothing I enjoyed more than taking a ride on them."
Valley Meadow Farms remains a cherished place for Stumpf. It's 427 acres of bliss. Cattle roam the grounds and hay grows in the fields. The land has belonged to her family for 65 years.
With a farmhouse for rent and a view of forests, hayfields, ridgelines and valleys, the property has become for others what it always was to Stumpf. A getaway.
"People can get unplugged from the rest of the world," she said. "They can come to some peaceful surroundings. It's very secluded. It's just tranquility. It's wonderful. If we weren't renting that place, I'd be staying there."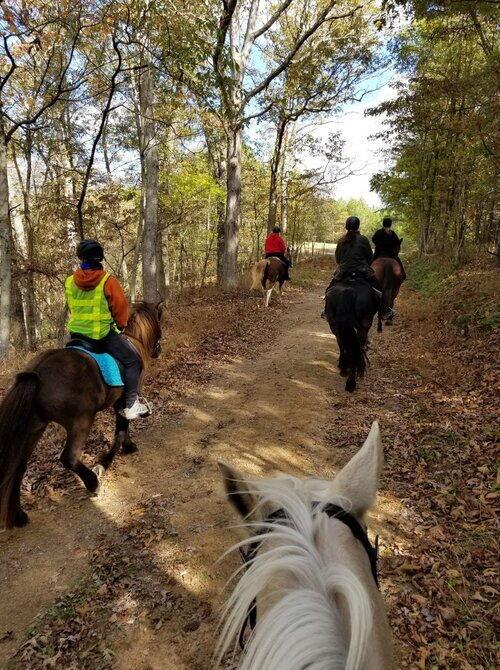 Horses always tugged at Stumpf's heart. Once she became an adult she had some of her own. She'd trailer them to other areas and ride. Nothing compared to bringing them back to the family farm.
Those joyful days on horseback planted an idea in Stumpf's head. It started to percolate about 12 years ago and came to fruition in a different form in 2019. That's when Valley Meadow Farms started its bed and barn.
Guests can stay at the four-bedroom farmhouse and bring their equine best friends along with them. The horses can relax in the nearby barn with two oversized stalls and an attached paddock.
Stumpf initially considered starting a horse hotel. That's when she recognized her property's enormous potential. Gil Merrick, the managing director of the U.S. Olympic Dressage Sport Programs, stopped by and was impressed with the grounds.
"Do you realize what you have here?" Stumpf recalled Merrick saying. "What a gem. What a treasure. I really think you could do well with this. People would appreciate being able to access such a place."
About nine years later, after some upgrades to the farmhouse and renovations to the barn, the idea became a reality.
There are now four ways visitors can enjoy Valley Meadow Farms. They can stay in the farmhouse on their own. They can stay while bringing their horses along with them. They can enjoy a day visit and ride on the nearly 40 miles of trails counting reverse direction. They can bring a self-contained RV and stay with their horses.
The trails are an important part of the attraction. It's a scenic place to ride.
"They're wide; they're very smooth," Stumpf said. "They have different terrain. It can be through the valley, over the hills, through the woods, through the fields. They're all well-marked."
Stumpf estimated there are more than 150 signs to help riders find their way. They're made from old fence parts and they are hand-painted.
All guests are asked to make a reservation before they visit Valley Meadow Farms. And maybe, if they're inclined, bring a saddle.
"Things continue to evolve," Stumpf said. "We're trying to be really careful that we don't change the image of what the farm has always been about. This wouldn't even be happening if it weren't my dad's dream. We're just trying to keep it going and maintain the specialness of the farm."
Stumpf is a co-owner and the farm's manager. She's the "feet on the ground" as her sister, Karla, likes to say. This place will always be special for the family. It started with Kathy's parents, Carl and Pat.
Back when Stumpf was a child and making those two-hour trips, her dad would always invite people to pay a visit. "Come out to the farm," he said. He wanted others to experience the feeling.
Since the bed and barn was launched, it has drawn rave reviews.
"Everybody has gone away from here saying to us, 'We're going to come back,'" Stumpf said. "And they have. We've developed a farm family."
Come out to the farm. Those words ring more true than ever. For the Stumpfs, there's no place like it.