HARRISBURG, Pa. — Hannah Balthaser, 14, had a fabulous day on the tanbark with Groovy, her 4-year-old Brown Swiss, as they competed with other elite cows and their handlers for the title of supreme champion cow at the Pennsylvania Farm Show.
If Balthaser didn't win the grand title on Friday, it didn't matter. She was just happy to be there with her four-legged friend with the far-out name.
But win they did, leaving the show ring as supreme champs.
"It's really exciting because I have been there before, but to win it — it's really exciting," Balthaser said.
The judge cited Groovy's great stage of lactation and excellent ribcage depth and frame as supreme caliber.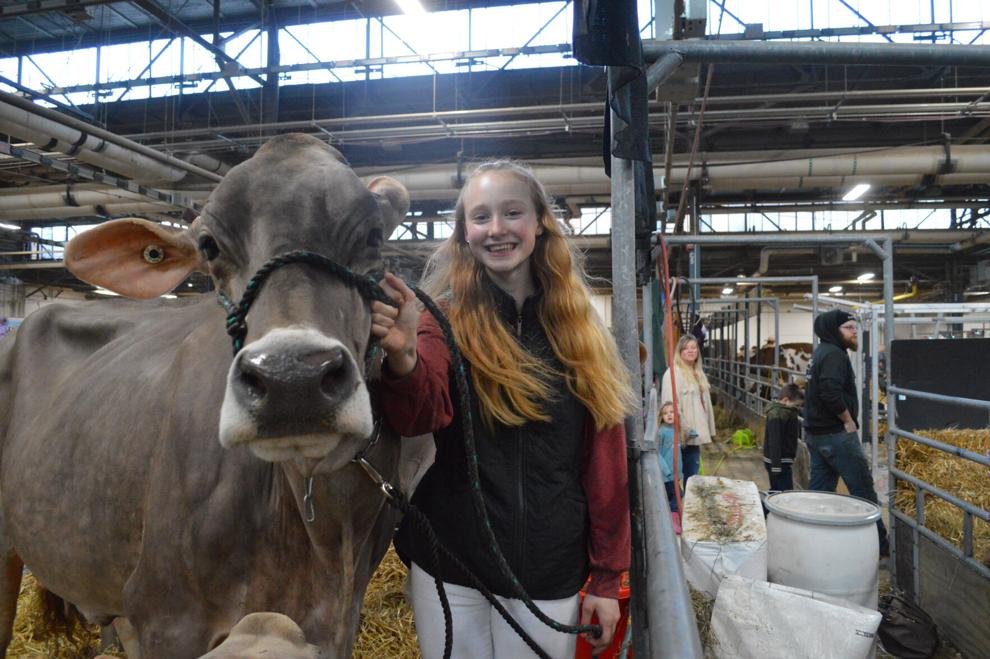 Balthaser said the big pearl pink-eared cow is her constant companion in and out of the ring.
"She's always right there for me, my buddy with everything," she said. "She is also just easy to work with and cooperates with everything."
Balthaser's family farm, Northkill Creek, in Bernville, Berks County, specializes in Brown Swiss cattle. She plans to take Groovy home and let her "be a cow until she calves back in the fall," she said.
Below are the breed grand champions from the Farm Show open dairy competition.
Ayrshire
Sunny-Acres Bking Koincidence
Exhibited and owned by Taylor Heeter of Huntington County.
Brown Swiss
Northkill Creek Groovy
Exhibited and owned by Hannah Balthaser of Berks County.
Guernsey
Snider G Dirty Betcha
Exhibited by Snider Homes of Bedford County. 
Owned by Allie Snider
Holstein
Cook-Crest Crush Piper-ET
Exhibited and owned by Matthew Stanton of Bedford County. 
Jersey
Epic Tequila-Taylor-ET 
Exhibited and owned by Wyatt Pieper of York County.
Milking Shorthorn
Briar-Rose R Alibi 
Exhibited and owned by Kyle Kucas of Montgomery County.
Red and White Holstein
Terra-Rose Penelope-Red-ET
Exhibited and owned by Lynette Gelsinger Berks County.