It's nearing 11 a.m. when Laura Landis slides a fried-egg sandwich across the table to her husband, Christian, who's just getting his first break on a sweltering September day that will be consumed by chopping and siloing 60 acres of feed corn.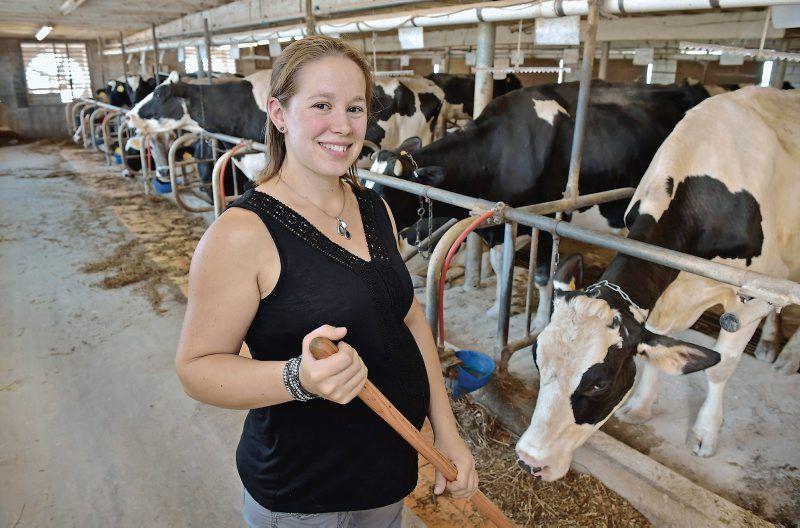 In many ways, the scene is a typical one in Lancaster County. The farmhouse dates to 1833, its kitchen decorated with a stack of plump, red tomatoes and barn cats lounging just outside the screen door.
Beyond the New Holland hay elevator parked in the gravel drive, 44 Jersey, Holstein and Swiss Brown cows are inside a renovated barn, dining on a blend of corn, alfalfa and supplements that improve health and milk production. Once a month, they get a visit from a vet, a nutritionist and a herd evaluator who charts everything from peak lactation periods to infection control on color-coded graphs.
A few steps beyond, on ground that started its journey to USDA organic certification three years ago, construction crews are framing out two 63-by-500-foot chicken houses. Combined, they'll soon be home to 60,000 roasters destined for Perdue's Cole-man Natural Line.
It's the family's second major investment in the farm in the six years they've owned it, a sign of success but also a symbol of commitment to a demanding and sometimes-draining industry.
The Landises are part of a new crop of farm owners and managers in Lancaster County, often college-educated, committed to the well-being of animals and Earth over higher profit margins and eager to use modern technology — even social media — to build their businesses.
"It's a different industry than it used to be, but still a very rewarding one," says Maria Gallo, president of Delaware Valley University. "You have to be a sophisticated business person who can manage the agronomics piece of it, the science part of it and manage that with the agribusiness side."
Startup costs
John Wodehouse is an agriculture business educator with Penn State Extension. He encourages would-be farmers to "explore with intent and certainty."
"I would ask myself, 'Why farming?'" he says. "It's a risk-intense and seasonal industry."
He says setting clear and specific goals for the first lean years is a priority that can lead to a quick return on investment, followed by longer-term goals.
Finding capital has to be part of the process. Even though he took over land that had been in his family for three generations, Christian Landis needed a substantial loan. And knowing the risks, his father didn't want to co-sign.
In 2010, Landis took out a $125,000 low-interest loan from the USDA's Farm Service Agency. Most of that went to buying his first cows, replacing 1960s-era milking equipment and making improvements left unaddressed by a previous tenant.
"I spent every penny I had saved," he says. "When the cows came off the truck, I had $52 to my name."
Federal partners remain an important resource for new farmers in Lancaster County, especially well-educated ones who have passion and a business plan but a short track record. Despite more than 20 years as owner of a construction business and a one-third down payment, Kevin Zurin was turned down by his bank when he applied for a loan to buy his first 17 alpacas. He said bank officials understood the economics of sheep, pigs and cows, but couldn't envision how he'd make his money back.
Zurin and his wife, Sue, found a more cooperative bank. Fourteen years later, they have a thriving breeding business, a tourism operation and a store to sell clothing made by an alpaca co-op.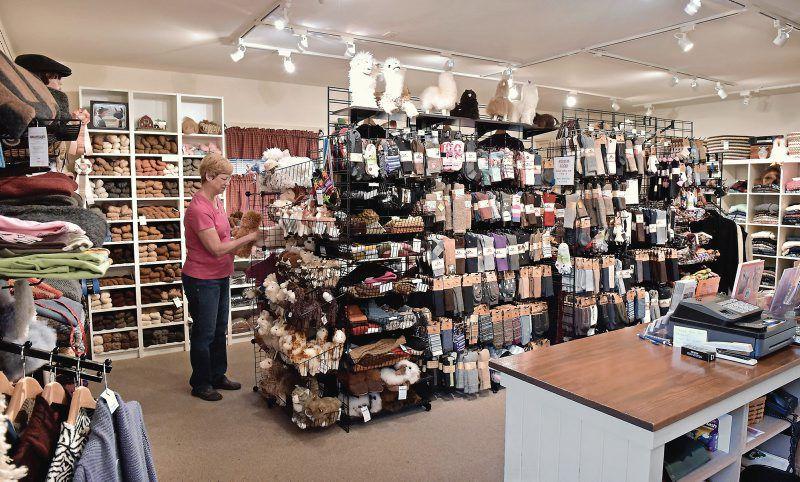 "When it comes to farming, even banks are a little hesitant to finance new ventures," says Doug Kilgore, county executive director for Farm Service Agency. The organization offers direct federal loans to farmers and acts as a co-signer on private bank loans to higher-risk agricultural customers.
Last year, the agency made $3 million to $4 million in new loans in Lancaster County, some to cover operating costs of new farmers with just a year of farm management experience.
Farm loan manager Tiffany Lutz says most first-generation farmers will qualify for an operating loan before they can get a farm ownership loan. A farm ownership loan pays for land and improvements; the operating loan covers the cost of livestock, equipment and other daily essentials.
Those who want to buy land, Lutz says, need to show three years of farm management experience. Special exceptions apply for those with related college degrees or military service, but some farm management is still expected.
Every applicant should arrive with a detailed business plan showing production data and cash flow, even family expenses. Contracts like the ones the Landises got with Perdue also bode well because there's less risk of market volatility.
"This county is really the garden spot," Kilgore says. "You have great soils; for the most part, we don't have drought very often; and compared to a lot of commodities, we usually yield pretty well."
Building a network
Casey Spacht is manager of the Lancaster Farm Fresh Cooperative. In 2009, he partnered with Elisabeth Weaver at the Lancaster Farmacy, specializing in edible and medicinal herbs; micro crops such as garlic, watermelon, asparagus; and fresh-cut flowers.
For years, they took no pay for their labor — all of it done by hand on this fully organic, biodynamic, non-mechanized farm. Spacht says the Farmacy success-fully rounded the learning curve and continues to grow because he and Weaver have a passion (and outside income from Spacht's job) to reinvest and help support their family and community.
That philosophy might sound New Age, but it reflects their willingness to partner with and learn from the Old Order.
Much of the Farmacy's profits come through Lancaster Farm Fresh Cooperative. It has grown by about 25 percent a year since 2006, when there were just six farmers supplying produce direct to consumer and wholesale to grocery stores or restaurants.
This year, there are 116 "member farmers," almost all of them Amish or Mennonite, and 100 percent of them organic and free-range. Most depend on this partner-ship and the co-op's infrastructure — refrigerated delivery trucks, marketing and bulk packing — to make ends meet. Gallo notes that sharing physical resources can help limit costs.
In today's farming world, physical and social networks can be equally valuable. A course, a co-op or network of fellow farmers might lead to a buyer for surplus or a peer who knows how to get rid of insects.
"Marketing is also an important factor," Gallo adds. "Social media is the new way of doing. It provides an educational piece, to help the public understand the constraints and challenges of farming, and show them that farmers are excel-lent stewards of the land."
With an extensive website, the co-op helps its farmers talk directly to consumers, a job farmers didn't think of much in the past. Laura Landis has blogged about balancing farm and family on Dairy Spot and posts regular updates to @WorthTheWaitFarm on Facebook.
Weaver updates Instagram with images of herbs in bloom or classes being held at the Farmacy to promote a connection to her farm. She also plans to hire a blogger to post more often on Facebook.