NEW HOLLAND, Pa. — Is it tradition or superstition? Eating pork and sauerkraut is a New Year's staple in many Pennsylvania homes, dating back to the arrival of the European immigrants here in the 1600s.
Many of the first arrivals were Germans with Plain Sect heritage. They moved west quickly and settled in the area around what is now Lancaster County. These settlers were accompanied on their voyage with barrels of sauerkraut, or "sour cabbage" in German. It was a staple of their diet and, unbeknownst to them at the time, helped keep them healthy.
Sauerkraut made from salt and cabbage is a fermented food, and contains live yeast and bacteria (what we call probiotics today). It tastes good and it also helps digestion and assures a healthy gut.
This healthy digestive food should not be confused with the canned, cooked sauerkraut used for a New York-style hot dog topping. If sauerkraut includes vinegar as an ingredient or is cooked, it is not the same as the fermented, probiotic type of sauerkraut that is made of just salt and cabbage, and it does not have digestive benefits.
Natural sauerkraut is made from fresh cabbage. When processed and aged with salt, the resulting sauerkraut is the most well-known vegetable in a class of processed food made from fermenting. Other examples of fermented foods available today include yogurt, carrots, pickles, turnips, kimchi, wine and beer. Like drying or smoking meats, fermenting was an early method of preserving foods long before ice boxes became commonplace in the mid-19th century.
Eating pork and sauerkraut on the New Year's first day is a superstitious tradition tied to bringing good fortune. In William Woys Weaver's book, Sauerkraut Yankee, the pig uses its snout to root forward toward the future unlike chickens who scratch the earth backward. The pork and sauerkraut meal was believed to bring you, going forward, good luck and fortune in the new year.
It's possible the tradition might have been helped by the fact that pork also was an important source of protein in early America as wild pigs were plentiful and had first been brought to the New World by explorers of the 1500s.
Today, naturally fermented sauerkraut is prized by the Pennsylvania Germans, who make it for their family's table year-round. But if you want to make it part of your 2022 New Year's tradition, it's too late to start now, so begin planning for next fall. However, you probably can still find fresh sauerkraut at a farm stand or farm grocery store made from a family recipe.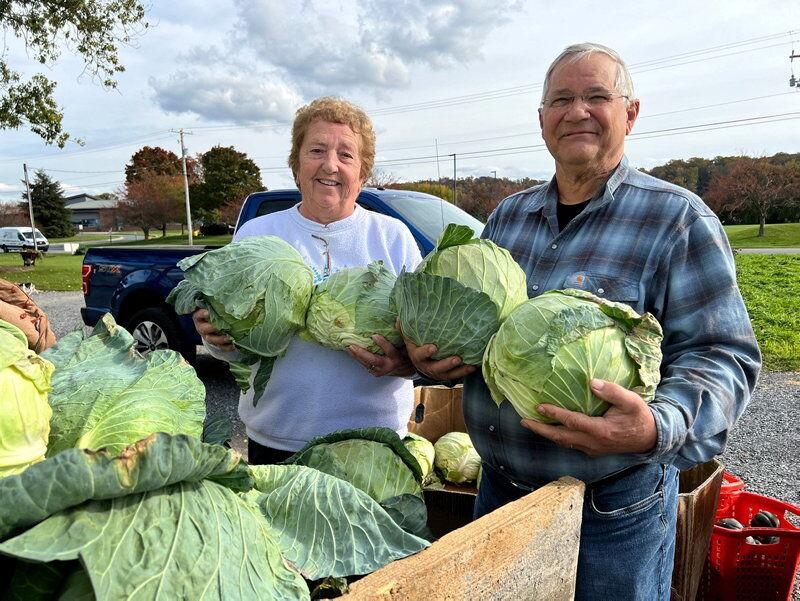 Local Store Ready for Sauerkraut Season
At one family-owned grocery store — Saylor's & Co. — in Hellertown, Pennsylvania, homemade sauerkraut from Don and Elaine Mease is a huge seller for New Year's. Earlier this year, the couple purchased 40 giant cabbages (some 250 pounds total) at the Nolt farm in New Holland, Pennsylvania, late in October. The Meases are former owners of the grocery store, and have made fresh sauerkraut for sale there for several decades.
About 100 quarts of sauerkraut fly off their shelves during the last week of December. Don and Elaine process the cabbage the first week in November and ferment it for six weeks before repacking it into quarts that go on sale just before Christmas.
Elaine (Saylor) Mease's dad — the late Sam Saylor — raised cattle and was a butcher on his Valley Brook Farm from the 1930s until he retired.
"My dad was known for his pork products with a stand at the Allentown Farmers Market for years," Elaine said. "Don and I took over the business in 1980 until we retired in 2003.
Today, the Meases' son Tim and his wife, Maria, own the business. They added the grocery store in Hellertown in 2007.
Like many Pennsylvanians with a German heritage, the Saylors and the Meases traditionally ate sauerkraut that was put up in crocks during the year.
"In the early 1990s, we decided to make an extra crock of sauerkraut and put it in jars to see if our customers were interested in purchasing some with their pork for New Year's Day," Elaine said.
It was an immediate hit, she said, and they have continued the holiday tradition ever since.
Elaine and her husband drive 140 miles round trip with a pickup truck to purchase the cabbage from the Nolt farm each fall.
According to the Ag Marketing Resource Center, about 12% of U.S. cabbage production in 2020 was turned into sauerkraut, 45% used for coleslaw and fresh head cabbage used 35%. The remaining is made into other fresh-cut products.
Elaine said that making sauerkraut isn't difficult and takes just two ingredients: shredded cabbage and salt. The couple uses the family's recipe for the salt-cabbage mix.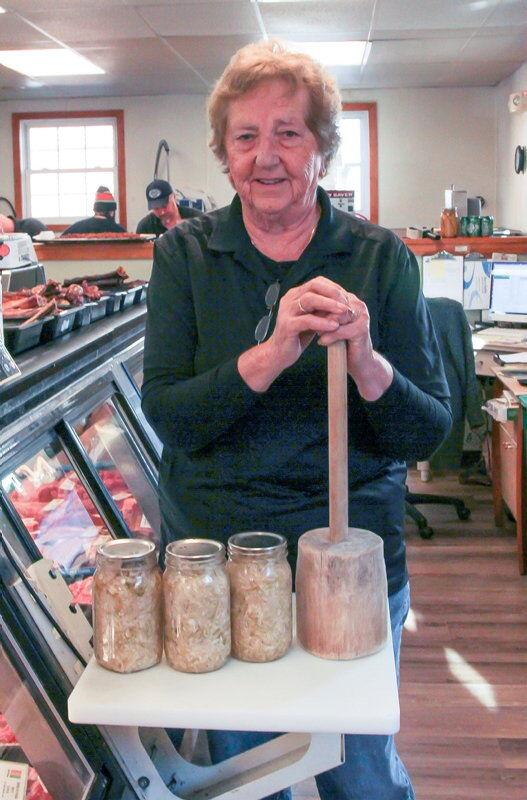 Elaine and Don Mease shred the 40 cabbages mechanically the day after purchase.
"We make so much kraut now," Elaine said, "that our two original crocks are way too small to use, so we line 50-gallon, food-grade drums with plastic bags and layer them with the shredded cabbage and salt."
She said they use a vintage wooden hammer to pack the layers tight until the drum is full.
"We then close the plastic bags and place a lid on the bagged cabbage and hold it down with a 5- gallon container of water," she said. She explains that the entire drum is then wrapped in plastic to keep the fermentation smell, which can be pretty powerful, from seeping out.
"The drums sit untouched for six weeks," Elaine stressed, "until we are ready to package the sauerkraut in deli containers for retail sale."
The containers are sold both from the Valley Brook Farm butcher shop and at their Hellertown grocery store.
"We don't put the kraut out until just before Christmas," she said, "and we have regular customers who are there that first day to purchase usually one to five quarts, depending on the size of their family."
The inventory is just about gone, priced at $5.99 a quart, by New Year's Eve, Elaine said. "I have to remember to put the sauerkraut away for my family's New Year's Day celebration first or it would be sold too."