A Curling Iron for Mustaches: My late grandfather, a distinguished attorney in the early 20th century, was known for his elegant appearance. This included a curled mustache and short beard.
The tools for their use were this sterling silver curling iron. It is very elaborate, with a floral pattern. I requested it be left to me when his estate was sold, since I curl my moustache.
Can you tell me anything about its history and the value of my curling iron?
D.J., Charlotte, North Carolina
Answer: Historically, from the 18th to early 20th century, dressing table sets were a status symbol for men and women.
Sometimes 30 pieces were contained in an elegant wooden box for men. By the 19th century, Tiffany and other American silversmiths were creating a variety of vanity objects. Wealthy traveling men in the early 20th century had dressing sets, usually of silver-mounted mahogany.
Your curling iron could sell to a collector for $100 or more.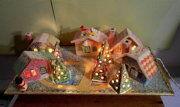 An Antique Christmas Village: As a child, I was fascinated at Christmas with my grandma's display of small villages surrounding the Christmas tree. I recently inherited them. I plan to hand them down in my family and would like to know their history and value.
The little houses have holes in the backs to insert lights. They still work when plugged in. They are marked "Japan." What can you tell me about them?
K.F., Tampa, Florida
Answer: Christmas villages have a long history. However, villages like yours were made in Moravia (an area of the Czech Republic) in the 19th century as a home craft. The buildings were made of paper or cardboard. Many came to the U.S. with immigrants and were referred to as "Putz."
It was F.W. Woolworth, father of the five and ten, who discovered the paper villages on a trip to Europe and sold them in his stores. They were popular as Christmas toys. He worked with the Japanese to make cardboard villages.
They lost popularity after World War II because Americans didn't want to buy things by Japanese or Germans. In the 1970s and 1980s, there was renewed interest, and the villages were made of ceramic.
Your early Japanese village could sell in a retail setting for $130 or more.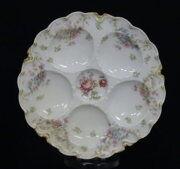 Porcelain Oyster Plates: The holidays were just here and my family always celebrates using family heirloom dinner ware. We use a set of six antique, porcelain oyster plates for raw, shelled oysters.
We are curious about their history and value. They are marked on the bottom "Haviland Limoges Schleiger 72" pattern. They are in near-mint condition.
D.M.C., Naperville, Illinois
Answer: Historically, plates made especially to serve shelled, raw oysters were first used in the Victorian era (1810-1870s). When oysters on the half shell first became a delicacy, plates for them were handpainted with floral motifs and made around the world.
There were two styles: a "turkey" with five wells, in a turkey fan shape. There was also a geometric shape with six wells and a hole for sauce.
After World War I, the Victorian lifestyle ended and serving oysters as a delicacy ceased.
Your set of six could sell in a retail setting for $600 or more.