HARRISBURG, Pa. — As auctioneer Harry Bachman started approaching $8,000, then $9,000 and finally yelling "sold" at $10,000, onlookers in the Pennsylvania Farm Show's small arena erupted in cheers.
The reserve champion market lamb, shown Jan. 10 by 9-year-old Paisley Mumford of Armstrong County may have broken a record for the highest sale price of a second place lamb at the sale of champions. Officials were unable to immediately confirm the record but were confident in the claim. Regardless, it was a remarkable amount.
The reserve champion banner and the banner bid made for an exciting first Farm Show for Paisley.
And it was a busy one, as she also showed goats, pigs and cows. But sheep are her favorite, and not just because it led to her banner.
She likes that sheep have halters to help her keep control, especially since her livestock all weigh more than she does.
But sheep are also "just really fun," she said.
Though this was her first time showing in Harrisburg, she said she felt confident with her lamb, Scuba Steve, in the show ring.
When she went to the sale ring, she said she didn't have any expectations but kept hearing the the bid go higher and higher.
"I was really shocked," Paisley said.
Her lamb sold for $10,000, which the announcer said might have been the broken a Farm Show record for reserve champion lambs.
Paisley wasn't the only first time winner in the sale ring.
Morgan Kimmel, a 14-year-old from Armstrong County, took home grand champion market swine, earning her first banner at the Farm Show.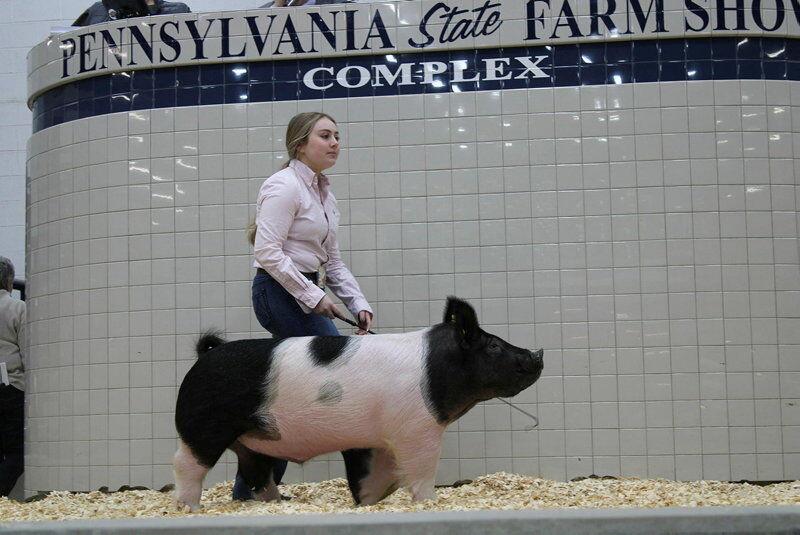 Morgan focuses all of her attention on pigs, and has been showing for six years.
Her crossbred that took grand champion has placed well at other shows, and Morgan said she was confident that he could also place well at the Farm Show.
Morgan sold her pig for $11,000, which was more than she expected to get for it, saying the sale was "pretty impressive."
The sale of champions is an exciting experience for first-time champs, but even for seasoned winners, it's still a big deal.
Fourteen-year-old Madaline Tewell of Bedford County earned the grand champion market lamb banner for a second year in a row.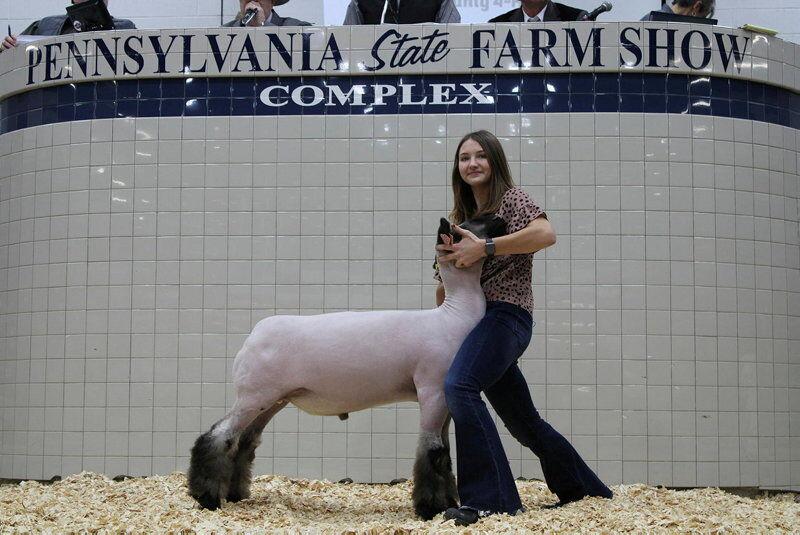 That impressive accomplishment couldn't have been achieved on her own, she said.
"I just have a big support group," Madaline said. "It takes a lot of hard work."
Though she knew her lamb was good quality, she was a little anxious for the show because it was his first time in a show ring.
"It was a little nerve-wracking," she said. 
But once she got him into the ring, she said he calmed down and did really well.
Madaline's grand champion lamb sold for $10,000.
Trent Stadtmiller, a 15-year-old from Armstrong County, is also familiar with Farm Show banners. This year marks his second in a row with a reserve champion market swine.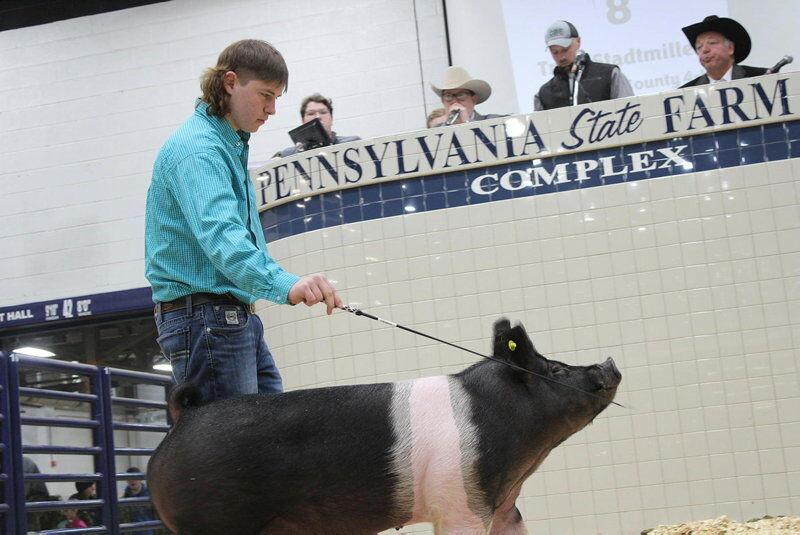 Trent said having winning swine takes a lot of effort.
"You just got to work with them," Trent said. "And just hope."
Trent knew his pig had potential. It recently won reserve champion at the Pennsylvania Youth Livestock Expo held in December.
"I felt like he was going to do all right," Trent said.
Trent's reserve champion swine sold for $5,000.
Sale of Champion Results
Grand champion market goat: Gavin Molnar, Lebanon County, $7,000
Reserve grand champion market goat: Allie Zeigler, Somerset County, $4,500
Grand champion rabbit meat pen: Kerri Kunjappu, Lancaster County, $5,800
Reserve grand champion meat pen: Marissa Yutzy, Huntingdon County, $3,750
Grand champion market swine: Morgan Kimmel, Armstrong County, $11,000
Reserve grand champion market swine: Trent Stadtmiller, Armstrong County, $5,000
Grand champion steer: Amy Pecora, Fayette County, $20,000
Reserve grand champion steer: Karli Berkheimer, York County, $6,500
Grand champion market lamb: Madaline Tewell, Bedford County, $10,000
Reserve grand champion market lamb: Paisley Mumford, Armstrong County, $10,000
Supreme master showman: Allie Zeigler, Somerset County, $3,000 for market lamb plus $500 Luke Svonavec Memorial scholarship