WHITE HALL, Md. — In 1998, Jay McGinnis left his mortgage company upon request from his father, who feared heart problems were numbering his days.
Jay returned to his childhood home and took over the thousand-acre corn and soybean farm, content with his portion of the operation. Around 2021, though, he purchased his father's 75-head closed, Angus, cow-calf herd with his wife, Nicole, and started raising the cattle to produce ground beef for charity.
"I wanted to get rid of the cows. I really didn't want anything to do with the cows because I hate everything to do with them," Jay said. "I hated the hay. I hated the silage that went into feeding them. I hated all the other work, but my wife wanted it."
Nicole began helping Jay's father, Wayne, with the cattle after Wayne's health unexpectedly improved, and he continued farming until his retirement last year. The animals are an important motivation for Nicole, who struggles with her own health problems.
"I have a lot of health problems, and I had two choices: either keep myself really busy or become bedridden," Nicole said.
The couple breed their herd, focusing on the Angus traits, and sell many of the calves. The sale profits go toward paying processing fees for the cattle, which is made into ground beef and donated to local Christian charities.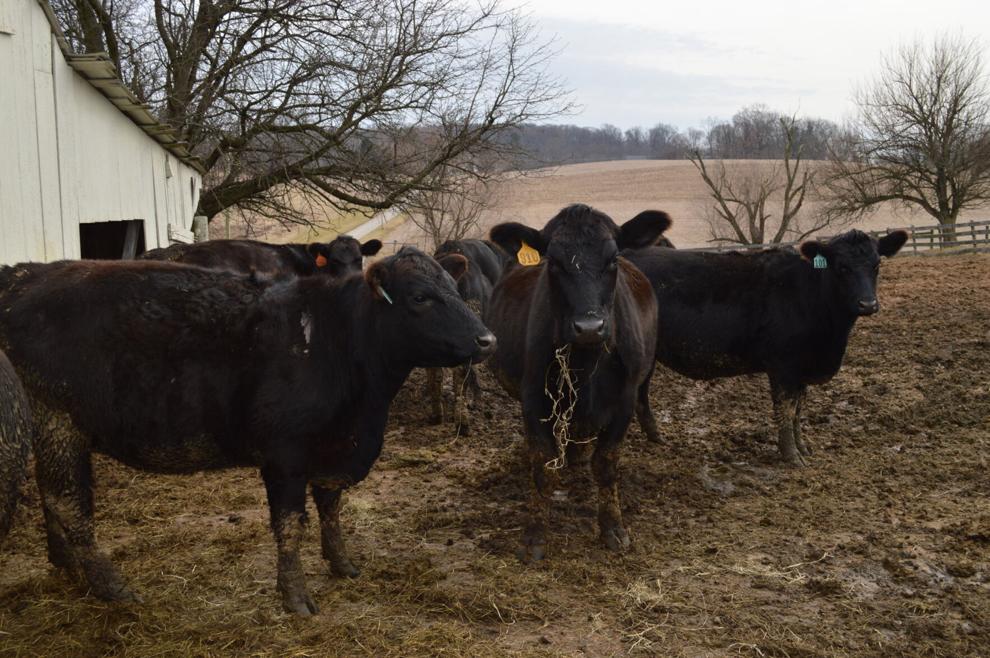 In the past two years, they have donated over 10,000 pounds of ground beef, Nicole said.
"That's why we wanted to get into it; Nicole felt a calling to give back," Jay said about his eventual agreement to raise cattle.
To further support the farm's philanthropy, Jay turns profit on the farm's soybeans and corn. Following in his father's footsteps, he focuses on cost-effective and environmentally friendly farming strategies.
He utilizes an auto-guidance tractor to plant efficiently and is looking to add similar technology to his sprayer, minimizing fertilizer waste. He also upgraded his dryer to be more energy efficient.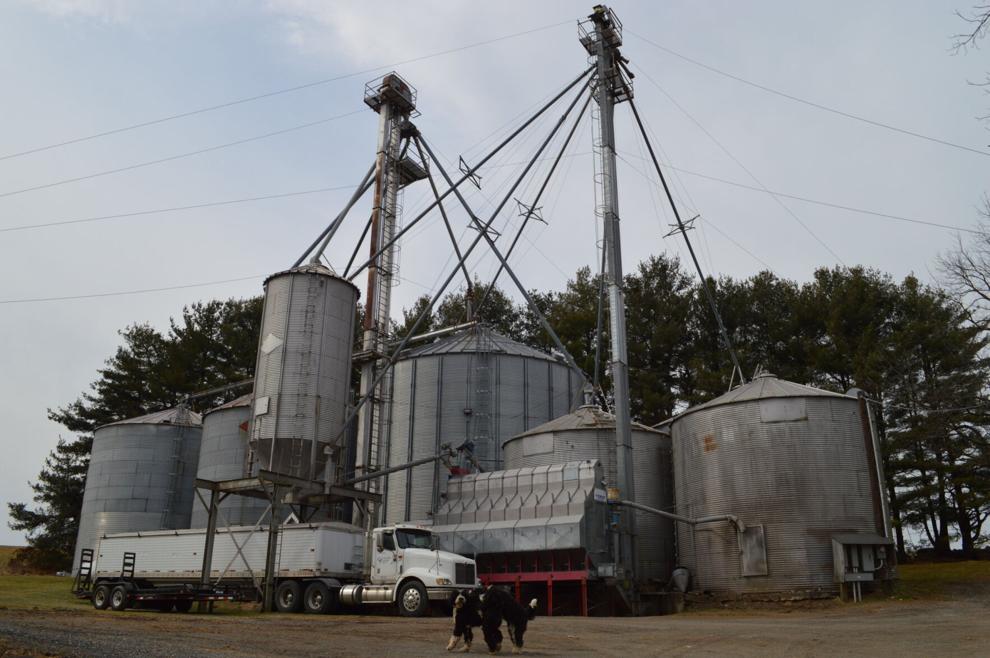 Wayne started no-till farming in the '70s, and Jay has been cover cropping for the last 15 years.
For the past three years, he has been utilizing drones to cover crop radishes, planting before the corn is harvested. He contracts drone operators through Kdrone Services.
The drones take aerial field photos to determine the most efficient path for seed spread. Then, the automated drones sweep the fields, spreading seeds until empty — every one-and-a-half to 2 acres — when they are refilled and sent off again.
After corn harvest, Jay lets the cattle in the fenced fields to eat harvest leftovers and the radishes. He's found it helps cut down on feed prices for a short period of time.
Jay also couples his corn's fertilizer with chicken litter, finding it cost effective. Chicken litter also helps him work within the confines of Maryland's soil nutrient laws.
"A lot of the nutrient laws in the state of Maryland are written based on what goes on in the Eastern Shore, even though this is a completely different ecosystem in central Maryland than the Eastern Shore," Jay said. "So they're very controlled on what you can do and how you can do it. So we apply the fertilizer based on nutrient soil samples."
They've added a handling facility to their cattle operation this past year. The layout is based on a Temple Grandin design, but Jay and Nicole bought the pieces individually to create what they wanted.
The facility uses a crowding tub to gather the cattle and lock them in. Then, an adjustable shoot — preventing the cattle and calves from turning around — guides them to a scale.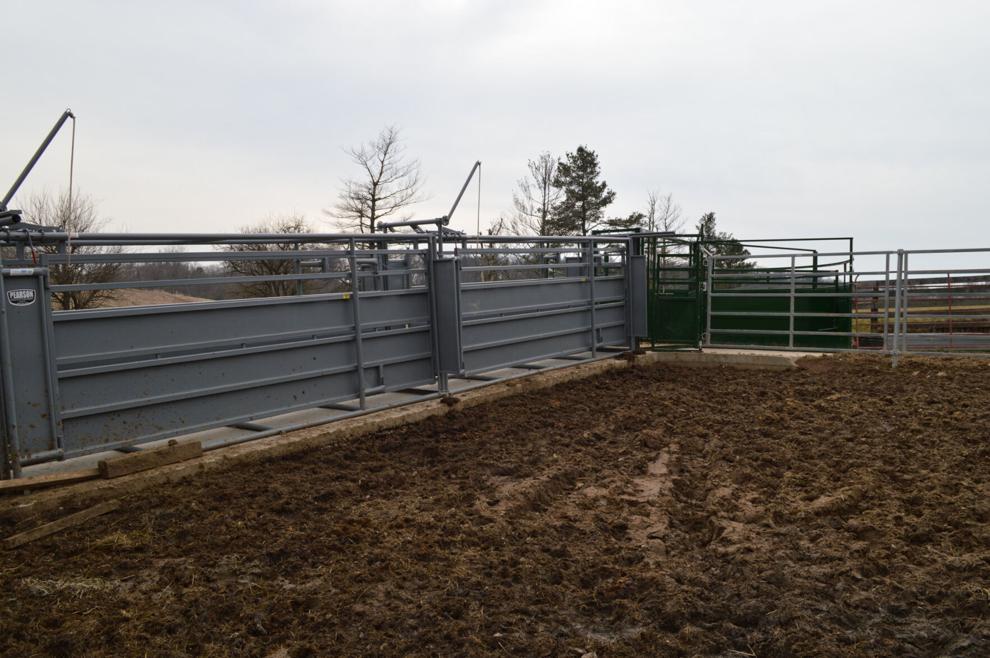 "We need to take care of some safety issues," Jay said. "So we put this new facility in there, and now, we pregnancy tested 90 cows and weighed 75 calves in like two hours with two people. Before that, you'd have one herd, and it'd be all day with a lot of yelling, a lot of stress on the marriage. It took a lot of people, and it was a very stressful day."
Despite having a small hay operation to produce cattle feed, fertilizer prices have driven Jay to buy supplemental hay from hay-focused farms that produce it cheaper.
"For the grand scheme of things, fertilizer prices really don't matter that much when you worry about people that are worried about eating," Jay said.
Jay and Nicole are also thankful to have neighbors and friends who are retired farmers that are willing to volunteer or work for cheap to help turn a higher profit on the farm.
After a year and a half of owning the cattle operation, the McGinnises' next goal is trying to find a way to sell more beef direct-to-consumer, so they can afford to donate more food.
"We're trying to find a way to keep prices low so our community can afford quality meat and still be able to turn somewhat of a profit, so we can pay to donate," Nicole said. "We're trying to balance that because I think one way to keep anyone grounded is not to live in excess and give to others."