CHAMBERSBURG, Pa. — Wilmer and Kathy Kuhns are the third generation on Scot-Vu Farm, Wilmer's family's farm in Franklin County. But, the farm, and the area around it, aren't like they used to be.
The Chambersburg area is being built up quickly into housing developments. Now, standing at the back of the Kuhns' hay barn is a line of recently built houses, and there are more in other directions.
The farm also has undergone its own major changes. Although the operation was a long-time dairy farm, in 2018 Wilmer and Kathy sold their cows and switched to direct-to-consumer meat sales.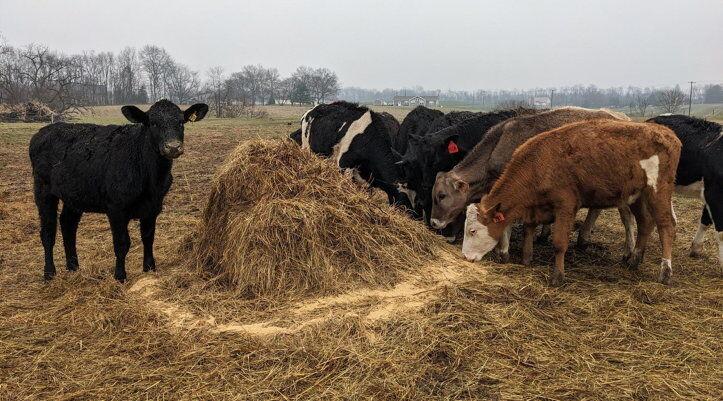 Now, they sell beef as well as eggs, heifers and mums.
And, since their marriage in 2011, the Kuhns family has grown. The couple now has five children: Jecoliah, 9, Elisha, 7, Johann, 5, Tirzah, 3, and Susannah, 3 months.
"There's a lot of buzzwords, like, 'Farmers are trying to feed the world.'" Wilmer said. "Well, don't try to feed the world. Just feed your family first with good food, and then feed your neighbors. And if you have extra, then feed your community, and let everybody
do that, and then, the group effort will feed the world."
The initial decision to sell the cows was business-based. After tracking milk numbers in 2017, the cost of production was low, but they weren't profiting much after shipping and marketing fees, Wilmer said.
The barn and milking parlor also needed updating to allow for long-term profitability, Kathy said.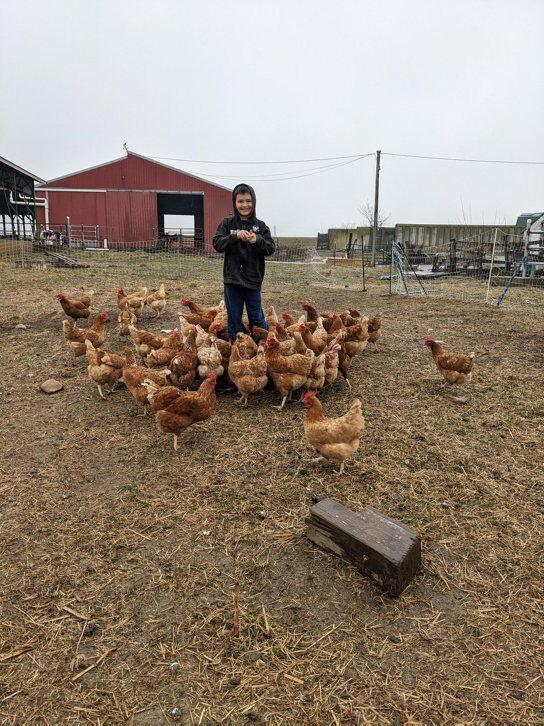 And, land changing hands caused Wilmer to lose some of the acres he leased. With the loss of leased land, he didn't have enough room to grow forage, and with the housing developments increasing all around them, there weren't many options for a farm expansion that would be necessary for long-term profitability.
"Maybe rather than trying to expand, (we thought about actually getting) smaller and just totally (selling to customers via) direct market," Wilmer said.
So, after they sold the cows in 2018, they purchased an 18-head herd of steers, and started direct-to-consumer beef sales.
The switch has had the added benefit of allowing Wilmer to spend more time with family.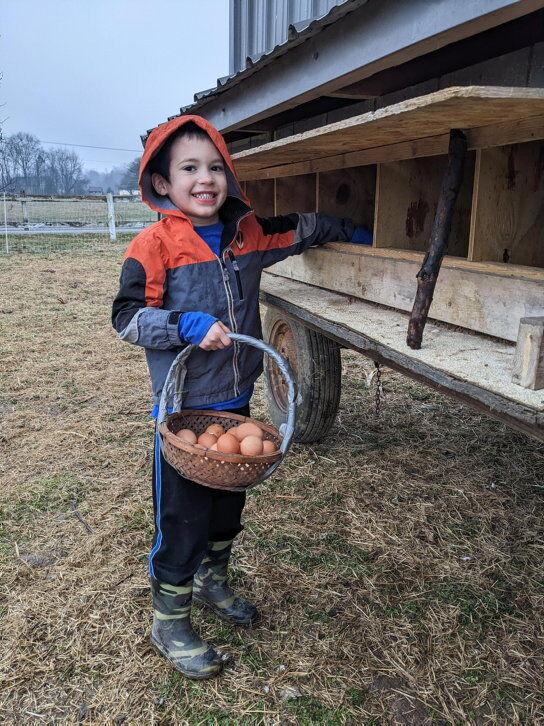 "He sees his children a lot more now than he did when he was dairy farming," Kathy said.
With the structure of the milking parlor, and the milking cows being free to come and go, the children had not been able to help Wilmer milk. After Kathy had to stop milking cows due to a pregnancy complication, he spent many hours alone in the barn.
Today, with the new farm focus, the chores don't take as long, and the kids can help. Wilmer has modified how tasks are done so the children can participate.
"A lot of the stuff we do, we say is not very efficient, because we use 2-gallon buckets instead of 5, so the kids can help," Wilmer said.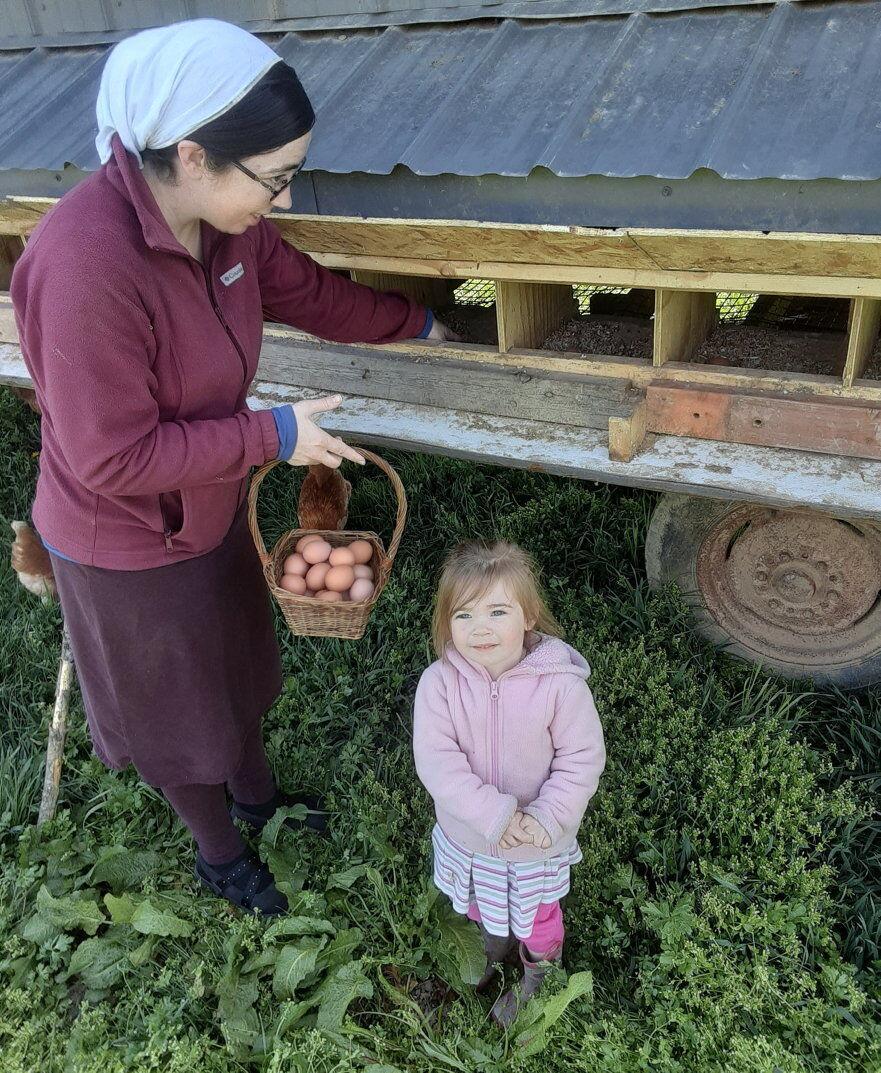 He also modified the hens' egg boxes, so the kids can open them from the side instead of the top.
"You have to know what they can help you with and what they can't," Wilmer said.
The couple's poultry enterprise started because of their daughter Jecoliah. She wanted some chicks, and Kathy and Wilmer wanted to get some animals that she could help care for.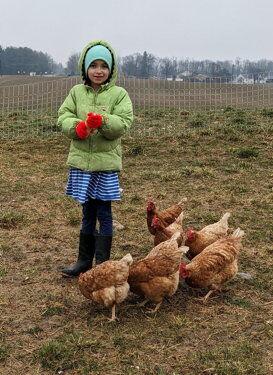 Now, they have about 200 birds and sell around 70 dozen eggs per week at their roadside stand.
"The kids like to have something that they feel like they have ownership of," Kathy said. "They aren't old enough to do something completely by themselves, but (it's nice) having something that they can see the results of their work."
The roadside stand operates on an honor system, allowing customers to purchase eggs and fall decorations — mums, pumpkins, cornstalks and straw bales.
Wilmer tracks the meat customers via Facebook and sells directly to them, letting them know when their cut is ready to be picked up. Besides Facebook marketing, a plywood sign at the end of the main road displays the farm's number and advertises the farm's products.
Wilmer and Kathy's key to successful direct sales is their location. Being in a populated area means they can sell farm products at the end of their driveway. Customers can easily stop on their drive in and out of the neighborhood, without having to go out of their way. The couple also said they're seeing an increase of people who want to know where their food comes from.
"Know the customers, and know the niche," Wilmer said.
Kathy estimates that she has around 50 regular egg customers. Wilmer said he has around 60 beef customers per year, slaughtering one steer per month.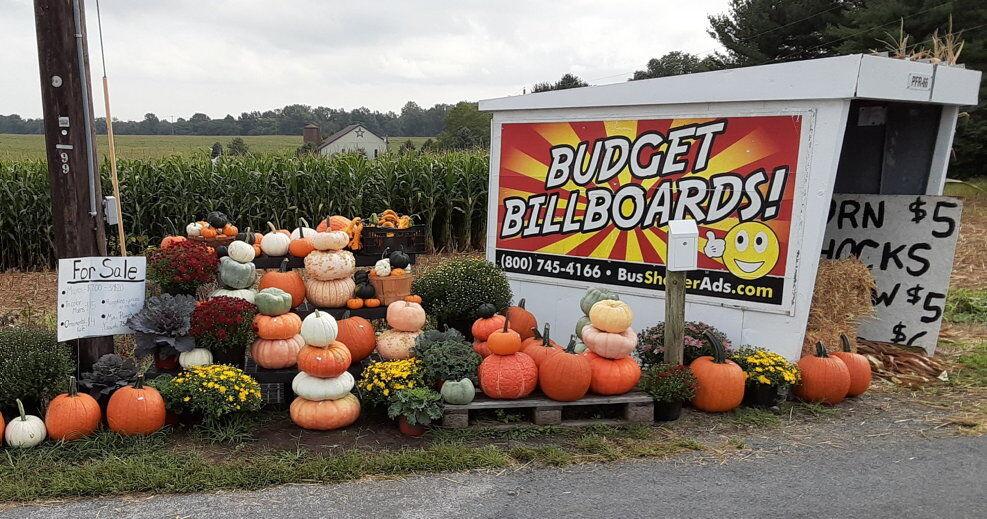 To help produce beef that the community can afford, Wilmer sends steers to butcher when they have a 600- to 650-pound hanging weight, which is lower than usual for farms. He then sells quarters for around $650 to $700.
The local community has also helped the Kuhnses grow a number of other aspects of their business.
"We barter and trade," Wilmer said.
Wilmer is the only farmer in the area with a small baler, so he bales some of the more difficult fields and makes deals with fellow farmers, usually meaning he gets a bale and they get a bale.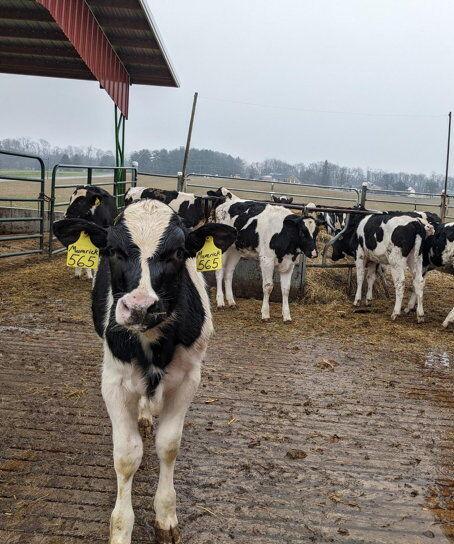 The couple's fall decorations sold at the roadstand are also based on collaborations with farmers. Kathy grows mums, but the pumpkins are from other growers.
And the cornstalks come from other farms. Wilmer has permission to take stalks from the edges of fields after harvesting — stalks that would usually be left over.
Wilmer's second main enterprise, after the direct-sale beef, is raising Holstein heifers for other farmers. Two farms bring young livestock to Wilmer and leave them there for him to care for until they reach breeding age.
Selling the prior 65 head of dairy cows has allowed ample space for such new endeavors. It also allowed the leasing of 75 tillable acres to a local dairy farm.
Wilmer also works off the farm. He is a full-time hoof trimmer, and works a few hours a week as a licensed farm insurance agent. Kathy focuses on keeping the farmstand stocked, caring for the kids, and managing the books.
While Kathy and Wilmer both have a number of ideas for the farm's future, little is concrete. They predict that the beef sales will expand. And, Kathy would like to get a new structure for their roadside stand as well.