A vineyard in northern Maryland says it has become the state's first winery to have a licensed outdoor restaurant on the farm.
"Our heartbeat has always been to create wines and experiences that connect people with our farm," said Drew Baker, of Old Westminster Winery in Carroll County.
Baker runs the winery with his sisters, Lisa Hinton and Ashli Johnson, and their parents, Jay and Virginia Baker.
The family got into the pizza business with two brick ovens bought from a Baltimore business that closed early in the pandemic.
The Bakers hired chef David Barboza, a James Beard Award nominee who had recently returned home to Maryland from Salt Lake City.
Supporting Local Farmers 
The family wants local food to be a centerpiece of the business.
In its first four months of business, the group bought $48,000 of raw ingredients — including flour, produce, cheese, cured meats, honey and sunflower oil — directly from more than a dozen farms within 100 miles of their own.
"When we talk about supporting local farms, it's not in the token way that so many farm-to-table restaurants do," Baker said. "We put our money where our mouth is."
The pizza dough is made with flour from Migrash Farm in Randallstown. Pepperoni and sausage come from Meat Crafters in Landover.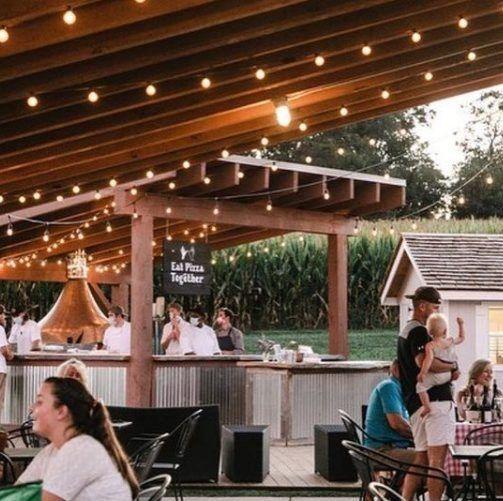 The cheese is from Shepherds Manor Creamery in New Windsor, Maryland's only sheep-milking farm. The farm hand-delivers about 80 pounds of cheese per week.
Vegetables, fruit and other farm products come from Chesapeake Farm to Table, a regional farmer-owned marketing organization.
The starring role that local produce plays at Old Westminster can be demonstrated by a few of the punning pizza names on the menu: Oh Kale Yea!, (featuring a certain type of greens), Ramp It Up (with ramps, both pickled and pureed), and Back to Our Roots (anchored by sunchoke and fingerling potatoes).
Even the pizza oven is fueled by locally purchased oak, hickory and cherry wood.
Baker said he wants to support farmers and provide good jobs in the community.
"We're achieving this by offering a deeper food and wine experience rooted in local agriculture that is totally delicious and approachable," he said.
Baker said he's gotten a lot of positive feedback from customers, and reservations are growing steadily.