If equestrians, like professional baseball players, had "walk-up songs," Gene Autry's "Back In The Saddle Again" would be perfect for horsewoman Brittni Rideout when she and her American quarter horse enter the arena.
Rideout, 32, and Tyler are making their presence felt on the East Coast Ranch Riding Association (ECRRA) circuit in only their second year competing together. The Maryland native and mother of two boys recently returned to competitive riding after a decade away from the sport to marry her high school sweetheart, start a family and also begin a career in soil conservation.
Rideout and Tyler are beginning to "click" as a team. They had a magical day in October, excelling in Ranch Riding events at the Keystone International Livestock Exposition at the Pennsylvania Farm Show Complex in Harrisburg, Pennsylvania, taking home multiple first-place ribbons and being named the overall high point champion.
"My expectations going into KILE was to have a clean, sound, and safe ride," Rideout said. "Getting high point champion went way beyond my expectations and it was icing on the cake. It was a true turning point for Tyler and me where it showed us truly figuring each other out and working as a team."
At age 4, then Brittni Collins was literally lifted onto her first pony, who was named Trigger after American TV cowboy Roy Rogers' palomino horse. Her grandfather and father, Edward Collins Sr. and Jr., thought she was ready.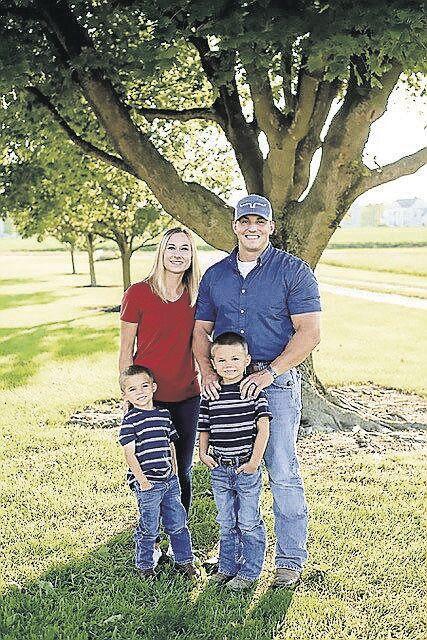 "I took to riding quickly as most farm-grown kids do," Rideout said.
Rideout competed in equestrian events as a preteen and teen and in 4-H competitions during her high school years. Her grandfather gifted her Justin, her first true show horse, at age 13.
Rideout combined riding, school work and helping on the farm during her high school years while competing on Justin and a second horse named Bentley in Western Pleasure events in Delaware, Maryland, Virginia and Pennsylvania.
"I am forever grateful for my parents providing this experience," Rideout said. "Watching and competing against some of the best horses and riders in the country as a teenager motivated me to want to become the best rider I could be."
In 2008, Rideout was recruited by coach Jennifer Ridgely for the equestrian program at Delaware State University and awarded a riding scholarship. She competed at college equestrian events for four years.
Rideout took both her horses to college and competed successfully in horsemanship (a riding event that evaluates a rider's ability to execute a set of maneuvers with precision closely mirroring the work of working ranch horses), as well as in reining and equitation. She won her team points at most events. She was named MVP of the university's equestrian program multiple times. She graduated with a degree in agricultural business.
Brittni married Jake Rideout at age 20. Jake was a Marine veteran who had served two tours in Afghanistan and the couple quickly started their careers and a family. Rideout put her competitive riding activities on hold.
"It was a big change," she said, " but I had new responsibilities and also was putting my ag degree to work with the Dorchester (Maryland) Soil Conservation district and then with the Maryland Department of Agriculture as a soil conservationist."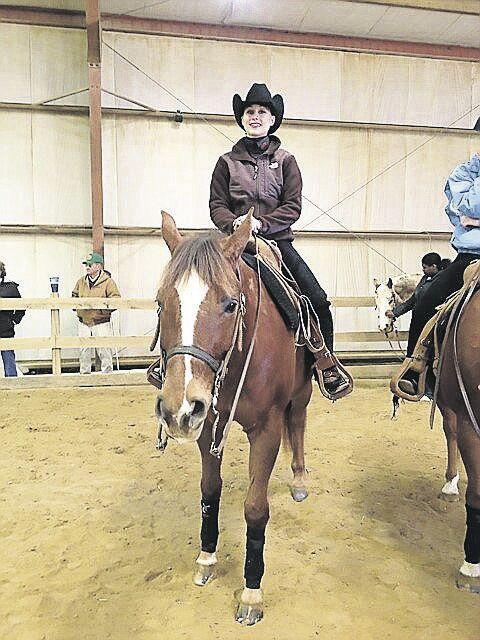 Jake pursued a career as a Maryland state trooper. The family settled in their hometown of Denton. They have a busy non-competitive family life with two active, young boys, and a barn that holds pleasure horses, chickens and other animals.
"My biggest accomplishment in life is raising our boys," Rideout said. "They keep me on my toes all the time as well as make me laugh often."
"I was beginning to miss riding more than I first realized a few years back and decided I wanted to start competing again. With the support of my family, we came up with a plan for me to get back in the saddle."
With the help of respected Delaware horse trainer Marty Dixon (Dixon Show Stables, Clayton, Delaware), Rideout searched for just the right horse to return to competition and found Tyler, a 3-year-old American quarter horse, in Kentucky.
Rideout continues to polish her riding skills with Dixon and his daughter Brooke, also a champion rider and trainer. Rideout started competing again in Ranch Riding events in 2021. Ranch Riding features competition similar to her college horsemanship experience. Dixon has nothing but praise for Rideout and her equestrian abilities.
"Brittni and Tyler complement each other," Dixon said, "and are capable of more top performances on the circuit like they had at Keystone in the years ahead."
"The Ranch Riding events have turned out to be a good fit time-wise," Rideout said, "as they usually are not far from home, allowing me to get back to my family by late afternoon on show days. I broke in with two events in 2021 and have done five events this year. My finishes at the Keystone International Expo were our best to date."
The biggest challenge in returning to riding competition was regaining confidence.
"I'm not a kid any more," Rideout said. "I have a family and work responsibilities and the last thing I need is to fall or be injured. But working with Tyler and succeeding in the arena again has been a terrific boost to my psyche and a wonderful complement to my family life. I've found a balance between family, work and riding"
Rideout and Tyler still work with Dixon regularly to prepare for show events.
"Brittni had a long, successful early career in competitive riding and was not starting from scratch," Dixon said. "She has a good seat combined with strong riding skills and is showing progress at every competition, executing patterns similar to what she was used to in college riding. She had a terrific day at the Keystone Expo in only her seventh or eighth time back in the arena."
Rideout feels she is gaining confidence with each competitive event and credits, in part, the support of her family and young boys who love watching their mom compete.
"I don't kid myself," Rideout said. "Life can be crazy at times in our household, but the discipline I learned riding as a teen and in college helped me get back up to speed quickly in the sport I grew up with and loved and I am balancing it all while taking every challenge I face as a new lesson learned."