For the better part of the 20th century, Thoroughbreds pretty much lived and trained at race tracks where they competed. Housed in barracks-like stables, they not only competed on the track but also for training time each morning on the facility's dirt oval in a hectic and many times stressful environment.
In the last decade of the 1900s, dedicated training facilities — away from race tracks — gained popularity, responding to a revitalized racing industry fueled in many states by support from legalized gambling and casinos. Today, many trainers are embracing the more relaxed atmosphere of these standalone training facilities. Then they pick the racing venues, many within a short van ride, where they wish to run.
"For us, it certainly was a risk moving our Herringswell Stables from Laurel to the Fair Hill Training Center in the early 2000s," said Graham Motion, 58, a British-born trainer who began working with horses at age 29. "But, at the time, we needed more space than we had at the Maryland race track (now Laurel Park) to both house and train our Thoroughbreds and relocating to the established Fair Hill site was the right move just as the facility was working its way back from financial issues brought on by the 1990s recession."
Relocating proved to be the right decision for Motion, who with other trainers in the past two decades has filled the barns on this former DuPont property in Cecil County, Maryland.
"Now, it's pretty fashionable to board and train your horses at a training center like Fair Hill," Motion said with a smile.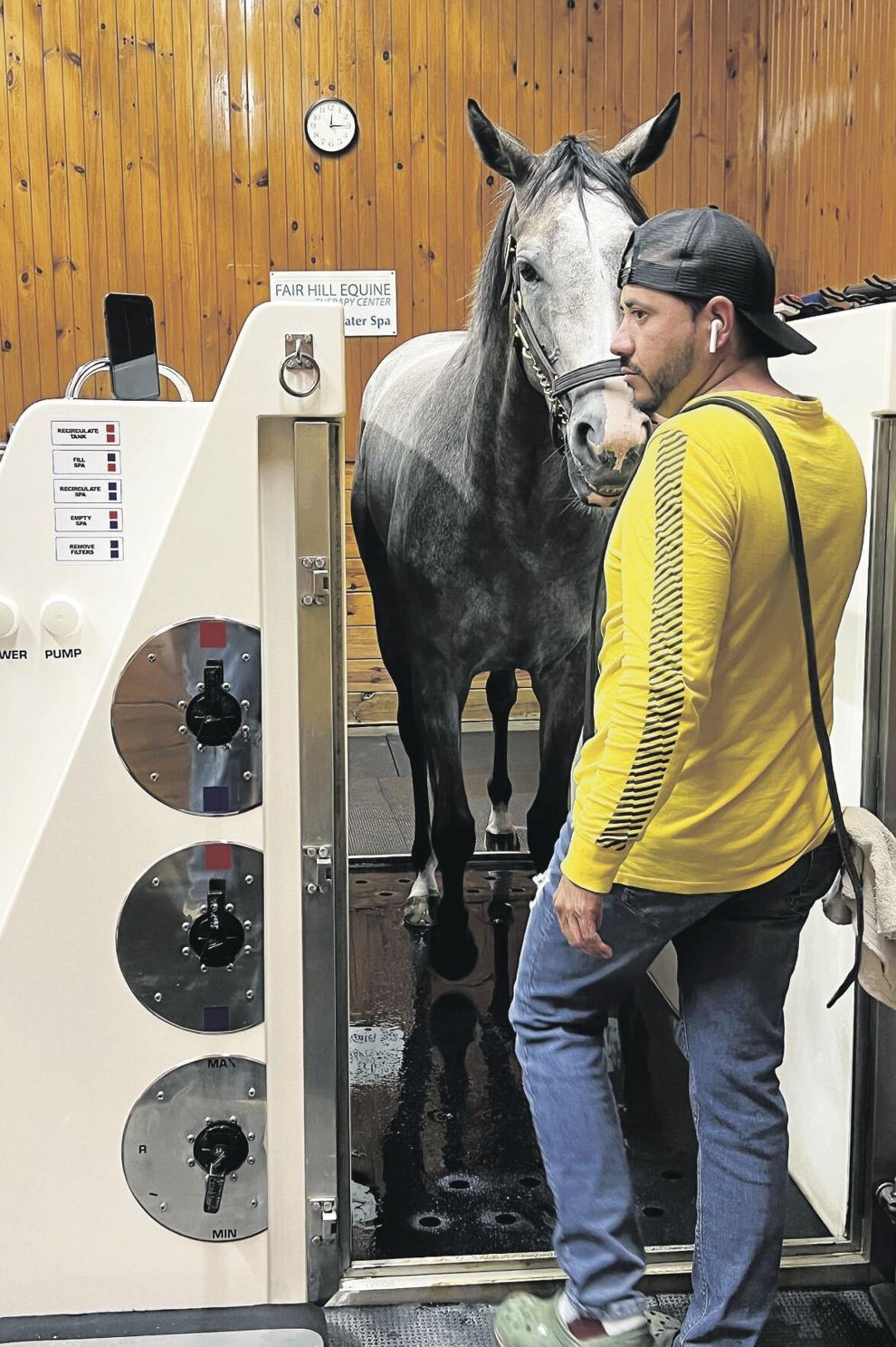 In 2011, Motion trained Animal Kingdom, a Fair Hill-based Thoroughbred, who won the Kentucky Derby. The stakes win helped encourage other trainers who had always stabled and trained horses at racetracks to give training facilities a second look.
"Trainers began to see what we saw in Fair Hill," Motion said, "which was more than stables and a track but a first-class location for both horses and the people who work with them."
Fair Hill's attraction is a combination of first-class facilities and location, said manager Sally Goswell.
"The training center includes both dirt and synthetic (Tapeta) tracks, large, airy barns that are not built on top of each other, and plenty of open space for paddocks and turn-out areas," Goswell said. "Fair Hill also boasts access to woodland trails to walk or gallop horses, offering non-traditional training opportunities."
Motion agreed and described Fair Hill as just "special. I don't regret moving my horses here 20 years ago. Now, I would never think of doing it any other way."
"Just like residential real estate, Fair Hill is all about location, location, location," Goswell said. "It's bucolic location combined with excellent facilities is close to a number of Thoroughbred tracks and it sets us apart from our competitors."
Goswell has been Fair Hill's manager for 25 years and arrived with her trainer and husband, Mike, in 1984. Goswell's love of Fair Hill is echoed by others in the business, including 20-year trainer Phil Schoenthal, who works at owner Matt Dorman's barn. He spoke while being nuzzled by Determined Kingdom, a 2-year-old Thoroughbred who had just returned to the barn after a third-place finish in the Mahony Stakes (a 5½ furlong turf sprint) at Saratoga.
"At Fair Hill, we are a family and applaud each other's successes," Schoenthal said. "It's a nice facility for both the horses as well the horse people."
Goswell posts weekly and yearly racing statistics for resident Thoroughbreds. As of September, Fair Hill's trainers had 58 starters with five wins, seven places and 12 shows and earnings of $393,160, and she noted 41% of the starters had finished in the top three slots in their races.
Besides the Thoroughbred training center, Fair Hill also includes an Eventing area that hosts the Cecil County Fair, the Fair Hill Races, carriage driving events and endurance rides. It is home to the Maryland 5-Star, a prestigious international Eventing competition.
Resident Thoroughbreds also have access to rehabilitative services at Fair Hill at the Equine Therapy Center run by Bruce Jackson and Michael Hurley. It offers state-of-the-art equine rehabilitation treatment options, including a Hyperbaric Oxygen Therapy Chamber, Aqua Pacer system, cold salt water spa, vibration therapy, a solarium and dry salt therapies on site.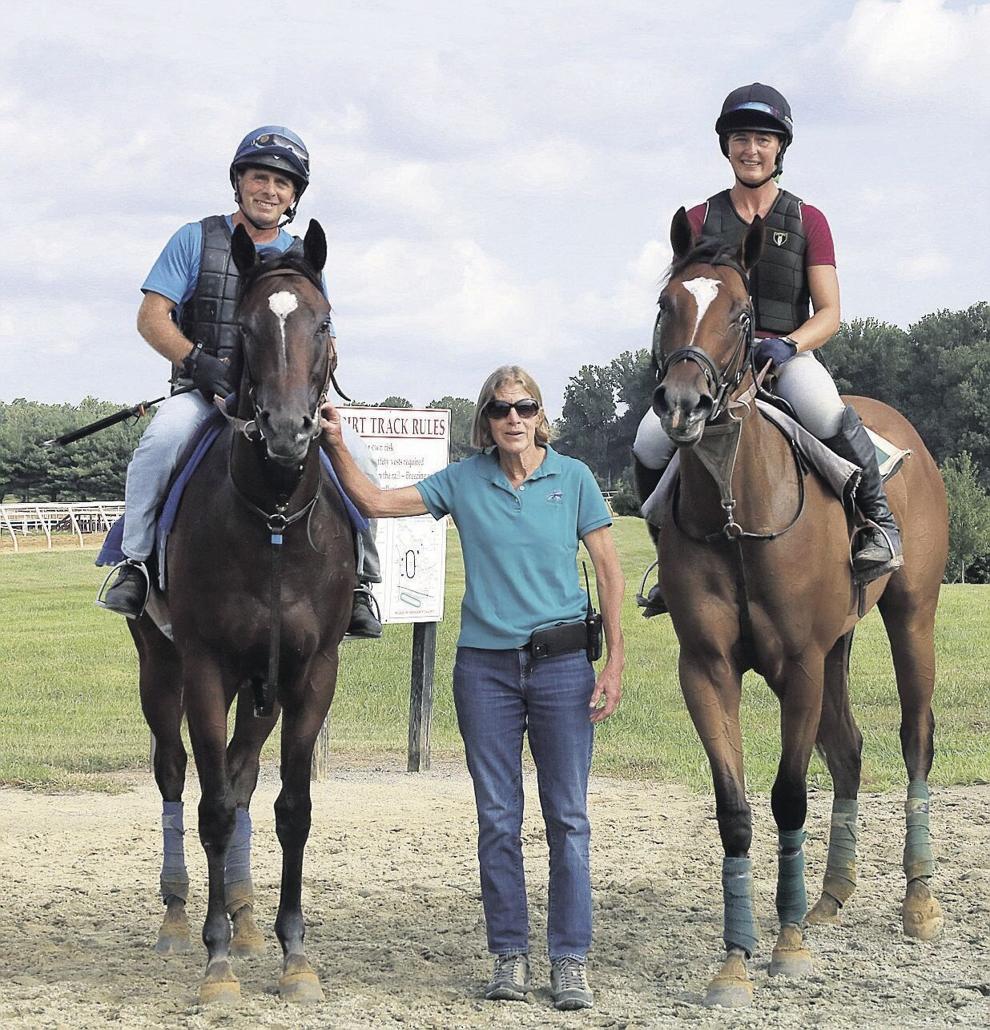 "Trainers find having a rehab facility here to help injured horses recover quickly a big plus," Goswell said, "and the Therapy Center also treats many horses that are sent in from surrounding tracks."
Fair Hill is located on a portion of an 8,000-acre tract in Delaware and Maryland originally owned by the late William DuPont Jr. He purchased the land in 1926 and named it Foxcatcher Farm and ran a Thoroughbred breeding and training farm that was home to the 1938 Preakness Stakes winner Dauber.
Some 5,000 acres of the original DuPont property were sold to the State of Maryland in 1974 for use as an equine training complex and natural resources center. The acres remaining were grasslands and woods, including recreational riding trails.
Through the vision and work of local trainer and veterinarian Dr. John Fisher, a long-term land lease for 300 acres of the property was signed with the Maryland Department of Natural Resources in 1983, to build a Thoroughbred training center. Construction began and Fair Hill Training Center evolved during the years that followed. Though Fisher has retired, he remains an active member of the Fair Hill Condominium's board of directors.
In the early 1990s, the training facility struggled through the country's recession as well as a change in the federal tax laws that took away the investing incentives that had helped build the barns and fund the facility.
However, with the subsequent growth of legal gambling in many states and casinos, many built adjacent to existing race tracks, there was a need for expanded facilities to support those racing operations.
Suddenly, Fair Hill barns and its training sites were in demand when, just months before, the barns were selling at giveaway prices. Today, Fair Hill's 17 barns (the 18th barn burned in December 2021 and will be rebuilt) are filled to capacity. Many of the structures also have been re-built and modernized in recent years, adding to the training center's ambiance.
Besides Animal Kingdom, FHTC has been home to Kentucky Derby champion Barbaro, trained by Michael Matz, who also trained the Belmont Stakes winner Union Rags.
The training center facilities are maintained by a small and dedicated staff. Workouts on the track are recorded by horsewoman Vicky Battaglini and posted for Thoroughbred publications and the social media community. Both tracks are maintained by Juan Cordova. The pair's experience allows the 65-foot wide dirt track to accommodate dozens of moving horses at one time to exercise safely on a daily basis.
Additionally, when trainers require starting gate schooling for young Thoroughbreds, Sean Crowell, the assistant starter at Parx Racing in Bensalem, Pennsylvania, coordinates schooling three mornings each week.
"Our two on-site starting gates allow trainers as much time as they need to school their horses," Goswell said, "and seems to make it easier for them to learn the drill and be certified in a relatively short period of time without any trauma."
Fair Hill has grown to full capacity, fulfilling the vision of its founders. Today, similar facilities exist in a number of states, including Palm Meadows and Payson Park in Florida, Eagle Point Farm in Virginia, The Thoroughbred Training Center in Kentucky and Victory Rose Thoroughbreds in California — all providing first-class facilities away from the hustle and bustle of the race track.