Sarah Bates was cantering and trotting long before she had her first horse. She took imaginary trips everywhere her family went.
Bates' parents, like many others with horse-crazy daughters, figured it was a phase. They expected their 7-year-old girl to grow out of it. She never did. Eventually, they caved and bought Sarah a Welsh pony.
Sheik was a mischievous fellow with an annoying habit of smashing into carts. The Bates family purchased him for one silver dollar. Sheik's previous owner was happy to be rid of him.
"He was just a tiny terror," Sarah said. "They didn't dare sell him to anybody else. For some reason, they thought we could deal with him. The two of us just clicked. My entire childhood was riding that pony around. I put a lot of miles on those little legs."
Bates learned she was getting Sheik one afternoon after the school bus brought her home. Her parents said they had a surprise. That surprise has shaped the rest of her life.
Sheik is one reason Bates' affection for horses never waned. She owned that rascal for 33 memorable years.
Bates and Bruce Jones have co-owned High Hopes Farm, a 70-acre property in Honeoye, New York, since 1998. There are between 20-30 horses on sight at any given time. Bates sells carriages and ponies and offers boarding. Her specialty is training anything with four legs to drive.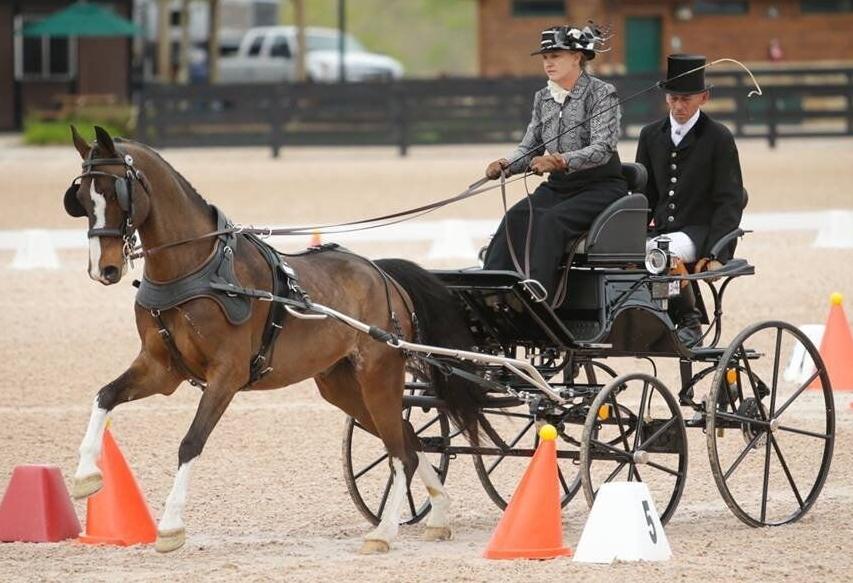 Although she was primarily interested in eventing at first, Bates found her way to driving as the years passed. It became her passion. She enjoyed the community. She frequently competed in the famous Walnut Hill Driving Competition in nearby Pittsford.
Some dreamed of winning one plate at Walnut Hill, which stopped the five-day carriage driving competition in 2017. Bates won 52.
"I liked to go fast," she said. "I liked the people, too. They were like family, even though you only saw them once a year at a horse show. It was a neat group of people that shared a common interest and therefore had a ton of fun."
Sheik was only the beginning. Next came a neighbor with a troublesome horse that he couldn't get to work. Bates broke it and trained it to drive.
Word spread and Bates built a reputation for dealing with challenging horses. Clients travel from as far north as Canada and as far south as Georgia seeking her help.
Bates is willing to train any animal placed in front of her. She even hopes to work with a camel one day. That's on her bucket list.
"We'll pretty much try anything once and most things twice," Bates said. "You have to be honest in the horse world or you got nothing. It becomes super small. If a horse isn't going to drive, I'm honest about it. This horse just isn't gonna do it."
Bates still owns Welsh ponies and tests her skills with all breeds of horses. A lot of Morgans find their way to High Hopes Farm. She doesn't have an indoor arena and does all of her work outside regardless of the weather.
Training is the centerpiece of her diverse operation. It takes the right kind of horse to drive a carriage.
"The big thing is they have to trust you and listen to you," Bates said. "If you're riding a horse down the side of the road and it decides it wants to veer left, it's no big deal. If you have a driving horse and it decides to veer left, carriages don't go through ditches very well. Horses can't make decisions on their own. Eventually they'll make a bad one."
Once Bates had a real pony instead of an imaginary one, there was no looking back.
Bates trains six to eight horses each day this time of year and nine or 10 during the summer when the daylight lasts longer. She said she needs to drive every day. It's good for her soul.
"I almost start to lose hope in humanity," Bates said. "Then I go to a horse show. I remember how cool people are."
In some ways, that 7-year-old girl is still here. A $1 pony was all she needed.