WEST GROVE, Pa. — It took about 20 minutes for Sandy Smith to get her 33-inch mini Appaloosa out of the trailer and primed for his visit. He was brushed, his bun-bag was attached and his hooves were sprayed with disinfectant.
The tireless owner of Dominique's Smiles has it down to a science by now. She has taken her therapy horse to many places. Nothing catches her by surprise.
"Sometimes when I'm parking on the street in Camden, New Jersey," Smith said, "I have three homeless people asking me for money while I get him ready."
Everyone was interested in Dominique. Passersby slowed their cars and stared. An elderly man walked past, pulled out his phone, snapped a picture and continued on his way.
Smith will happily engage all of them. She'll answer every question with the same energy and effervescent spirit. This lifelong horsewoman adores the way people respond to Dominique. She loves her horse more than words can describe.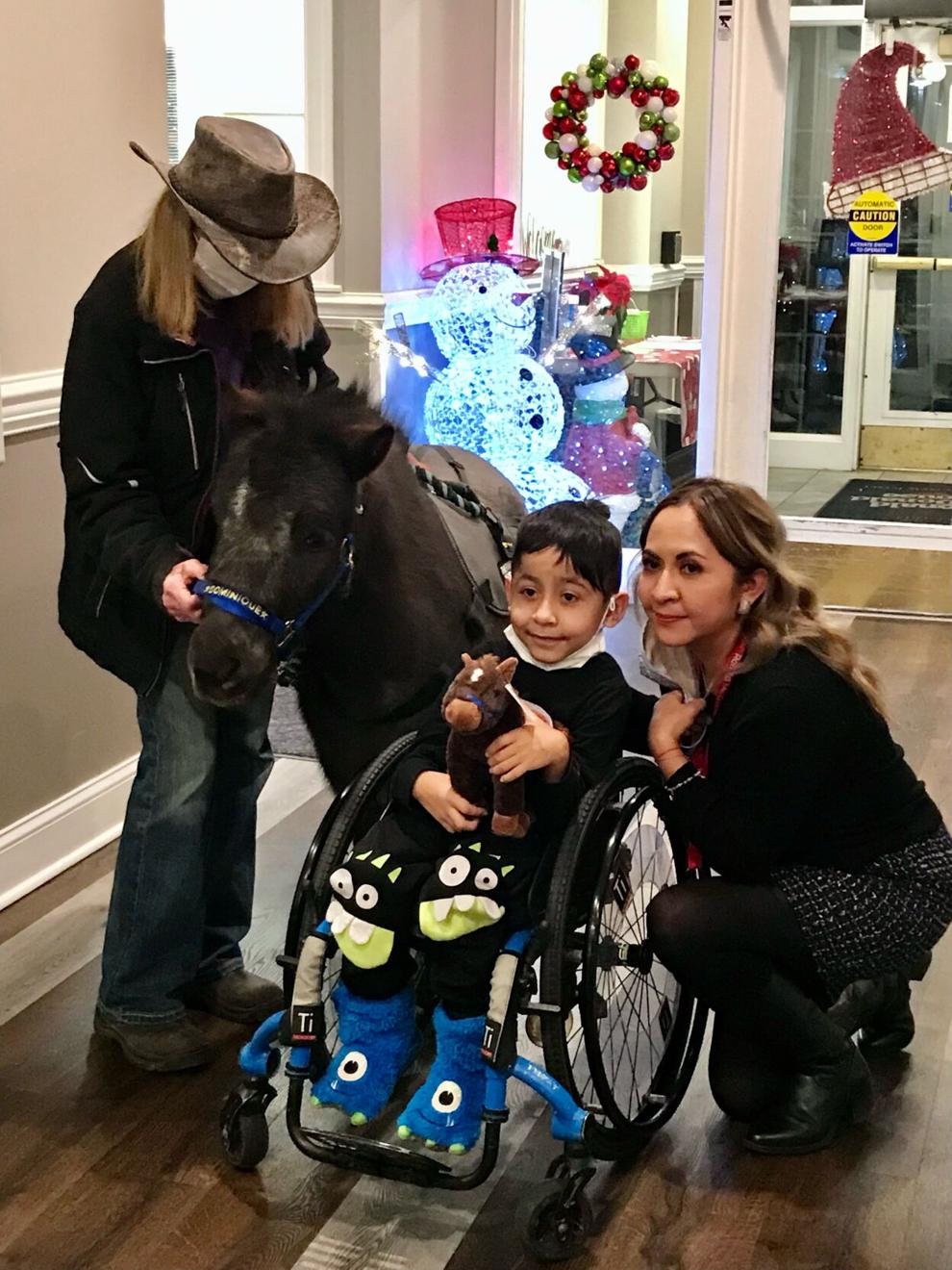 On this sparkling fall morning, two days before Thanksgiving, Smith steered her white van through the winding roads of rural York County, Pennsylvania, to Ruston Residence, an assisted- living facility that's part of Jenner's Pond.
The hardest leg of this journey was finding the right entrance to the expansive property. By the time Smith arrived, she was running a bit late. She scurried through each required step with Dominique so he could meet the residents who were lined up for his arrival.
Once Smith, always dressed in a cowboy hat, walked through the front doors, the mood of the room shifted. Wonder instantly filled the air. It's not every day a horse walks down those halls.
"It's great because he brings so much joy to everybody," said Cheryl Bastas, who sometimes assists Smith on Dominique's trips. "Especially with the kids. They've probably been through some rough treatments throughout the day. Then they come and see him and they're so excited and happy."
Smith will take Dominique anywhere he's welcome. Anywhere people need a lift. It's often to the Ronald McDonald House in Camden, where children are trying to overcome life-threatening health challenges. Many have never before seen a horse.
The stated mission of Dominique's Smiles is to bring love into everyone's life. Smith does it free of charge. Her payment comes in a different form.
"It's that one picture that makes the whole thing worth it," Smith said. "That one person or more than one person who pulls at your heartstrings."
Smith makes ends meet working as a vendor for Outback Survival Gear, one of Dominique's sponsors. She owns 50 acres in Brogue, Pennsylvania, that she calls Fox Brush Farm, where she trained Thoroughbreds for many years.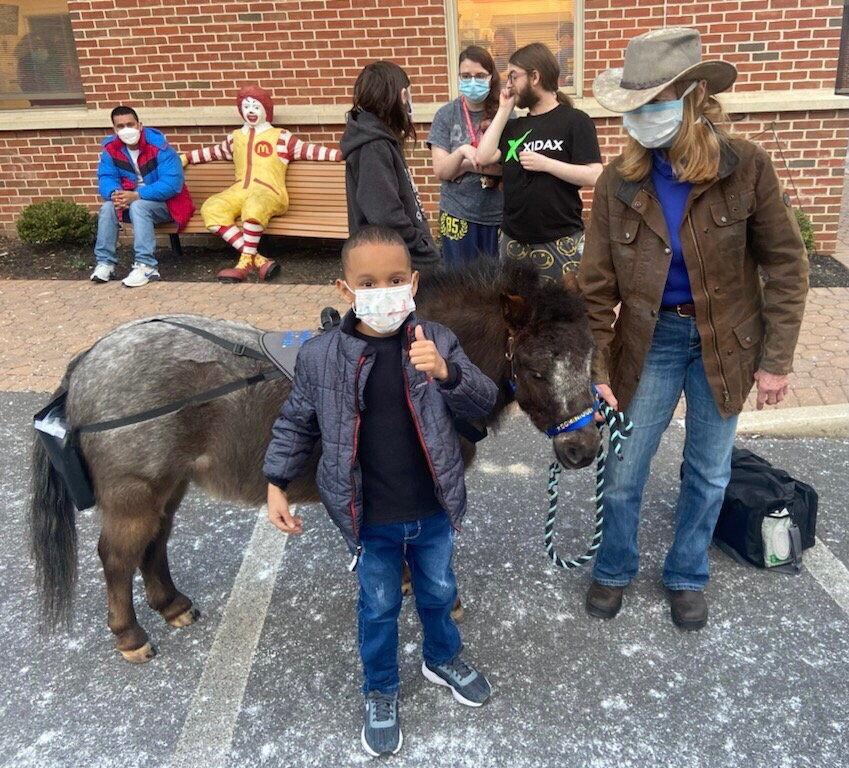 The property was once home to 36 horses. Today it houses Dominique and a few others.
"When I used to call for them to come in, it was a thundering herd," Smith said with a laugh. "You have to be careful what you wish for."
During her previous charity work, Smith met kids who knew about her connection to horses. They asked her to bring one in for a visit. That put the thought in Smith's mind. She went in search of Dominique and an iron-clad connection was formed.
Although those children didn't live to meet Dominique, their request created a service that has brought happiness to many others.
"I doubt very much I'd be doing this if I hadn't made that promise," Smith said. "But I made the promise and you've got to keep those."
There was something about Dominique that clicked from the first time the two crossed paths. He was docile. He was kind. He seemed to enjoy people. Smith had a good feeling about him. One that was similar to her days choosing Thoroughbreds.
"Sometimes you can have a look at their eyes," Smith said. "Sometimes you just know. I liked the way he was put together."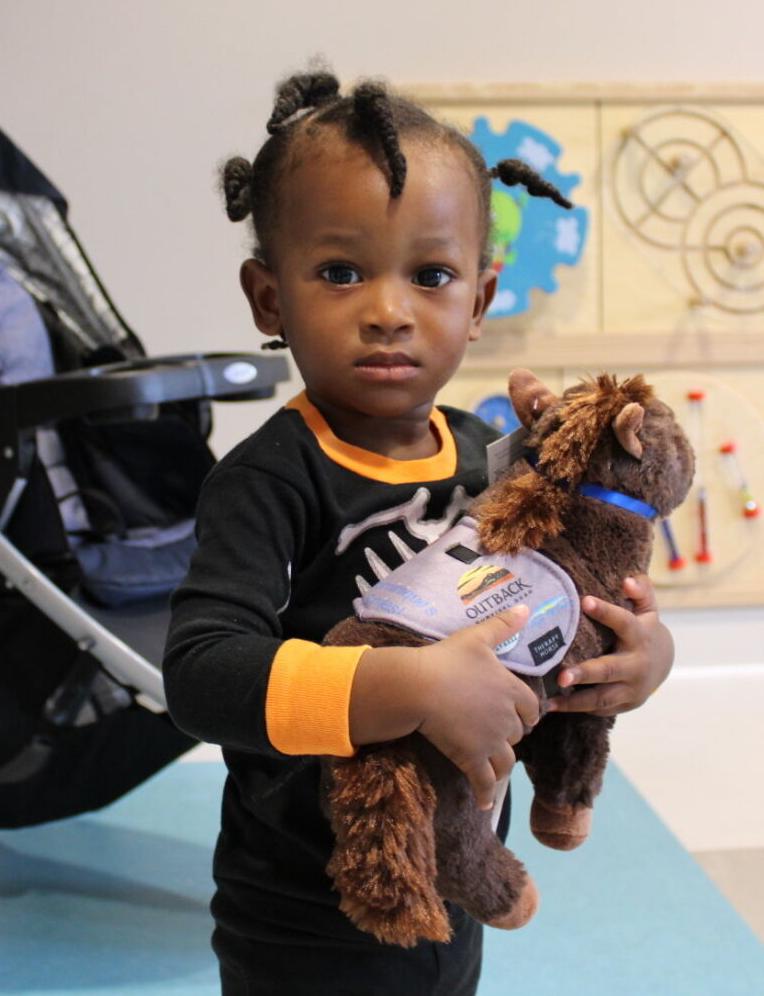 Dominique, who's 6 years old and was purchased shortly before the pandemic hit, was small enough to fit in between beds and walk around medical equipment. He never gets annoyed, no matter how many people greet him, pet him or tug on him.
Smith believes her mini Appaloosa loves this work. That he's uniquely suited for it.
"Most things with horses are luck," she said. "You start out with one you think will be good with something. He's a good guy. I wouldn't want to replace him. He puts up with a lot."
The tour of Ruston Residence and the surrounding homes lasted roughly 90 minutes. Smith took Dominique anywhere he was requested. Even into the rooms of people who didn't want to stray into the halls.
The reactions to Dominique usually ranged from joy to awe.
"I could ride into town with you," one woman told him.
"I love you and I don't even know you," another said.
This was the first time Smith brought Dominique to this location. As the two maneuvered around, Smith was repeatedly asked the same questions. Dominique's age. His name. And so on. Sometimes the same person asked more than once. Smith always answered with enthusiasm.
"Their questions are important," she said. "Life is busy. We're all busy. But for them it's slow right now. It's like they're in the waiting room at the airline. They deserve that time. It's what Dominique does."
The emotions of these visits can stick with Smith and Bastas after they leave. In addition to all the smiles, there is some heartbreak.
"It's very fulfilling and a little sad sometimes," Bastas said. "It makes me feel good that we were able to provide some happiness to the kids and other people he sees."
Smith left the building and went back to the parking lot, where her pickup and trailer were waiting. She has bigger dreams for Dominique's Smiles. She hopes someone will donate a van to make her travel easier. She hopes her horse will be allowed in hospitals to spread more joy.
Dominique, who didn't cause an ounce of fuss the entire time he navigated those rooms, was rewarded with a feast of hay. The long, winding return trip to York County awaited.
One of the women at Ruston was particularly taken with Dominique. She couldn't wait to touch his soft mane.
"I've died and gone to heaven," she said.
Smith looked at the woman, smiled and didn't miss a beat.
"There will be horses in heaven," she responded. "I guarantee it."
One morning spent with Dominique was enough to make a person believe that was true.