It wasn't the first ride that convinced Renee Poff to pull out her checkbook and buy Duncan. It was the first time she looked into the horse's eyes.
The owner and manager of Walnut Grove Farms relied on that initial impression. It gave her information. It gave her a feeling.
Duncan was special. Poff could tell.
"You could look at him and see that he was a gentle soul," she said. "That was one of the things that attracted me to him immediately. I put him on the trailer and the rest is history."
Fifteen years have passed since Poff made a trip from her farm in Dover, Pennsylvania, to nearby Peach Bottom and discovered Duncan.
The horse was 5-6 years old at the time and cost $1,200. He was one of the first horses Poff purchased. She'll never forget writing the check. It turned out to be a bargain.
"I was able to snatch up Duncan, who is just a complete gem," Poff said. "He has been with us ever since. He has been amazing in every way. He does anything you could imagine you'd want a horse to do. He's so sweet and good at it."
Duncan, whose show name is Slam Dunk, was recognized as Therapy Horse of the Year at the Pennsylvania National Horse Show in Harrisburg last month.
The quarter horse, who is 15 hands and didn't have papers when the sale was completed, has been a valued member of Poff's recreational and therapy riding programs.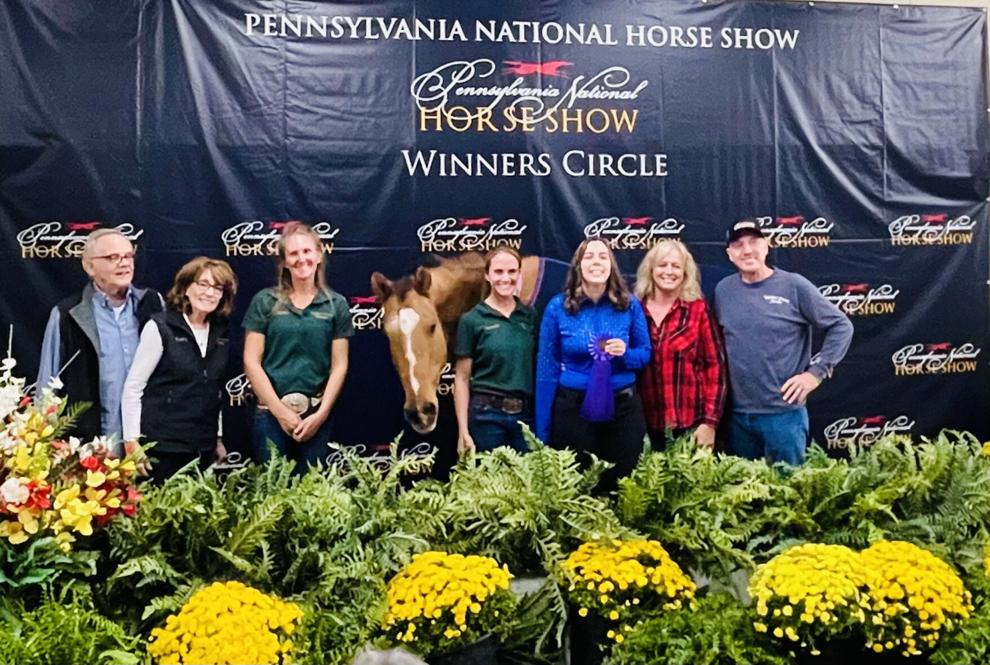 Poff nominated Duncan for the honor and described what he has meant to riders who visit Walnut Grove. The stories were heartwarming and inspirational.
One day Duncan froze during a therapeutic session and refused to move forward. It was very unusual because he always does what he's told. Thirty seconds later, the rider suffered a seizure. Duncan somehow saw the medical emergency coming.
Another rider was grieving over the death of multiple siblings. She rode Duncan to help cope. He was always patient and supportive.
"Duncan has been part of a lot of families going through hard times," Poff said. "They have fallen in love with Duncan because he has been a rock for them. He does the exact right thing at the exact right moment. He knows to give whatever they need."
Poff majored in equine facilitated therapeutics at Wilson College in Chambersburg. Her goal was to run a therapy riding center.
Walnut Grove operates on two farms that span 105 acres and house 33 horses. They're located across the street from each other. One is the farm on which Poff was raised. She and her husband bought the other one. It's an ideal situation.
"It's such a blessing," Poff said. "Some days we're like, 'We don't even know how this happened.' But I think that is why we like to create a family feel with our business. We like to share all the blessings we have. That's important to us in everything we offer here."
Walnut Grove provides lessons in all disciplines and focuses on each rider's specific needs and goals.
Although Duncan is approximately 20 years old, which is getting up there for a therapy horse, he's healthy and happy. Poff said he'll continue his work for the foreseeable future.
"Duncan is still going strong," Poff said. "He never shows any signs of not wanting to be part of the program any more. He's sound. He's healthy. It's looking like Duncan is going to be going for a while. I feel like he has a good many years."
Poff took Duncan for a ride the day they first met. That told her what she already knew. Duncan was a keeper. He was, as Poff said, worth his weight in gold.
Being named Therapy Horse of the Year was the ultimate confirmation.
"We knew Duncan was special," Poff said. "But for Duncan to be recognized by others for how special he is, it's just amazing. It's the icing on the cake."
Poff has an eye for these things. She saw it before anyone else.