Sally Cousins took Mark Twain's advice to heart. Find a job you enjoy doing and you will never have to work a day in your life.
It took the Chester County, Pennsylvania, horsewoman more than a decade to make it happen. But now, after a successful career in finance, she rides and teaches horsemanship professionally, and still competes at the highest level in women's eventing.
Cousins grew up on her family's 35-acre Innisfree Farm in Oxford, about 5 miles north of the Maryland line. She trains more than a dozen horses and three times that many riders, while competing year-round at age 58.
"I couldn't be happier," said Cousins, who is past the prime years for most competitive riders.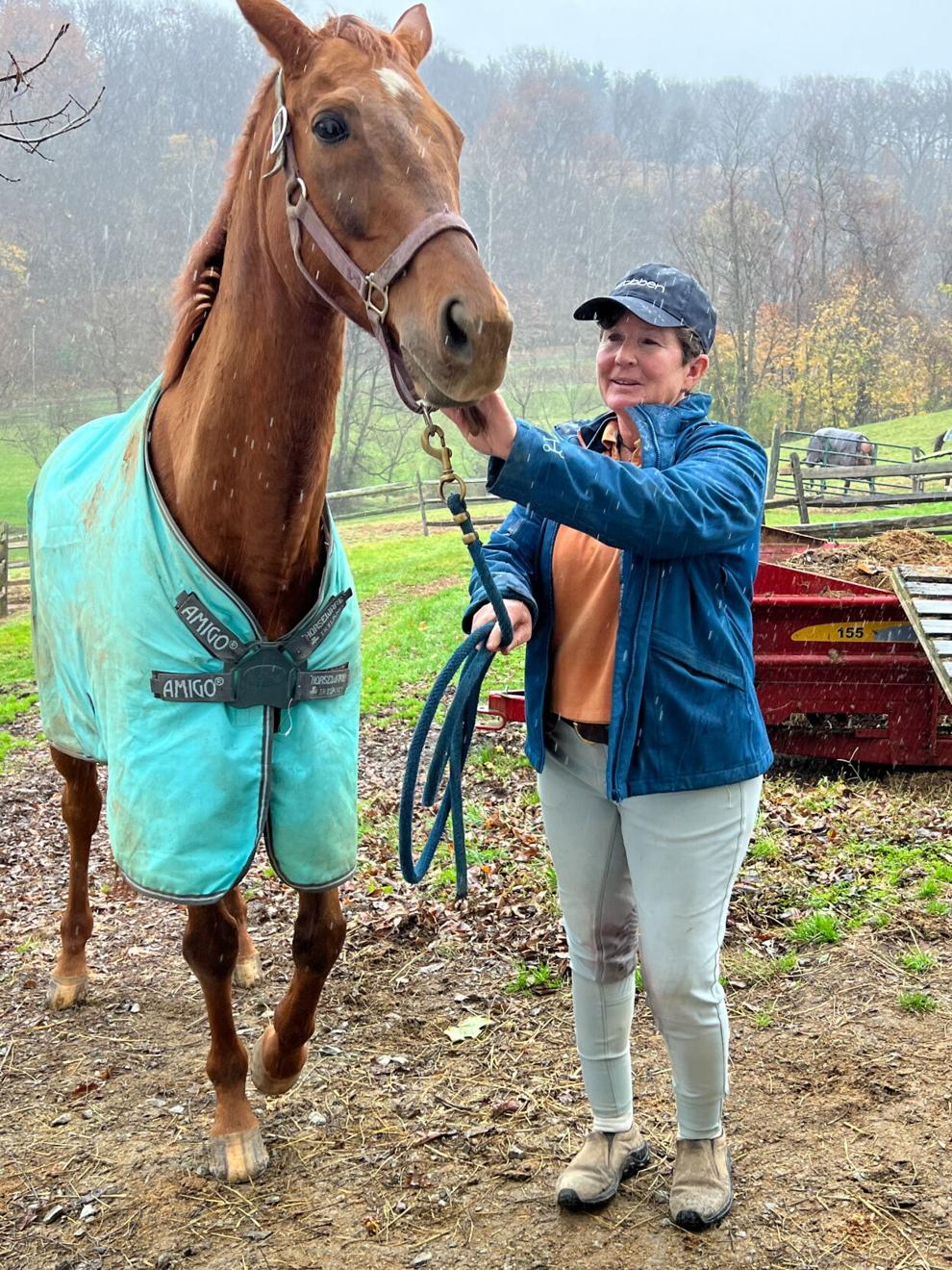 Cousins talked about her career one rainy, late fall morning at her barn as she was tending to a dozen Thoroughbreds who all wanted her attention. It was nearing the December date for Cousins to move her operation to Aiken, South Carolina, where she relocates for the cold months and cares for some 40-plus horses. She also trains northern riders who bring their mounts south for a week or more to her farm during the winter months.
Cousins has ridden in challenging competitions since her teens. Eventing combines the riding techniques of dressage, cross country and show jumping. They all have roots in comprehensive cavalry tests of a bygone era that required mastery of several types of riding.
Cousins' husband Nat's family raised Thoroughbreds and she also is partial to the carefully bred racehorses — some bred for short race speed and others for longer race endurance — many of whom are retired from the track each year and are sought after by riders to retrain for equestrian events. Thoroughbreds with the right trainer take to cross country and jumping naturally and are taught the intricate dressage movements.
One of Cousins' current mounts, Wizard, is 14 and she has been riding him for eight years. She believes, "He still has what it takes to compete at a high level" with, as she notes, the help of modern equine medical practices, good diet and smart training.
"I believe Wizard will be able to hold his own at the Three- and Four-star international FEI (Federation Equestre Internationale) level for another handful of years," Cousins said. "And if not, he can drop back a class or two and still be a top finisher."
Two of Cousins' best finishes on Wizard in 2022 were first place in January in a Mini-Prix (show jumping) competition in Aiken, and finishing in the top 20 horses (out of 80) at the fall FEI Four-Star Competition at Fair Hill in Maryland.
Cousins has competed in Five-Star events — FEI's highest — and was named the group's leading lady rider for six consecutive years from 2008-2013 while in her mid-40s.
Age hasn't slowed Cousins down at all as she works with more than four dozen equestrian riders with close to three dozen of them in regular weekly or bi-weekly lessons.
"You might say it keeps me young but I don't look at it that way," she said. "It is my life and a labor of love. Yes, I do some things differently now in my 50s than I did in my 30s. Don't we all? But I work to stay fit, strong and smart so I can ride daily, teach and compete."
Cousins was a member of the United States Pony Club for eight years as a youngster and it gave her access to competition and its educational programs in riding and care of horses that were instrumental in launching her equestrian career.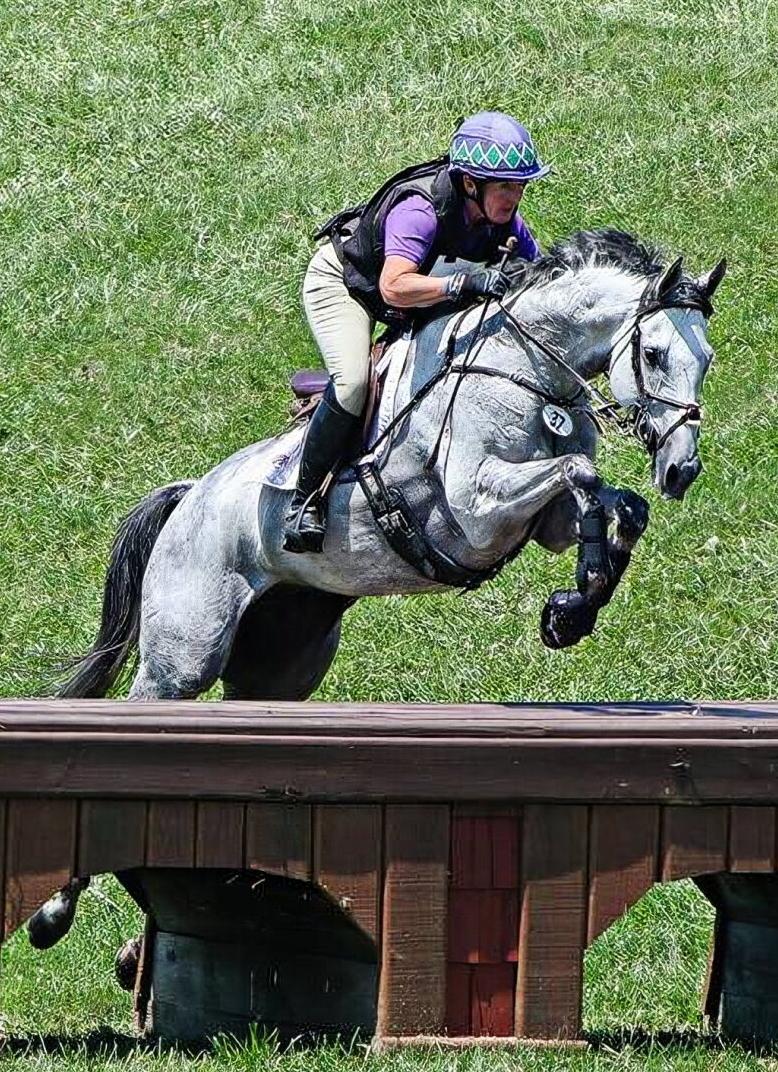 She advanced as an eventing competitor during high school and college and trained for years with Olympic gold medal eventing rider John Michael Plumb in Chesapeake City, Maryland.
Cousins rides 10 horses in competition, but her most recent success has been with Wizard.
"Wizard is terrific in cross country and show jumping but, almost as expected as a retired race horse, isn't as proficient in dressage," Cousins said. "We try to hold our own in dressage and make it up and more in the cross country and show jumping."
Cousins believes she would have started a professional career as a competitive rider and trainer in the 1980s but there weren't as many opportunities in the field as there are now with the growth of interest in eventing up and down the East Coast. Riders and their horses are in need of professional trainers.
With a degree in English from Rosemont College, Cousins needed a job to support her riding obsession and joined Merrill Lynch's Philadelphia Main Line office. There she learned the business from her father, who managed the operation.
"I spent 16 years both learning the business and as a financial adviser," Cousins said, "while never giving up hope that someday I could move to equestrian work full time."
That finally happened for Cousins in 2004.
"Eventing competitions had expanded," she said, "and I realized there were enough students and horses to train for me to keep busy full time while also competing. I jumped at it."
Sally and Nat set up shop at their Oxford farm and purchased a farm in Aiken as a winter training site for riders and horses.
"It didn't take long for people to find us," Cousins said, "with many of my riders finding a way to trailer their horses the 600-plus miles for the year-round training conditions we enjoy there."
Over the years, Cousins' top students have competed successfully in both local and FEI- sponsored eventing competitions across the country. One of those students — Felicia Barr from Erie, Pennsylvania — once won the 4-Star FEI Jersey Fresh Eventing competition in Allentown, New Jersey.
Cousins believes after 50 years of riding, she has become both an empathetic rider and trainer who can read horses and their owners.
"For example," she said, "at times, I have adults who come for training pretty tired after a long day at the office. Dressage drills and jumping are stressful on both horse and rider and it's not only wise but safe for all to make adjustments."
All the horses Cousins trains are at different stages and compete at different levels. And Cousins said, "Sometimes more than one will be with me at the same competition, which makes for a long, exciting, tiring and sometimes stressful few days."
With more equestrians competing in eventing, Cousins explains judging too has changed over the years.
"You move up the ladder in levels of competition with both points for high overall finishes as well as your performances in each of the three eventing disciplines," she said. "The judges are looking for harmony, relaxation and effortless power in the horse-rider partnership."
As all equestrians know, competition riding has a parallel to riding motorcycles, although no one talks about it. It's not if you will fall off, more like when.
"Yes," Cousins said, "it's a dangerous sport and riders wear safety equipment not because it looks good but because it can save them from serious injury. Riding helmets have been around for decades but they are continually improved to prevent serious head injuries."
Cousins also explains vests that protect riders' ribs and core have been around for more than two decades as well, but improvements have been made. Inflatable vests with dense foam absorb some of the impact of any fall and help shield the spine, ribs and internal organs, decreasing the risk of serious injury.
Safety improvements for riding events not only have found their way into eventing competitions but also into Thoroughbred racing and rodeo riding.
"As I near 60, I believe I am in as great a place as I ever have been competing," Cousins said. "I'm in a great place mentally and physically with good hand-eye coordination and I'm staying physically active continuing to focus on strength, which is so important in the sport."
"Yes," she added with a smile, "I do more stretching now that I did in my 20s, but I want to compete at the highest levels for as long as I can and will do what needs to be done to avoid injuries. I truly believe I am at more risk on the New Jersey Turnpike when I see someone in the car next to me driving at 80 mph and texting than I am on top of a horse heading for a 4-foot high jump in an evening competition."