HUFFS CHURCH, Pa. – For around 25 years now, Lennilea Farm has been packing kids and parents into a hay wagon like so many sardines and pulling them up to the highest point of the 200-acre farm to help out with the early November chores – smashing up all the leftover Halloween pumpkins so the cows can eat them.
Ask any of the siblings and extended family of 92-year-old patriarch Robert Seip just how the fall neighborhood tradition began and you are likely to get as many answers. One fact is crystal clear, though, you need the right geography.
"You have no competition, because you have to have the hill," said Seip, surveying the most recent pack-in Nov. 5 (the pumpkin roll also took place Nov. 6) from his perch aboard a picnic table near the action.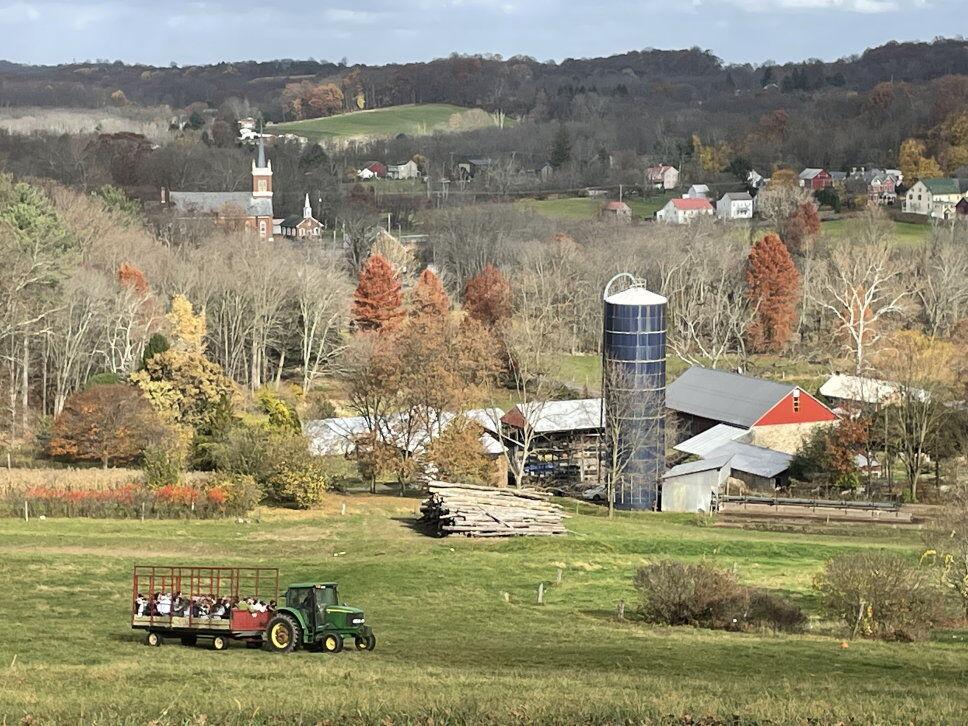 You Can Lead a Cow to Pumpkins
Cows love pumpkins, Seip said, but it's less than intuitive.
"They enjoy it, and they clean it up," he said of the pumpkin carnage that follows the festivities. "They learn from another cow, if they see another cow eating it. They won't always just take a pumpkin, but if they see somebody else eat it, well it's competition."
The same can be said for who can roll the pumpkin farthest down one of Berks County's best-kept-secret (whoops) winter sledding hills.
"It went pretty good," said first-time pumpkin roller David Sanford, a longtime Penn State Berks campus horticulture professor who grew up on a dairy farm in western New York. "I got down just about to the log pile. It's just fun seeing the kids have fun with it, and the parents."
Kids and adults rattled off a variety of reasons for enjoying the activity. Sometimes it was difficult to tell just who was who.
"I really do like the fact that some people with, like, stress and anxiety can come out and roll pumpkins, because it really does help people who really need that kind of stuff to get out all their anger," Evan Henszey, 12, of Topton philosophized.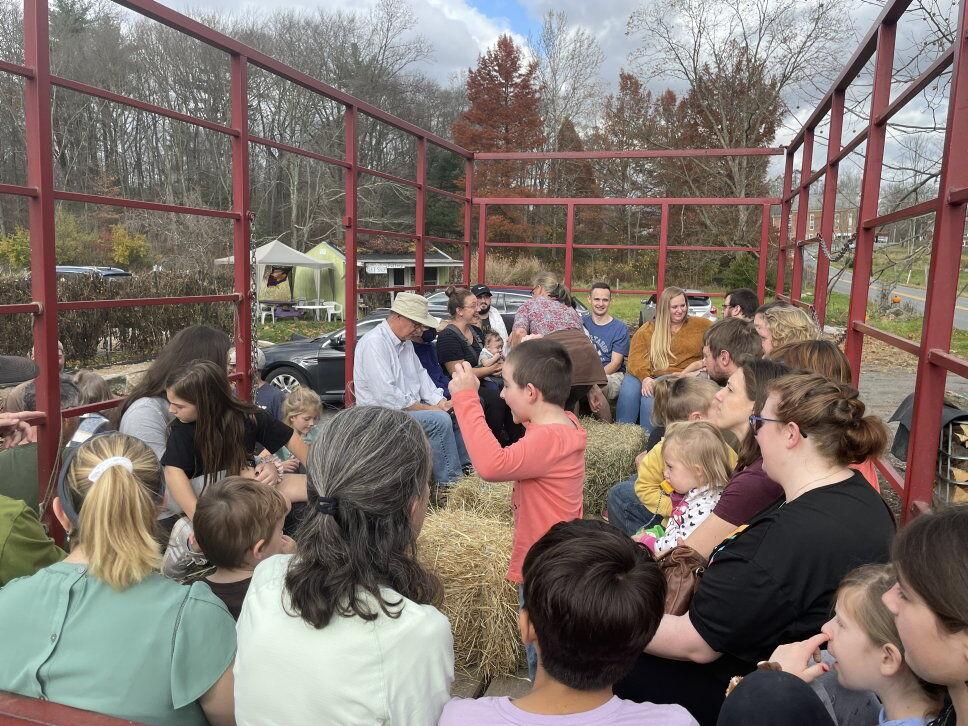 "I like how when you roll them, some pumpkins won't crack," 8-year-old Malik Ibrahim of Gilbertsville said, explaining his strategy for maximum altitude. "You'll go over the other pumpkins. And then when they're, like, super strong, they can bounce over them and go higher."
"To pretend that they're my ex-boyfriend," said Sadie Peng, 13, Topton.
Maybe Sadie ought to get Evan's card?
Return To the Origin Story
"We used to have a pumpkin-patch hayride business where we did a lot of hayrides, including with our neighboring church camp," said Robert's son, Lowell Seip, who has taken over most of the heavy lifting at the farm (although his parents, Robert and Cindy Seip, are still out there working every day). "And we started carrying along extra pumpkins at the end of the season to get rid of and roll down the hill. And it just got to be such a good idea, we keep doing it. It gets a little bigger and more fun every year."
The farm has shifted gears, with Robert (who milked cows until he and Cindy sold the herd in 1995) focusing mostly on his world-renowned native tree nursery, Lowell and Cindy running a plant and flower nursery, and Lowell does whatever else he can to pay the bills, including cutting firewood in the wintertime. But the pumpkin-rolling tradition remains, thanks to a neighbor down the road a few miles, Savidge Farms, which supplies the truckloads of post-Halloween pumpkins from its own you-pick pumpkin business that has been going strong for 25 years.  
"We used to haul them out of the greenhouse when we were growing lots of field pumpkins," said Lowell's sister, Emelie Swackhamer. "We'd haul the ones that hadn't sold out. And we had to chop them up and put them in the feeding trough, and it was like this huge chore. So, we decided, 'Why not just let other people smash them?'"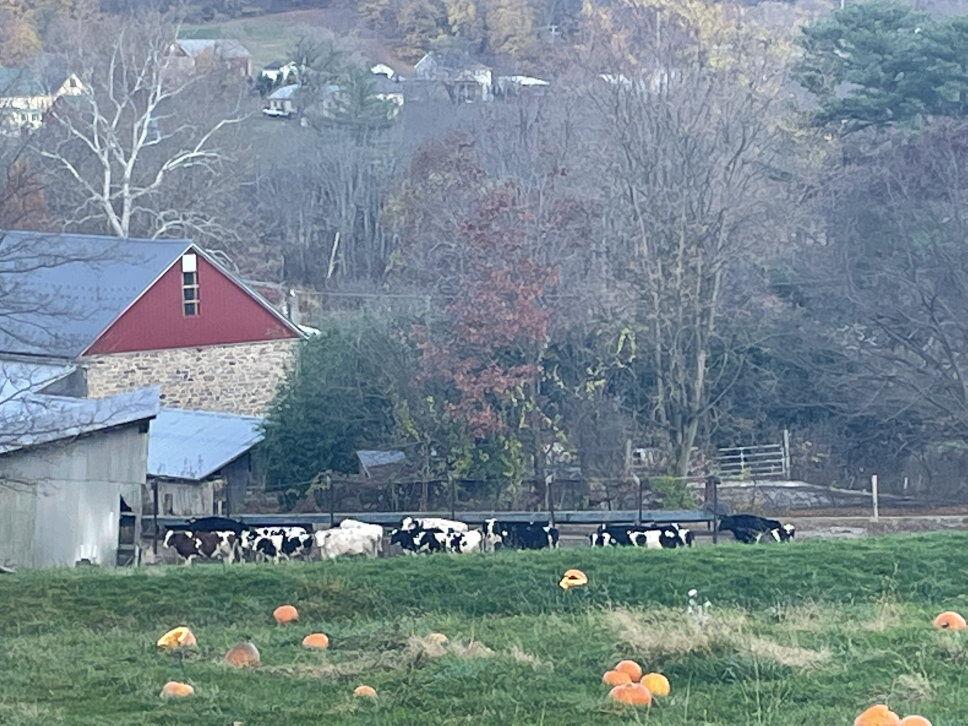 Added Emilie's husband, Scott Swackhamer: "We realized that if we rolled them down the hill that they would disintegrate from centrifugal force. And after doing that, we're like 'man, kids would love this. We've got to invite kids when we do this,' and so that's how it kind of started."
No matter exactly how the free event got rolling, all agree it's a smashing good time for everyone who participates (cows not excepted). 
"It's just like a customer appreciation, neighbors and friends and family," said Emelie. "It's a social event ... and it's a way to get rid of the pumpkins."