YORK COUNTY, Pa. — Squirrels haunt the trees in the fall for their tasty nuts. But late winter sometimes draws other visitors, buckets in hand, to gather a harvest of sap from black walnut trees.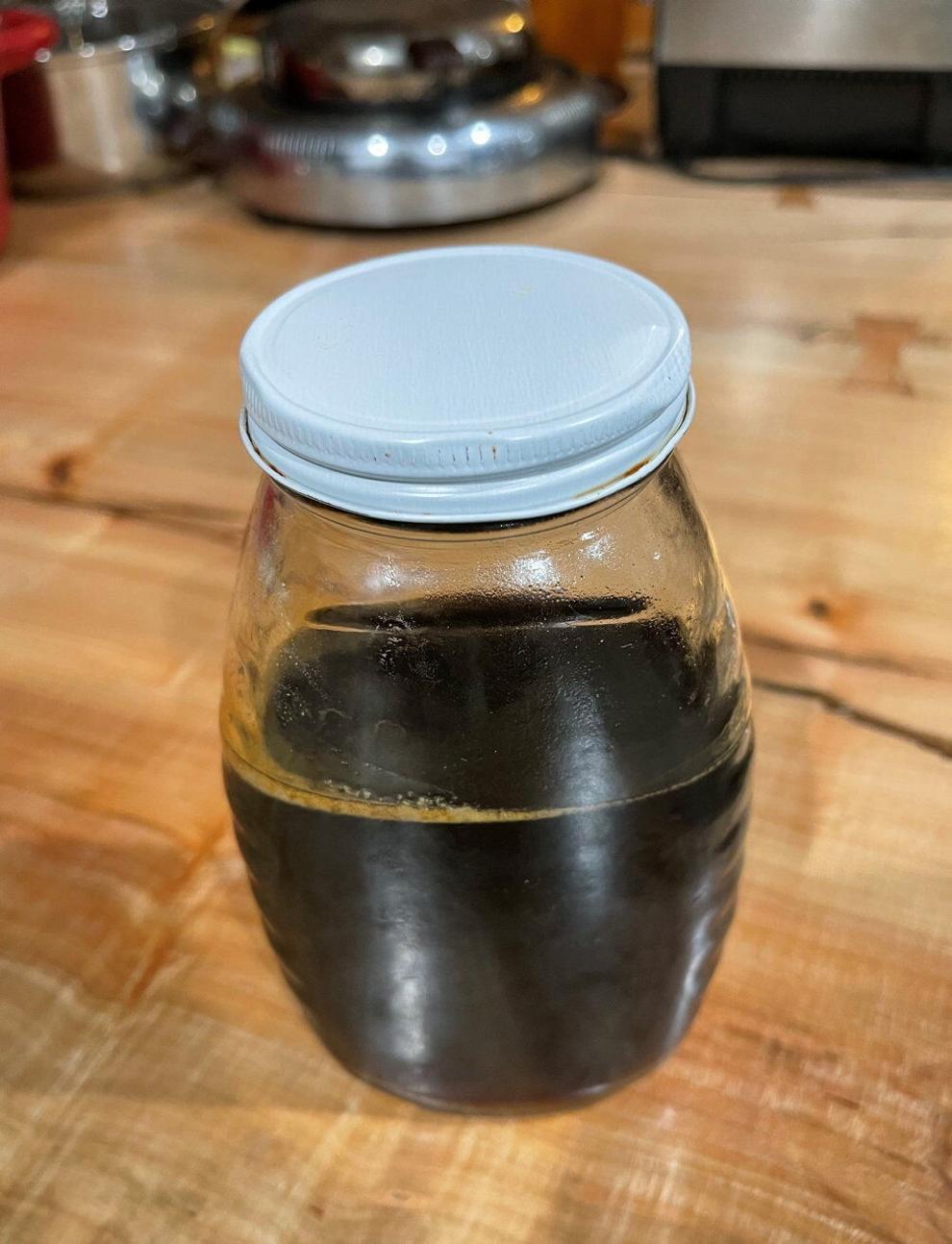 "It's something to do outside this time of the year," says Don English, about his experiences collecting and boiling down sap into a delicious black walnut syrup.
For several years, English has been experimenting with boiling down sap from walnut trees as another way of "using stuff on our property to eat."
Although English is a native of York County, he and his wife, Ann, live in Rockville, Maryland. Don is semi-retired as an economist with the USDA's Forest Service. Ann English is a landscape architect and teacher working with RainScapes and stormwater management for Montgomery County, Maryland.
"My wife and I have always been interested in utilizing the landscape," Don English said of their affinity for foraging and creating foods from nature's sometimes under-appreciated bounty. As the third-generation landowners of Happy Hollow Farm in southern York County, they're finding creative ways to use the property's quiet, wooded valley for recreation as well as enhancing the plant habitat.
Along with a riparian stream buffer planted in 2011, the couple has steadily been adding environmentally friendly plant species, including fruit and nut tree varieties and flowering shrubs. Plantings are primarily chosen to support pollinators and wildlife, as well as provide some innovative additions for human consumption.
The property's stream-split valley supports a variety of hardwood trees, some of them possibly a century old. The trees tower high above a small house nestled beside a gurgling stream. The steep-sided valley is thick with species like maples and oaks, Kentucky coffee trees and black walnuts.
"Black walnuts are plentiful here, and tapping those trees provides an unusual and tasty food product using what's in the landscape," English said.
Small Yield, Great Taste
English said that, while any tree in the maple family can be tapped for sap collection, his trials with maples didn't yield as much sap as expected. Then, several years ago, he became interested in tapping the black walnut trees.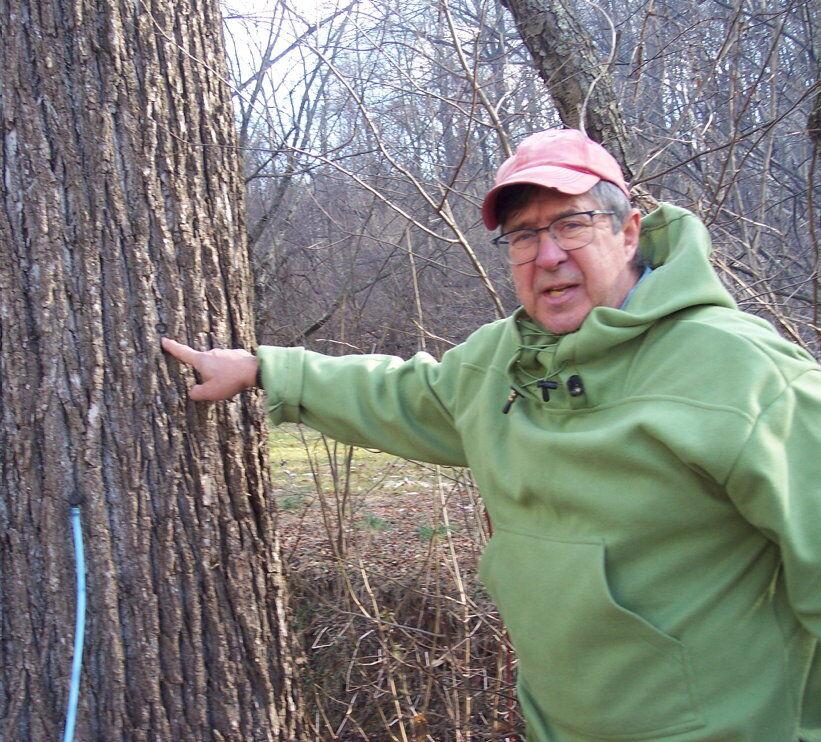 "Maple sap contains about 2% sugar, and a gallon of maple syrup requires starting with about 40 gallons of sap. Black walnut sap contains about 1% sugar, so it takes about 80 gallons of sap for a gallon of finished syrup," he said, about the tedious and time-consuming process of walnut syrup-making.
In prior years, English's syrup yields were small enough that this natural sweetener from the trees was carefully doled out, almost by the spoonful. He's found, for example, that adding a bit of the walnut syrup to its maple counterpart adds a rich flavor. And, a small amount mixed with vodka produces a tasty liqueur.
"I only have seven taps out, one per tree," English said about this season's collection. It required a weekly visit to the valley until January to collect and boil down the crystal-clear liquid. His yields this season have been more productive than in the past. The third-week collection from the seven taps yielded about 11 gallons of sap, with a potential yield of about a pint of the dark, flavorful black walnut syrup.
Tapping for tree sap flow is ideally done when daytime temperatures are in the 40s and drop into the 20s overnight, causing the flow up the trunk to advance and retreat with the temperature fluctuations. Taps are drilled, preferably, into the east or south side of the tree trunks, where warming rays of sunshine hit first.
"The season only lasts a few weeks," English said.
He noted that January's relatively warm temperatures permitted an earlier start to the sap collection this year than in most, and he anticipated the possibility of an extra week of harvest. As the season progresses and temperatures become less favorable, sap begins to turn from crystal clear to a darker color, containing diminishing amounts of sugar.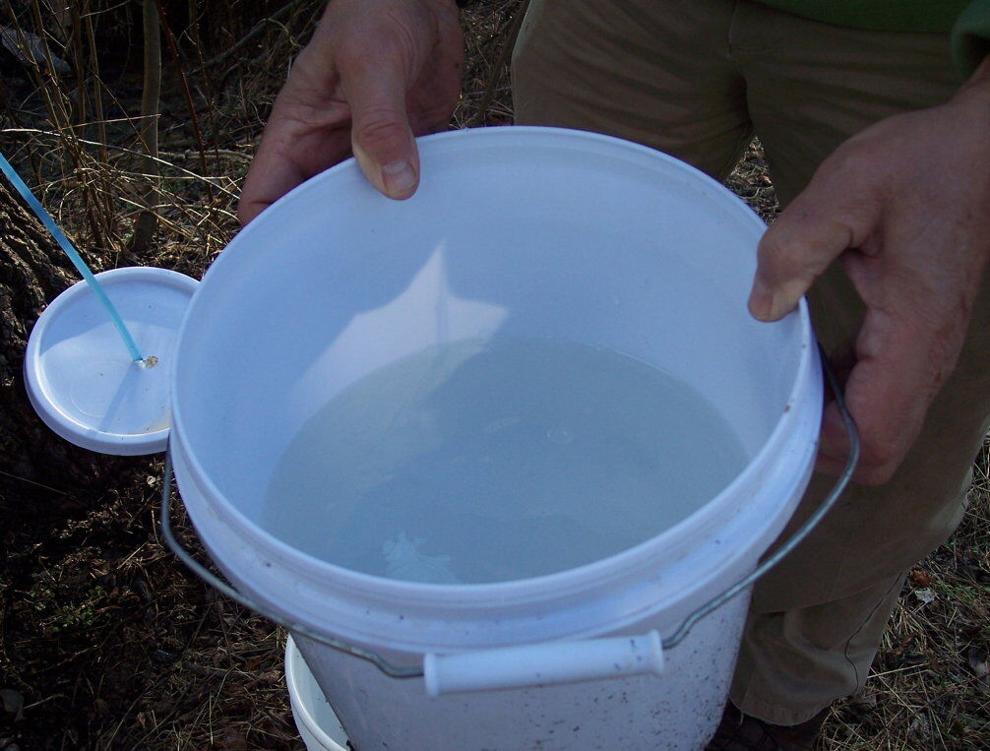 His original metal sap buckets — which hung directly on spiles tapped into the trees and could blow down in a stiff wind — have been replaced with plastic ones that sit directly on the ground next to the trees. Fitted plastic lids prevent contamination of the sap by insects and leaves, are less prone to leakage, and keep out rainwater.
A small hole in each lid provides an attachment point for a short length of plastic hose, which connects to the spile tapped into the tree's trunk. Newer spiles are a bit smaller in diameter than earlier types, leaving a smaller wound that readily heals itself with no ill effects to the tree.
English has been purchasing his all-food-grade syruping equipment online, much of it from a Vermont-based supplier. For boiling down the black walnut sap on site, English built a low, concrete-block outdoor fireplace, which is kept fueled during boiling with the plentiful wood available on the property. A 2-by-2-foot-square stainless-steel pan, also purchased online, provides space for an expansive boiling area to hasten the sap concentration.
"I partially boil it down here and then finish it on the stove at home," English said. It is a lengthy process to render the crystalline sap into dark, syrupy consistency. "As it cooks down, the sap gives off more of a walnut smell."
Boiling down even a few gallons of sap is an hours-long process each collection day, requiring frequent additions of wood to maintain the small fire. And, as the sap begins to slightly thicken and turn darker, it requires constant attention to prevent burning as it thickens.
"This year has been the best ever and I have a couple of pints already finished," he said about the successful sap harvest. "For the first time, we have enough walnut syrup that we've begun looking for ways on how to best use it."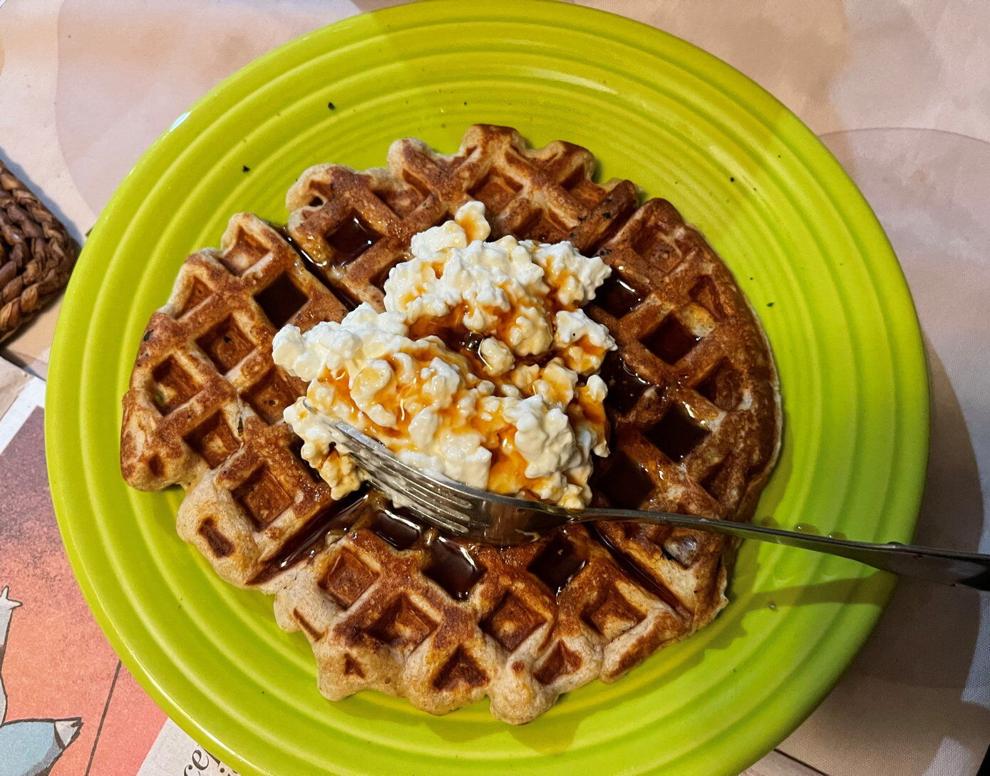 Due to the extreme labor-intensive process involved in collecting and converting walnut sap to the dark, rich, flavorful syrup it yields, English's seasonal venture remains an enjoyable wintertime hobby. He has no intention of expanding to sales. His original idea was to produce a rich, tasty sweetener to enhance other foods, like baked goods and beverages.
While limited amounts of walnut syrup are available elsewhere for purchase, the hours of hands-on labor and relative scarcity of the product pushes its pricing to gourmet levels. A recent online check English made showed walnut syrup selling for $10 for 1-3/4 ounces, and a 5-ounce container selling for $50.
For anyone interested in learning more about gathering and boiling down walnut sap, there are numerous instructional videos available for viewing on YouTube and other online sites.