While some people are born into a culture of hunting — typically through their fathers or grandfathers — Women of the Wild founder Felicia Marie became an avid hunter on her own accord in her late teens.
"At that time, it was very hard for a female to find her way in the outdoors, with it being so male-dominant," she said. "It seemed like every time I encountered a female, they would offer to take me under their wing and be a mentor."
Felicia Marie works as a full-time pharmacy administrator. Just for fun, in 2021, she started to actively post on Facebook and Instagram about her hunts, with the intention of drawing like-minded women into her circle.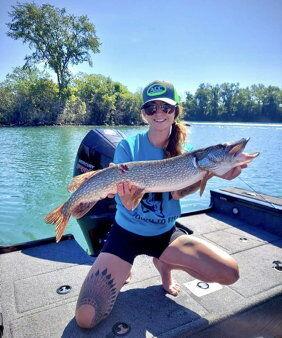 "Little did I know! There was a huge outpouring of interest and it has really exploded since then," she said.
Her Facebook page-turned-business, Women of the Wild, currently has 5,000 followers from across the country and the globe. Her Instagram account is approaching 2,000 followers.
The online social media platforms are managed by Felicia and seven representatives stationed in Ohio, New York, Michigan and Kansas, among other states. Each representative has a different hunting or outdoor niche. Together, they coordinate and schedule social media posts on the shared account.
For example, if Felicia posts online, she asks the other team members not to post anything within two hours, because it affects the algorithm. She learned that trick from a marketing class taught by Sereena Thompson, co-founder of Nature's Paint, a business she follows and endorses. It sells natural camo face paint for hunters that does not irritate the skin.
Based in southeast Michigan, Women of the Wild is primarily an online platform that teaches women the "how tos" of hunting, fishing and trapping. But they are working toward becoming a non-profit organization.
Through her second social media handle — Felicia Marie's Wild Endeavors — she leads a hunting and guide service in Michigan for women, children and veterans.
And, Felicia recently added exotic hunting trips to her portfolio.
But First, Education
The goal of Women of the Wild is simple — to bring more women together in the outdoors and provide educational opportunities related to hunting, specifically for women.
"The more I started doing that, the more I realized there wasn't enough education for girls," Felicia said. "Or, when they did (try to learn about hunting) they were just basically given a gun and put in the field as a group of guys. I want them to go out and have that respect of 'Wow, this girl knows what she's doing.'"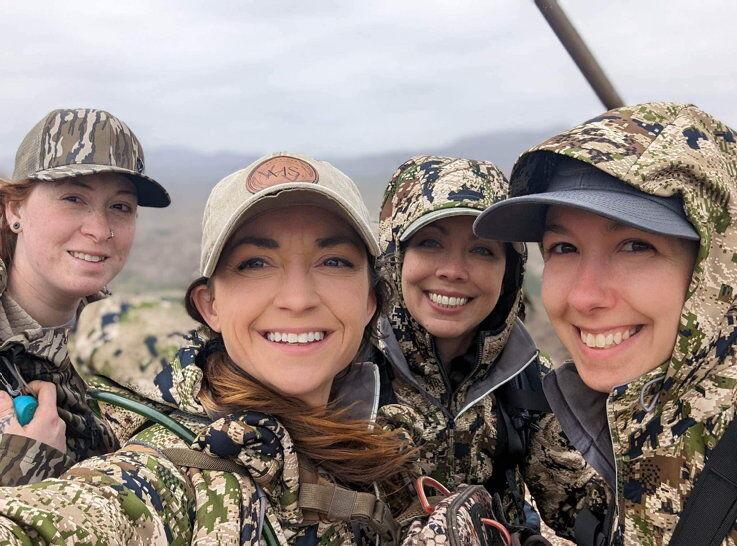 Each month, the Women of the Wild group hosts educational seminars both online and in-person. These include topics such as canning meats, trapping, bowfishing, waterfowl field hunting, pheasant hunting, doe hunting, fly fishing, catch 'n cook, and a plethora of other topics. The seminars are always led by a licensed or certified professional, according to Felicia.
"For me, it's all about the connection with the outdoors. I don't even care if I'm hunting," she said. "A lot of times when I do these events, I'm perfectly fine just being another hand to help. I have found such gratification in instructing women — that's been my drive and purpose."
The mother of two has taken her boys, ages 13 and 9, hunting with her since they were 6 months old — at that time in a backpack.
"I say they're wild, feral, wonderful children ... they love the outdoors," she said. "My oldest is obsessed. With waterfowl hunting, my youngest actually ran the trap line with me for his first year. Last year, he mentored with me and wasn't allowed to harvest any animals or set any traps, he had to just go with me and learn."
She continued, "That's typically how I do a mentor process with anyone — for one full season they just follow along, shadowing, and then the next year I put it in their hands. This year, he got to actually run the trap line and caught his first raccoon, and he's pretty hooked on trapping now."
Felicia said she traps wildlife primarily for farm management and often donates the animals to local universities for research.
Over the past two years, she has learned how to leverage mutual interest into cash and trade sponsorships. An avid turkey hunter, Felicia met the owners of Feathermoon Outdoors in Millville, Pennsylvania. She started using their calls, and now they are a sponsor on her social media channels.
From Small Game to Trophy Hunting
While big game trophy hunting was never really on her radar, Felicia said there were women in her network who expressed interest in it. Then a stroke of luck fast-forwarded her plans.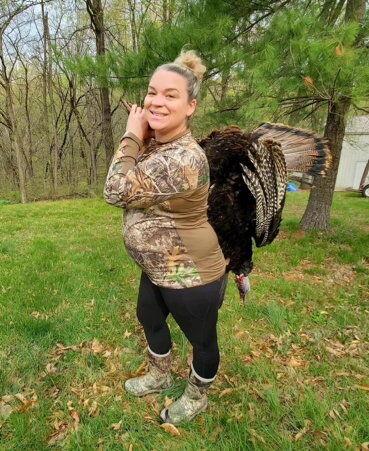 "I ended up winning a trip to Africa in December 2021 through an online contest hosted by Girls with Guns clothing, Ruger Firearms and Vortex Optics — and it had to be used within one year. I had never won anything in my life. I didn't know what to do and I didn't even want to go," she said. "I asked them if I could just take the camo and the gun and donate the hunt back, so they could raffle it off and make some more money. The woman said, 'We can, but why don't you sleep on it, because this is an incredible opportunity,'" Felicia said.
Felicia called her mom, in tears, who suggested she take her dad. She called him and he immediately agreed.
"We bought our tickets and went. The experience, the culture, the humbling feeling you get from being in a third-world country — it fed my soul. I thought, I have to share this with other women. I started working for that outfitter as their stateside representative to provide a discounted rate for more women to experience it. For the girls that go, there's an option for them to hunt or they can bring a non-hunter," she said.
The newest project that Women of the Wild has undertaken is a bi-weekly podcast, available on streaming platforms such as PodBean and Spotify. They are listed under "Women of the Wild Outdoors" and listeners can meet a featured woman discussing why she loves hunting in the great outdoors.
Felicia has some advice for women hunters and non-hunters alike: "Keep your feet moving forward and your head held high and you'll get through anything you want to. When you have the drive and the passion, it just feeds itself."
Felicia continued, "As long as we're providing education and opportunities to women, we're succeeding," she said.
For more information about Women of the Wild, search for the group on Facebook, Instagram or on your favorite streaming platform.