FFA has been preparing students for careers in agriculture since the first National FFA Convention was held in Kansas City, Missouri, in 1928. Back then, 33 delegates from 18 states attended. Today there are FFA chapters in all 50 states, as well as the U.S. Virgin Islands and Puerto Rico.
Two high schools in New Jersey excel at minting state FFA officers: Northern Burlington County Regional High School in Mansfield Township and Salem County Career and Technical High School in Woodstown.
Salem Tech Challenges Students to Lead
"I've been teaching at the school for 11 years," said Keely DiTizio, who teaches agriculture courses at Salem Tech. "There hasn't been a year yet where we haven't had a student on the state executive board for New Jersey FFA."
That may partly because students don't want to mess up a success streak, she joked, but it's more likely a result of the award-winning teacher's infectious enthusiasm and passion for FFA.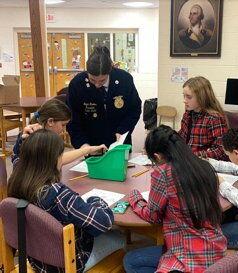 Graduating from Cape May County Technical High School with a certificate in ornamental horticulture, DiTizio said she herself was inspired by a teacher to pursue leadership through FFA. Now she's paying it forward.
"I served two years on the state level as a representative for, at the time, probably about 2,000 members," DiTizio said. "Now, in New Jersey, it's probably closer to 2,500 FFA students. They're agriculture students, but they're also in the (FFA) youth organization."
Enrolling at nearby Stockton University, DiTizio was on track to become a wildlife biologist when she underwent a change of heart her senior year.
"I worked for the Cape May Whale Watcher ... and I also worked for the Wetlands Institute over the summer as an education intern," she said. "And that's really where I decided to become a teacher."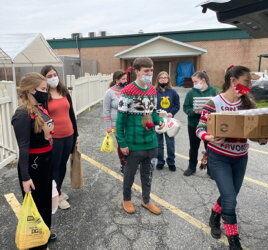 DiTizio graduated in May 2012 and by August had been approved to be an agriculture teacher.
She made the perfect choice, she said.
"I think just having passion for what you do is really important," DiTizio said. "And I think because I love my job so much, I think that just sort of emanates and people want to be a part of it."
They also want to be empowered, she said.
"I try to be like 'the guide on the side' and not so much like an authoritative figure that's demanding things," DiTizio said of her teaching style. "So I kind of give them the ability to take the leadership role and challenge them to create their own solutions."
That sort of cooperative autonomy carries over into the mechanics of FFA itself, she said.
"What's really cool about the FFA organization is that it very much operates like traditional politics in terms of voting and representation," DiTizio said. "So the students are the constituents and they shape the organization, which allows for all that leadership development and really allowing them to take the organization where they want."
It's a continual passing of the torch.
"It's been 15 years since I wore the jacket," DiTizio said. "These kids are different, and they have different thoughts, and they want to run things differently."
Northern Burlington: A Proud Legacy 
Brian Hayes teaches greenhouse landscaping and ag mechanics, and is one of four FFA advisers at Northern Burlington High School. He said that while FFA rightly has its roots in farming and agriculture, the program that recently produced four of six New Jersey state FFA officers in one year focuses on developing a broad skill set.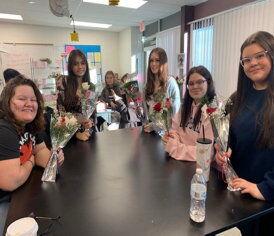 "We really try to work with the students and develop their leadership qualities, that they are all good public speakers, that they have the ability to write a resumé, and they have some actual practical work experience," he said.
Northern Burlington has a proud legacy of turning out state FFA officers dating back to the 1960s, Hayes said. Among the school's recent products, Jamie Specca made the shortlist to be a national FFA officer in 2020.
Many of Northern Burlington's state officers pursued education careers and are now ag teachers throughout the state.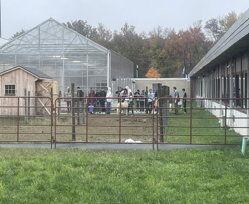 "I went to a very small high school, and they had an agriculture education program," Hayes said. "So I joined FFA, and when I was younger it was always trying to beat Northern Burlington."
When the opportunity to teach there presented itself, he jumped on it.
"We've kind of taken it from a two- or three-teacher program now to where we've got four teachers at the high school, and we have one at our middle school. So every student really gets to experience agriculture in some capacity," he said.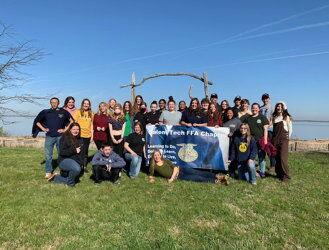 The school also benefits from idyllic infrastructure, thanks to a 2018 referendum allowing for major renovation, said agriscience department leader Nan Hamilton, a Rutgers University animal science graduate who has worked at Northern Burlington for 23 years.
"We have a brand-new (5,500-square-foot) greenhouse, state of the art, we have an ag mechanics shop that contains two classrooms and the shop area, and we also have an animal science classroom," she said. "And we do have animals. We have too many horses, and a bunch of other critters running around. And there's a floral design room that I utilize for floral design."