MILLERSVILLE, Pa. — Two teams of Penn Manor High School agricultural education students earned top honors at the National FFA Convention & Expo, held Oct. 26-29 in Indianapolis.
The Manor FFA Floriculture team of Vita Failla, Leah Hess, Jeanette Kneisley and Carly Railing placed fifth in the nation out of 45 teams, earning a gold ranking.
Team members had to identify 50 flower and equipment specimens, solve 10 floriculture problems, take a general knowledge test, create and price a $55 arrangement and a $25 corsage, create advertising media, transplant young plants, and work as a team to create planters for sale.
They earned 795 out of a possible 800 points on the team activity. Leah, Jeanette and Carly earned individual gold medals, and Vita earned a silver medal.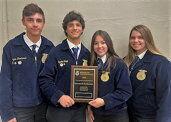 The Manor FFA Livestock Evaluation team of Logan Broderick, Chloe Perry, Ezekiel Smith and Jenna Smith earned a silver ranking, placing 30th of 45 teams.
The students had to evaluate nine live animal classes, give four sets of oral presentations on why they placed a class of animals in a certain way, complete a team activity on animal genetics and take a general knowledge test.
Logan and Chloe earned silver individual medals, and Zeke and Jenna earned bronze medals.
Also during the convention, the Manor FFA chapter was recognized as a two-star premier chapter out of three possible stars, based on the members' leadership, community building and advocacy for agriculture. Chloe Perry and Jenna Smith accepted the award.