Like everything this year, the fall agritourism season was different. Farms that usually host hundreds or thousands of people at a time at their pumpkin patches, corn mazes and fall festivals, were left to decide how to navigate business during the the COVID-19 pandemic and all the safety protocols that come with it.
"We did not know what to expect this season," said Mary Wood, who owns and operates Forrest Hall Farm in Mechanicsville, Maryland, with her husband, Joe, and their family. "We even considered not opening the farm shop or the farm to the general public. We fully expected our visitor count to be significantly reduced over previous years.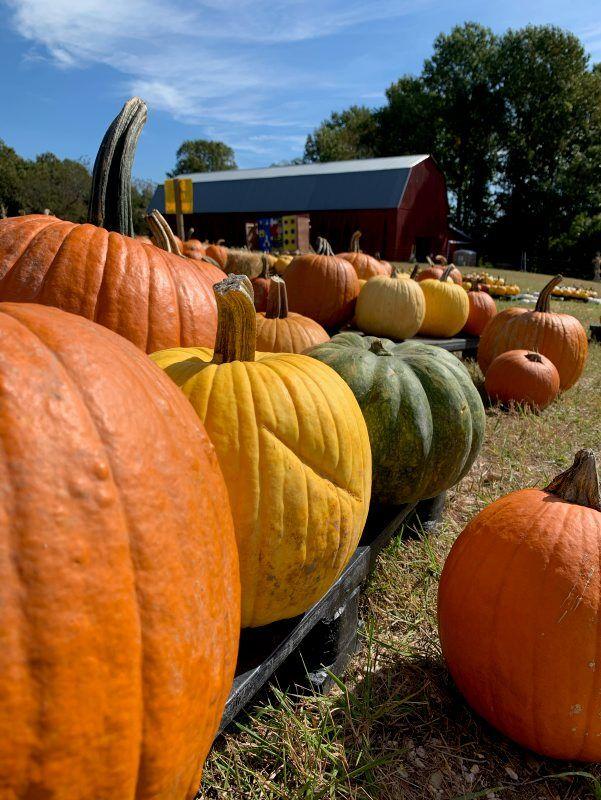 However, it really didn't turn out like that. Even though school field trips were all canceled, and that usually makes up a good part of our business for the season, the children still came — only they came with their parents instead of their teachers. The home-schoolers, day cares and church group visits were all beyond what we had hoped for."
In setting up for the season, Forrest Hall, like all the farms interviewed for this article, went through an extensive process to make sure that they could keep themselves, their farm staff and their customers safe. They followed the COVID-19 Centers for Disease Control and Prevention guidelines for mask requirements inside the farm shop and outside when not able to do adequate 6-foot physical distancing.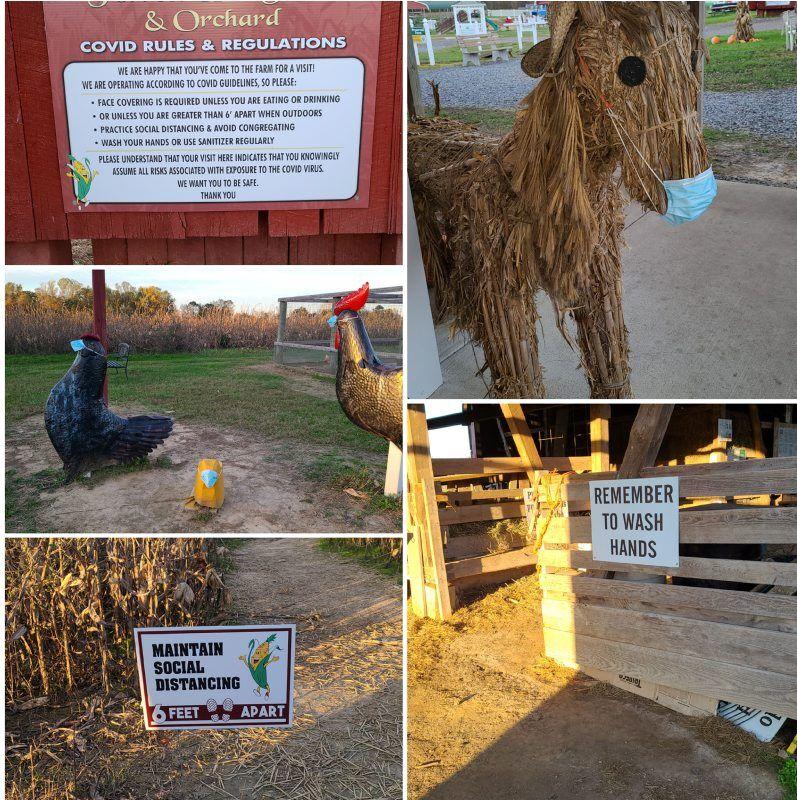 Agritourism Safety Procedures During the COVID-19 Pandemic
They reduced the number of riders on the hay ride at any one time by 50%, separated the picnic table seating for safe distancing, posted lots of signage about special safety instructions and reminders, had multiple hand-sanitizer sites, and marked the floors in the shop for safe distancing. They only allowed a limited number of people in the shop at one time while using a customer flow pattern by marking the entrance and exits for the shop. And, they used a sanitizing spray on surfaces throughout the day.
"We set up a checkout station outside to help with traffic flow inside the shop, especially for those customers purchasing pumpkins, mums and other outdoor items. It was quite a bit of work to get set up, but once done, everything seemed to go smoothly," Wood said. "The customers were very satisfied and compliant. We did not get a single complaint."
In fact, Wood said that "customers expressed pleasure and gratitude, over and over. They were happy to have somewhere outside they could visit with their family, relax and enjoy themselves."
"Sales in the farm shop have been up over last season," she added. "Many (customers) reported appreciation that they could get meat, cheese, eggs, honey, fresh fruits and vegetables, and bakery products at our little shop, and avoid the large and often crowded grocery stores for these items. For about four weeks of the season, we could barely keep up with demand."
Adam Miller, of Miller Farms in Clinton, Maryland, runs the agritourism operation on his family's diversified, eighth-generation family farm.
Besides following the CDC's staff health and sanitizing protocols that have now become standard for all businesses, their biggest changes were moving all of their ticket sales online and only opening on Fridays, Saturdays and Sundays. The farm eliminated its usual weekday business with schools, day-care groups, field trips, etc.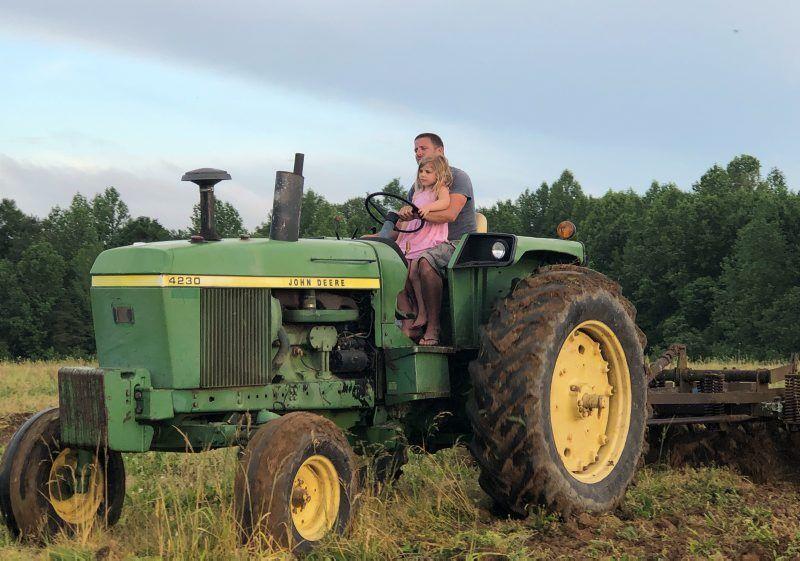 "The ticketing site that we used allowed for a certain amount of tickets to be sold per time slot," said Miller. "We chose to do the timed ticketing for every half hour. The customers could reserve the date and time that they wanted to come, and this was incredibly helpful in maintaining crowd control.
The online reservation system that we put in place nicely spread out the busiest parts of the day. This virtually eliminated all lines, especially at the check-in entrance, and allowed for all of our activities to be enjoyed in a safe, socially distanced way."
Miller said that much to the surprise of the family, the season turned out to be an overwhelming success.
Although they missed the midweek business and the school field trips, their weekend business "exceeded all expectations," he said. Miller said it's hard to pinpoint exactly what led to the success, but they believe it was a combination of better marketing and the fact that many other attractions throughout the area had shut down, and people just wanted to get out and do something safe and fun with the family.
"We received an overwhelming amount of positive feedback through the entire month of October," he added.
Bret Middleton runs Legacy Farm Lawnscapes on his family farm in Waldorf, Maryland.
"Due to COVID-19 this year, our farm had to make a lot of changes to our (agritourism) operations. First, we made a decision early in the spring not to open for pick-your-own strawberries, Spring on the Farm, and cut-your-own flowers, due to the conditions. We made the choice to take the risk, to focus more on building safety precautions and all of our efforts, so that we could hopefully be ready to open for the fall," Middleton said.
They heavily coordinated with the Charles County health department to ensure that their health safety plan was approved.
"This plan focused on adding additional seating for our hay rides to ensure everyone was socially distanced, spraying off our hay wagons after each hay ride with Health Department-approved cleaning solution, adding social distance signage, an abundance of hand-sanitizing stations, and adding disinfectant spray bottles at each location where people would be touching items," Middleton said. "We also required face masks to enter, where people could not socially distance, and on our hay rides. And, all staff were required to wear face masks and fill out a COVID-19 checklist prior to working as well."
Middleton said they had a good season, and that their customers reacted with great feedback. People were appreciative of the spacing, and the precautions they had in place to keep everyone safe.
He said that many farmers have had to put additional resources into figuring out what to do to keep the operations safe. He also said it's likely that many customers do not know the risk involved in the decisions that farmers have to make in a regular year, let alone during the COVID-19 pandemic.
"We don't make our decisions in September to be ready to open," Middleton said. "Investments and decisions need to be made in May in order to support the fall season for such things as planting pumpkins, corn, corn maze design, etc. We decided to take a large risk in May to plan to be open. If we were on lockdown ... there are many costs that would not be recovered. We also wanted to ensure everyone's safety (from our customers, employees, and family) for a safe, fun place for people to get out and enjoy themselves."
Some Agritourism Attractions Might Keep Changes After the COVID Pandemic
In fact, some of the changes that these three farms have had to put into place for the COVID-19 pandemic, have turned out to be ones that they will be keeping.
Miller Farms plans to keep its timed ticketing system. Legacy Farm Lawnscapes likes running its hayrides with more space.
And Mary Wood, from Forrest Hall Farm, said, "Moving a checkout to the outside and taking that part of the service to the customers — rather than have the customers bring pumpkins, mums and the like inside — proved to be a winner. We think we'll keep it!"
Wood said that being open seven days a week helped to spread out group visits, so it is likely they will continue that practice when Forrest Hall Farm is open to the public. They also usually close the shop between Thanksgiving and Christmas and open back up in May, but this season they will be staying open on weekends throughout the winter. "Our customers have really supported us, so over the winter, we will try our best to support them as long as we have products to offer."
Wood echoes the same sentiment that all the agritourism farmers stressed, which was thankfulness for their customers.
"We are very grateful for our loyal customer base that has developed over the years. These people stood by us during this pandemic when we did not know if anyone would support us and visit the farm. We are very grateful," she said.