LEBANON, Pa. — Have you read any good books about cows lately?
Unless you're a student of veterinary science, your answer is probably, "No." But don't despair — there's a new bovine book on the market and it boasts a happy Holstein as its main character.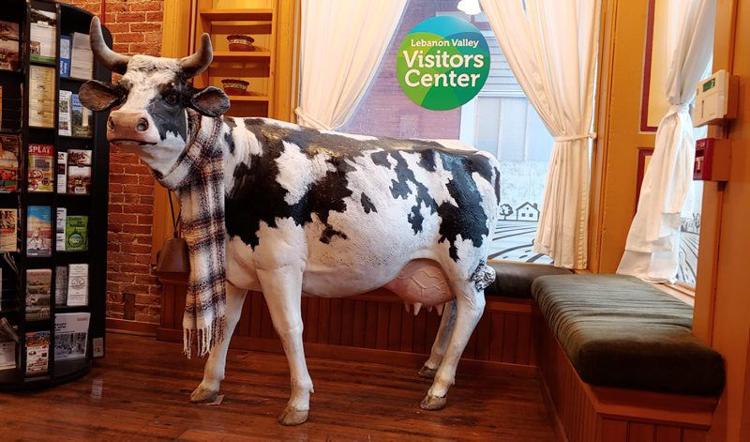 A black and white cow named "Lebanon Lilly" has assumed a starring role as the friendly face of the dairy industry in Lebanon County. While she holds a broad appeal for young and old alike, Lebanon Lilly is currently becoming a household name for first-graders in more than 60 Lebanon County elementary schools.
March 2 marked the official date for "Read Across America," an initiative of the National Education Association. It is designed to bring adult volunteers nationwide into their local classrooms to read aloud to students. Each region picks the children's book they will be reading.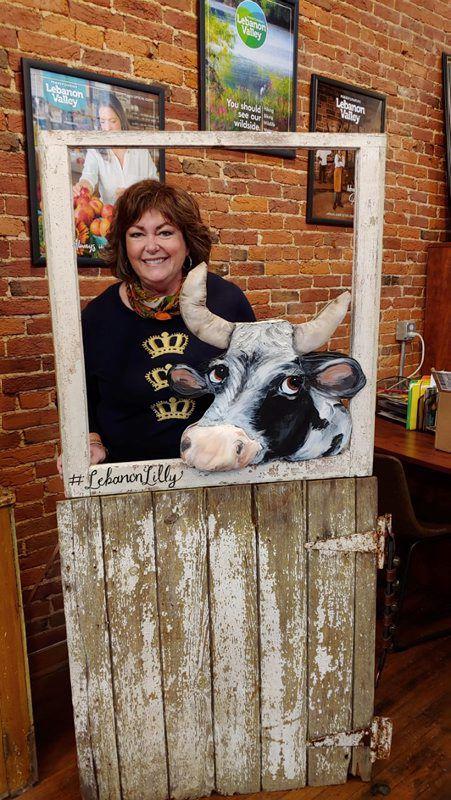 In Lebanon, they not only picked a locally written and illustrated children's book themed around the county's No. 1 industry — agriculture — but, using volunteers solicited by sponsoring agency United Way, the effort was expanded to the whole week of March 2-6, to reach as many first-graders as possible.
Lebanon Lilly — a nearly life-size Holstein statue —and the book named after her, "The Adventures of Lebanon Lilly," are both the brainchild of Jennifer Kuzo, a Lebanon County native who also happens to be president of Visit Lebanon Valley, which promotes local tourism. Though Kuzo doesn't live on a dairy farm, she lives adjacent to one near Palmyra, and is a lifelong fan of agriculture.
The concept started last spring when Kuzo noticed a property with various animal statues displayed on its lawn and a "For Sale" sign on them. As she looked over the three cow statues in the collection, an idea was born. She went home and told her husband, "Ron, I want to buy a cow." He was relieved to learn she was thinking of doing so as part of her job.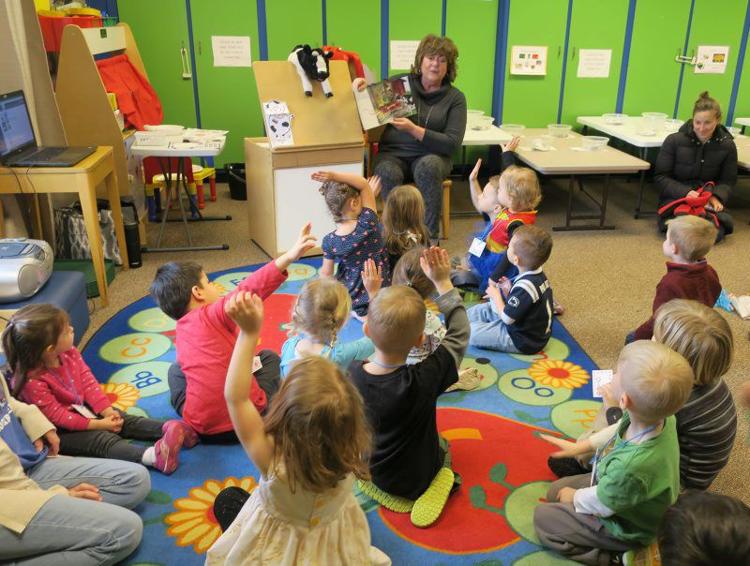 Before long, a 100-pound cow replica was trucked to the Lebanon Valley Visitor's Center at 31 South Eighth Street, Lebanon. But now Kuzo had a different problem. The solidly black-painted cow "looked more like a bull," she said, but worse yet, it also featured a bright yellow udder area. That was when Kuzo went in search of an artist to make the new acquisition look more friendly and Holstein-like.
Fortunately, Kuzo connected with M.J. McFalls, a Myerstown artist with a lengthy animal-artwork resume. McFalls not only gave the black beast a charming black-and-white spotted look, but also painted the cow's udder a more natural-looking hue. McFalls even added "really big eyelashes on her" at Kuzo's request.
Even before McFalls worked her magic, Kuzo knew the beautified bovine would need a name. As soon as the Holstein took up residence at the visitors center, which is connected to the Lebanon Farmers Market, children were instantly attracted to the easily accessible bovine. During a pre-Easter open house event, Kuzo invited kids to submit name suggestions and rewarded each entrant with a "Cow Tale" candy. There was no shortage of naming suggestions, and "Lebanon Lilly" was eventually deemed a perfect fit for this barnyard ambassador.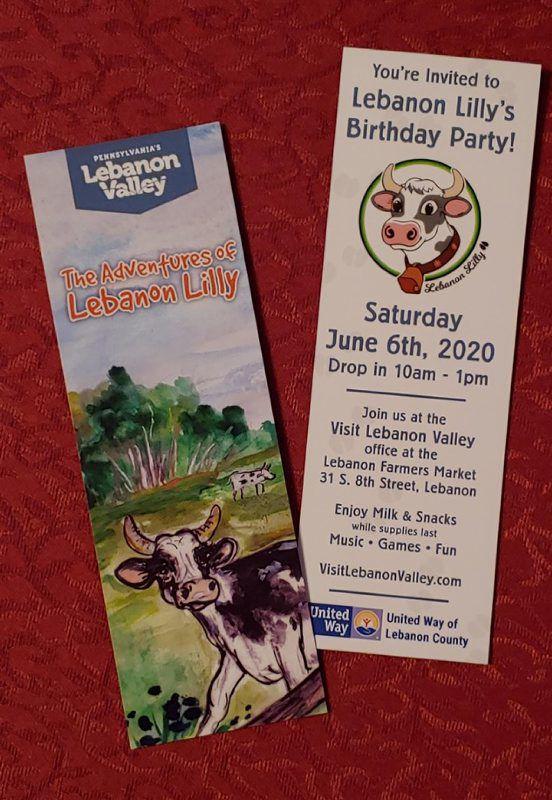 Kuzo considered transporting Lebanon Lilly across town to be displayed at the Lebanon Area Fair last July, but quickly realized that moving a 100-pound cow replica probably isn't too much easier than transporting a live cow. Since Kuzo foresaw taking the Lebanon Lilly experience beyond the visitors center's office, she again sought out artist McFalls for a brainstorming session.
McFalls found inspiration in an old barn door she happened to have on the burn pile at her home. She transformed it into a photo backdrop where fairgoers could take their photo with a painted version of Lebanon Lilly poking her head out beside them. Since this photo-op literally invites folks to "take the cow by the horns," it quickly became a popular stop for fairgoers.
Kuzo happily notes that Lebanon Lilly has has been a big hit, not just with children, but with adults, as well.
"She's a conversation piece," Kuzo said.
In fact, the response to Lilly was so positive that it gave Kuzo another bright idea. Why not write a children's book about her?
Kuzo had never written a book before, so she sought out her local librarian at the Palmyra Public Library for hints on writing a children's book targeted toward 3- to 7-year-olds. The librarian provided her with some relevant reference materials, but also summarized them, advising Kuzo to "keep it under 750 words and use repetitive phrases." Kuzo did both, with her recurring tag line being, "I wonder?"
Kuzo's storyline has Lilly visiting various county landmarks that children and their parents would enjoy. Lilly's owner, "Farmer Smith," is named in honor of Kuzo's dairy farming neighbor, David Smith, who heads the Pennsylvania Dairymen's Association.
Since first-graders are a new generation of potential dairy consumers and enjoy being read to, Kuzo made sure that the 20-page paperback book, with nine full-page color illustrations by McFalls, is well-suited for reading aloud to young children.
One thousand copies of "The Adventures of Lebanon Lilly" were received from the printer just two days before last Christmas. In addition to highlighting a lovable Holstein and promoting county agricultural products and activities to youngsters in a fun way, the book also serves another valuable purpose. Copies have been distributed to all six Lebanon County public libraries, located in Annville, Fredericksburg, Lebanon, Myerstown, Palmyra and Richland, where they are for sale at the cost of $10 each. All proceeds are retained by the library selling the books. Copies are also on sale at the Visitors Bureau, 31 South 8th Street, Lebanon, with those proceeds being evenly divided between the six libraries.
What's next for Lilly? She already gets into the spirit of things by donning seasonally appropriate attire, such as a Santa hat at Christmas, a scarf for wintry weather and a feathery pink boa for Valentine's Day. Now, invitations to Lebanon Lilly's birthday party on June 6 at the visitor's center have already gone out on 2,000 bookmarks distributed as part of the recent elementary school readings. The party, held from 10 a.m. to 1 p.m., will feature Lebanon County's dairy royalty distributing milk and snacks, as well as a coloring contest, music and games. No doubt, Lilly will be wearing her party clothes.
There's also a rumor about a possible sequel to "The Adventures of Lebanon Lilly."
"Lilly just might fall in love. Who knows?" said Kuzo with a mysterious smile.
Jennifer Kuzo and Lebanon Lilly may be reached online at VisitLebanonValley.com.