GRANTVILLE, Pa. — It's easy to find the lane for Batz Farm. A metal goat topper sits on the mailbox with "Batz" etched into it. And goats are what Batz Farm does best.
Mike and Kim Batz started Kid Snuggles for Kid Wishes last year, though Mike said that it was really Kim's brainchild.
While Mike grew up on a farm, Kim was a city girl. But now she is a full-fledged farm girl, often out in the pasture or in the barn to help the goats while they are birthing.
Because she had not grown up on a farm, Kim had the idea to get people — many of whom aren't used to farms — up close and personal with farm animals.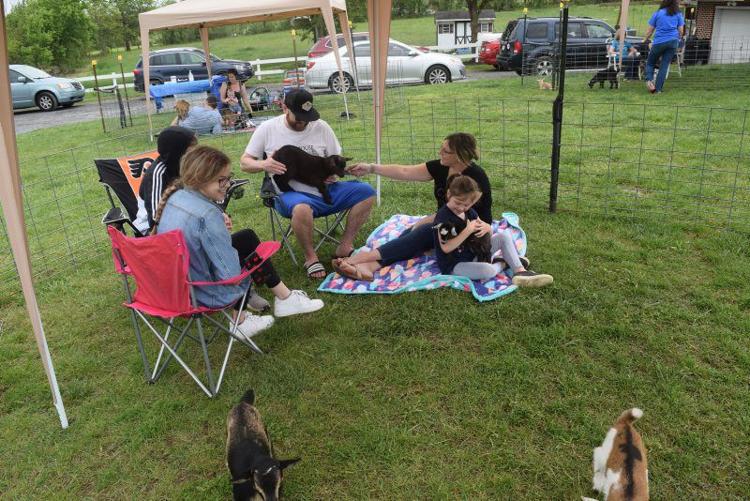 She decided to start Kid Snuggles for Kid Wishes, a baby goat "snuggling" session where 25% of the proceeds goes to the Make-A-Wish Foundation, an organization that provides "wish" experiences for children and youth who have critical illnesses.
When they started the goat event last year, Mike said he was a little uncertain that people would want to come snuggle with goats for an hour, but Kim was confident that it would be a hit, and she was right.
And now, ironically, with most of the world practicing 6 feet of social distancing from each other to help stop the spread of the coronavirus pandemic, the tactile closeness of snuggling — even with a goat — may have taken on additional importance for people.
This year's snuggling season started on May 15, and so far, each session slot has been filled. The sessions are scheduled to continue until the end of June, as long as interest is still high.
In addition to the hour-long snuggling sessions, this year Mike and Kim added something new — Picnic in the Pasture.
They set up four picnic tables in a section of their pasture. From the picnic tables, guests can see a pasture filled with goats, one filled with cows and one that has horses.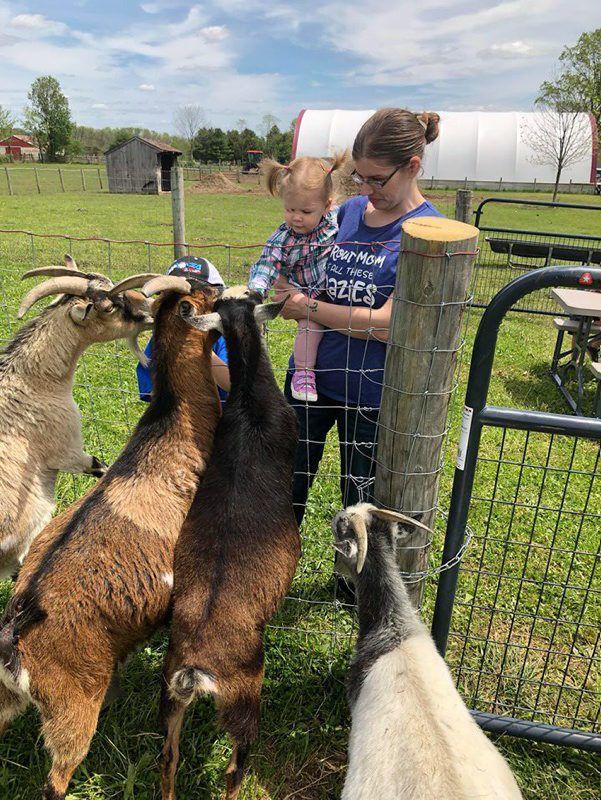 The picnic sessions include 45 minutes for the picnic and then an hour-long goat snuggling session.
While Mike and Kim, along with their son Tristan and Kim's daughter Kiah, get the baby goats ready for snuggling after the picnic, the picnic-goers can feed treats to the farm animals.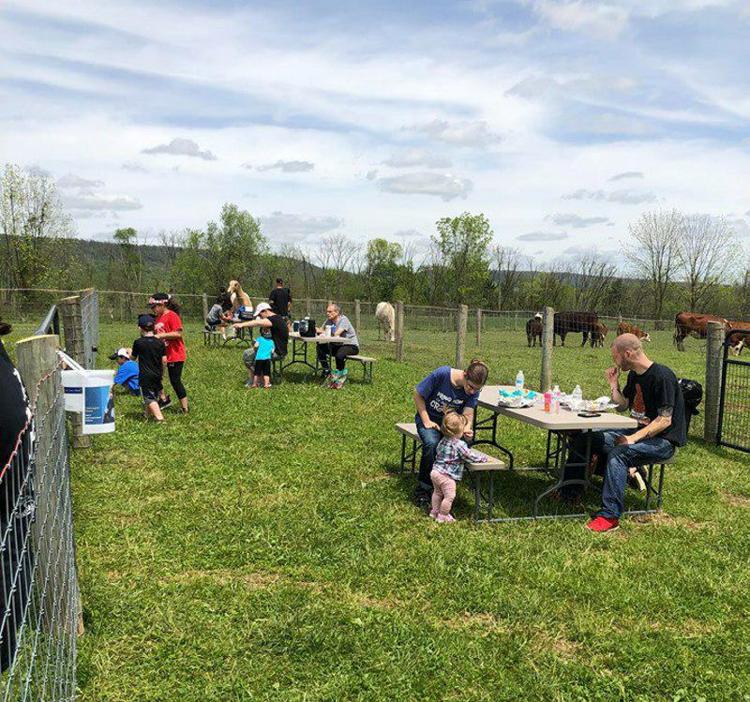 "This is something completely new and different," Kim said, adding that most families who visit do not have farm backgrounds.
With the infectiousness of COVID-19, this year's event is structured differently than last year. Last year, they set up one fenced-in area and one large canopy, and all the participants were in their snuggling session together.
This year, in order to keep everyone socially distant, each family has their own fenced-in area and a smaller canopy. Each fenced-in area is at least 6 feet apart from the other areas.
For the picnic sessions, the tables are 6 feet apart, and they fill in the tables back-to-front, so families don't have to walk past each other.
Each of the four fenced-in areas gets at least five baby goats for the families to snuggle.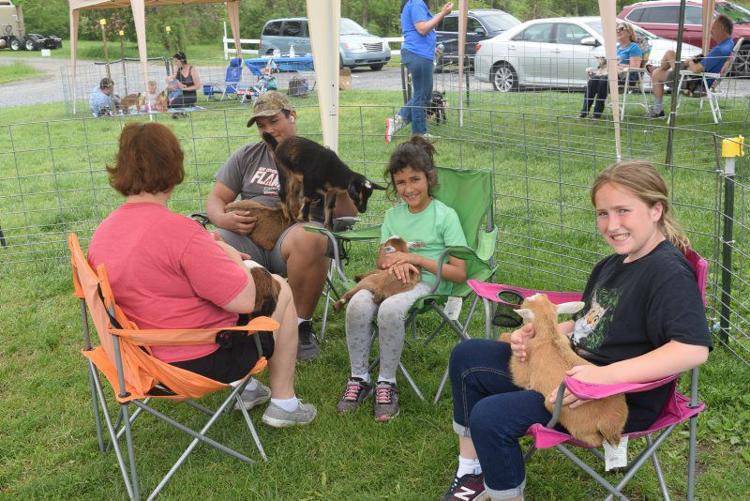 Right now, Batz Farm has more than 40 baby goats, so there are plenty to go around.
Another change for this year is the breed of goat used for snuggles. Last year, Batz Farm used Boer goats, but Mike and Kim said they grew too quickly, since they are a meat breed. This year Kim convinced Mike to get pygmy goats, which grow much slower than Boer. This way, they have a longer time period to host the snuggles.
Both the picnic sessions and the snuggle sessions are priced per family, whether there are two people or 10 people.
The snuggle-only sessions are $30 and the picnic plus snuggle sessions are $55. Make-A-Wish gets 25% of the profits, while the rest goes toward goat feed and supplies, like the fencing needed to set up the sessions.
The sessions are open to anyone, and attract a wide range of people. From babies to teenagers to senior citizens, the snuggling sessions are enjoyed by all ages.
Kim said that some families are using the picnic and snuggling session combination for birthday parties or family picnics.
The farm is also planning to host a couple of goat yoga sessions in June, with some of those profits going to Make-A-Wish as well.
Mike and Kim got involved with Make-A-Wish through its annual truck convoy event in Lancaster County. The convoy, which typically happens on Mother's Day, started in 1990 when a Make-A-Wish child wished to ride in a tractor trailer and talk on the CB radio with his sister. When Make-A-Wish put word out that two trucks were needed, 44 trucks showed up.
The convoy is run by Make-A-Wish Philadelphia, Delaware & Susquehanna Valley.
Mike owns a trucking company, Storming Bull Trucking, and he and Kim have participated in the convoy for the past three years. The money raised from the Batz Farm goat events goes toward the fundraising goals for Make-A-Wish that come from Storming Bull Trucking efforts.
This year, due to COVID-19, the convoy is going to be a virtual event, broadcasted live on Facebook on Aug. 16.
The farm's snuggling sessions are filled with laughter and bleating goats. Kim is in her element, answering questions for all the participants and teaching them more about goats.
As Mike says, this event is Kim's thing, adding that he's really "just here to fix the fence."