While Lebanon County, Pennsylvania's best-known contribution to the cuisine scene is likely its bologna, another lesser-known delicacy also hails from the same locale. If you've never heard of opera fudge, this candy is a hidden gem best known mainly to a lucky few in Central Pennsylvania.
Oddly, opera fudge is neither a fudge, nor does it have an established link to opera. It's bite-sized pieces of deliciously smooth, creamy fondant coated in chocolate. Some say opera fudge dates from when it was considered unladylike to be seen chewing in public, which isn't a problem with this confection that melts in your mouth. Others attribute the candy's name to bygone days when local opera houses were unheated, so opera fudge — which melts quickly in warm weather — made a perfect wintertime snack while taking in a show.
With almost 60 years of experience, Lebanon's Van Winkle family is among the best-known purveyors of homemade opera fudge. From its founding as a literal "mom and pop operation" to the 28,000 pounds per year produced these days, Van Winkle's Candies leads the way in producing this special treat in the epicenter of opera fudge country.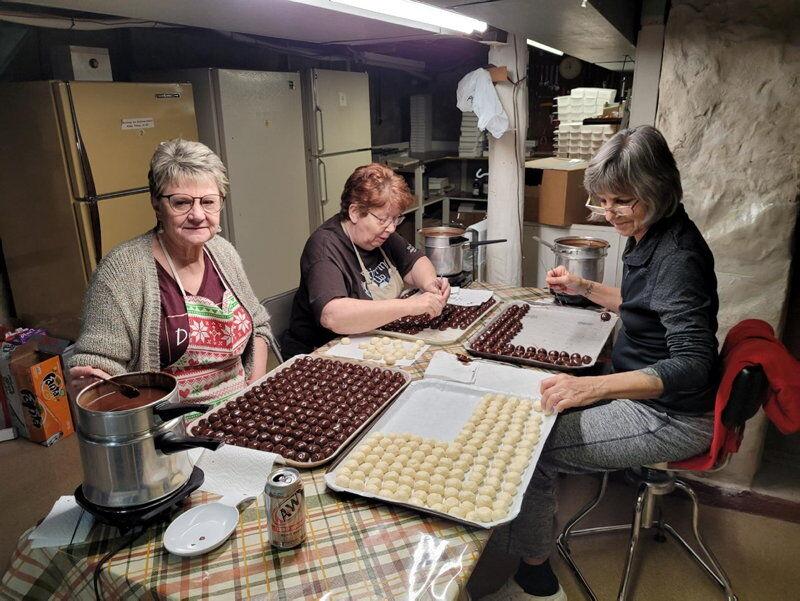 It all started back in 1962 when Nancy Van Winkle was searching for a way to become a stay-at-home mom while generating household income. She turned to her friend and neighbor, Catherine Bowman, who occupied the other half of the same Guilford Street duplex on Lebanon's Northside. Catherine had an opera fudge recipe from their mutual friend, Irene Eberly, and taught Nancy how to make it.
Following some trial and error, Nancy perfected her technique and began making opera fudge for family and friends. Her husband, Fred Van Winkle, would assist after his workday at the nearby Lebanon Steel Foundry. Their product developed a local following so, by the early 1980s, they obtained Pennsylvania Department of Agriculture licensure.
In addition to taking orders at their home, the Van Winkles started distributing opera fudge to several small local stores, such as the former Grimes' grocery store just two blocks from their home, as well as the Southwest Corner Store, located on Lebanon's Southside. The Van Winkles also began hiring several friends and neighbors to help with the labor-intensive opera fudge-making process.
A Sweet Tradition
Making opera fudge involves just five ingredients: sugar, cream, butter and flavoring, along with unsweetened chocolate for coating each piece. The first four ingredients are cooked together, taking about one-half hour per batch of fondant, using eight kettles on two standard kitchen ranges. The cooked mixture is then poured into large cake pan-like containers to cool. After cooling, the mixture is transferred into larger pans, where it is stirred until its texture changes. There is an art to this stage —under-stirring leads to a grainy sugar texture, while over-stirring results in a watery mixture.
The smooth filling is hand rolled into bite-sized balls and refrigerated again before dipping each ball into melted chocolate using a cake tester. After further chilling, the opera fudge is placed into boxes, which are then wrapped in clear cellophane.
Van Winkle's original flavors were peanut butter, along with vanilla, which is still referred to as "plain." They went on to expand their flavor options to include coconut, chocolate, peppermint and eventually Nancy's favorite, strawberry. The candies were — and still are — sold in 7- and 14-ounce boxes for the individual flavors or in a 14-ounce variety pack.
Fourteen ounces might sound like downsizing from the typical 1-pound boxes of candies; however, Nancy and Fred's son, Kirk, who became involved with the business after graduating from college in 1987, explains otherwise. He notes his mother was so concerned about weighing the candies, she felt more comfortable selling 14-ounce boxes that weighed a bit more, rather than risk underweight pound-size boxes.
Nancy and Fred Van Winkle passed away within days of each other in February 2019. Kirk, who had gradually assumed more of the business's operation as his parents aged, counts himself fortunate to have the services of the dozen or so loyal, long-term employees, many of whom live nearby. Kirk is proud to note that, even during the current challenging times for hiring, Van Winkle's has never had to advertise when there's been an opening. Typically, one of the existing staff will have a friend or relative to recommend.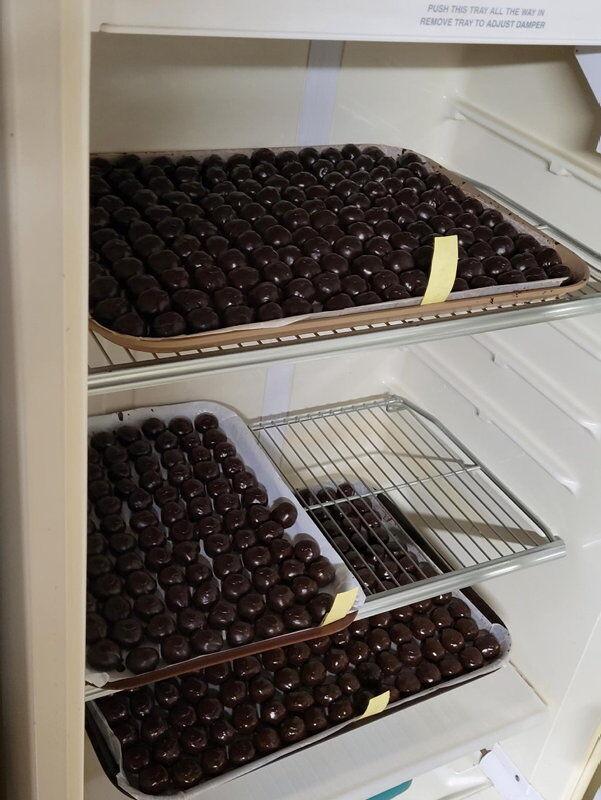 Kirk praises his dedicated staff, headed since 1999 by neighbor Louise Battistelli. He notes, "These people — everybody here is so great. They're as concerned about doing everything right as I am." The employees' dedication reflects their years of experience and provides built-in quality control. Ongoing good-natured banter can be heard between the workers, who clearly like their job and each other.
Kirk has also never had to advertise their product, as the rich flavor of Van Winkle's opera fudge and word of mouth attract plenty of customers. Even their manufacturing location — the same duplex in which Kirk grew up, plus the addition of the attached house once owned by Catherine Bowman — barely advertises itself within its residential neighborhood. Sharp-eyed passersby will notice a tiny sign in the front window proclaiming "Homemade Opera Fudge by N. Van Winkle"
The business's only customer outreach involves a small basket filled with complimentary ballpoint pens and 2022 pocket calendars bearing Van Winkle's contact information. "We're very low tech," says Kirk, noting they have no website. They also don't take credit or debit cards, accepting payment only by cash or check. While Kirk acknowledges there's sufficient demand to grow their business, that's not in the cards. He doesn't want to mechanize to increase production because, as he says, "What I love about this business is the people" and he wouldn't want to lose that personal touch.
In fact, it is often Kirk himself who drives his old Ford Focus to deliver orders to stores that are running low on opera fudge. Other deliveries are made by several of his employees who live near outlets selling Van Winkle's candy. Because of undue delays in mailed shipments last Christmas, 2021 is the first holiday season Van Winkle's won't be shipping orders; they will resume shipments after Jan. 1. The business was also impacted by supply line delays for some ingredients in recent times.
Since making opera fudge requires cool conditions, Van Winkle's typically operates only between Labor Day and Memorial Day, using seven or eight refrigerators and freezers, as well as shelving units on an enclosed porch to provide chilling capacity. The period between Thanksgiving and Christmas is so busy, that the amount of opera fudge sold then almost equals the total quantity made the rest of their season. "It's long days," says Kirk, noting they start at 5 a.m. and usually end around 6 p.m. He calls his wife Dawn "an opera fudge widow" during the holidays. Nevertheless, he says, "We're happy with what we have. I just love doing this." His customers are obviously happy, too.
Van Winkle's opera fudge may be found at smaller Lebanon County stores like Blouch's Mini-Market, Zweier's, Laudermilch's Meats, and Smith's Candies. Lancaster County customers can visit Stauffer's of Kissel Hill, while Karns Foods and Pronio's Market serve Dauphin County.