CARLISLE, Pa. — Hits on one social media page for antiques sellers and buyers have increased by 300% in recent months.
The Facebook page, Central PA Antique and Vintage Sale, existed 10 years or so before the COVID-19 pandemic. Its administrator, Averi Stevens, grew up in Carlisle, Cumberland County, and now lives in eastern North Carolina. She manages the page, which attracts buyers and sellers from as far as Centre County in central Pennsylvania to Adams and York counties in the southcentral Pennsylvania region.
Stevens and her father, Don Stevens Jr., sell their own vintage furniture and items in North Carolina. That business operates from their home and is known as Fly Guy Vintage.
Growing up in central Pennsylvania gave Averi the desire to buy and sell antiques, and eventually led her to start a social media page to engage other individuals like herself.
Averi's grandfather, Don Stevens Sr., owned Cumberland Wood Craft Co. in Carlisle. He produced screen doors, cabinetry, millwork, mantels, bars and other items. Averi describes him as a "master craftsman."
He exemplified passion for the value of good craftsmanship to Averi at a young age.
Averi Stevens and her dad started their business 20 years ago and were actively going to flea markets all over the East Coast.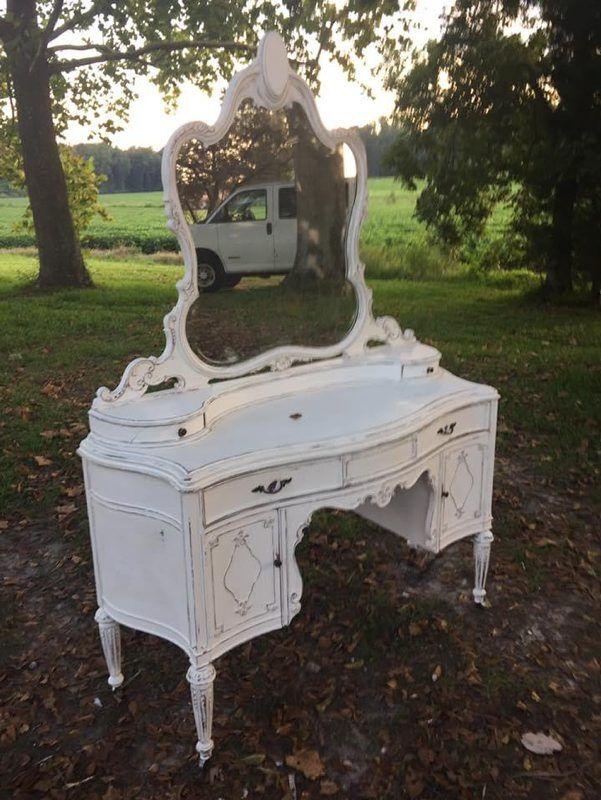 "I was so excited about it, that I said I got to build something online. This was prior to the whole Facebook Marketplace. I wanted something on there without a cost to sell," she said.
When Facebook Marketplace started, Averi's Central PA page was already up and running. Sadly, she said, some of her members retreated to Facebook Marketplace.
This past year, however, Stevens said she has seen an influx flocking to the page. Prior to the pandemic, she was not sure why this was happening.
"I wasn't sure if maybe the older generation was now getting used to social media perhaps," she speculated.
Since the pandemic this spring, within 28 days, she said the page had a 381% increase in visits.
There are now more than 1,200 members and 23 top contributors active on the Facebook page.
"It's a variety of independent people who enjoy 'picking' for a hobby," she said, along with a small number who operate their own antiques shops.
Stevens revealed some of the statistics from her online antiques and vintage site. She said 72% of the members are female and the majority of members are between the ages of 45 and 54.
"It's interesting, though, because only 11% are between the ages of 18 to 32. It worries me (that) the younger generation is not as interested," she said.
The highest number of male participants falls between the ages of 35-44.
The increase in users due to the COVID-19 pandemic is obvious, since so many more people are following stay-at-home orders to slow down infection rates. She said her own regular business Facebook page has seen a 66% increase in action as well.
"We reach up to 1,000 people. We refinish dressers, buffets, china cabinets and so forth. Our items are relatively inexpensive, from $50 to $1,000, and most people do not haggle much," she said, so business has faired well during the pandemic.
"People love buying from do-it-yourselfers, because it's cheap and unique," she said.
Averi's personal favorite items to sell are dressers.
She said she expects it is similar for others using social media as a platform to sell these items in recent months.
Stevens sends her items back to Pennsylvania if someone is interested after viewing either Facebook page.
"We will ship or deliver anywhere in the continental United States. We hand-deliver items for 50 cents per mile there and back, or we can arrange shipment through an app called Uship or Uber Freight."
She said it appears as though most buyers during this season of staying at home seem to be looking for practical, usable items such as furniture.
"Most of what I have seen has been people buying things that catch their eye and they can use it in their home," she said.
Bedroom furniture, buffets and cabinets are "really big" sellers at the moment, according to Stevens.
Within seven days in mid-May, there were 106 posts to the Central PA Antique and Vintage Sale Facebook site, a 49% increase.
Not just anyone can be a member on the Central PA page. Participants must have a sincere interest in antiques.
Criteria is listed when someone clicks the button to become a member.
"I use questions for folks to (be able to) enter the Facebook page — to filter out potential bots and scammers. Once you've been accepted into the group, anyone can post their items for sale or purchase an item that's already listed for sale," Stevens said.
The first vetting question asks if the viewer understands that the page is for vintage and antique buyers and sellers only and then explains what makes something vintage or antique. It also asks if the person is a buyer or a seller.