America's most famous barber shop is located in Mount Airy, North Carolina, where the late proprietor, Russell Hiatt, served famous personages from all walks of life including hometown screen and television star Andy Griffith, whose fictional town, Mayberry, was modeled after this one.
Floyd's City Barber Shop is a veritable museum to the barbering business with old-time chairs and equipment, and more than 30,000 photos adorning the walls, showing celebrity visitors from Lou "The Incredible Hulk" Ferrigno to Oprah Winfrey, whose father, Vernon, is still barbering at 93 in Nashville.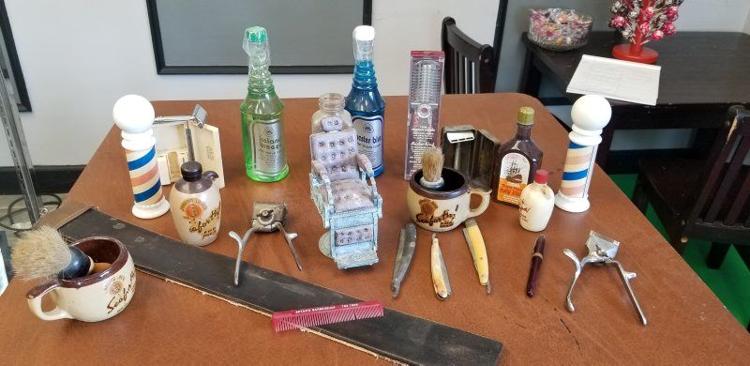 He and Hiatt, who passed away at 92 on May 3, 2016, are both in the National Barbers Hall of Fame, in Canal Winchester, Ohio.
But Hiatt's son, Bill, still welcomes tourists attracted to Mount Airy's historic Main Street district, a place seemingly frozen in time.
Russell Hiatt, who ran the business for 70 years, was the inspiration for Mayberry's "Floyd the Barber," portrayed by actor Howard McNear.
Floyd's still offers haircuts by appointment, but people don't have to travel here to enjoy old-time barbering nostalgia, because vintage shops and equipment are skyrocketing in popularity in small towns and big cities throughout the U.S.
"It's coming back.What was old is new again," said Kip Dare, owner of Kipper's Clippers in South Glens Falls, N.Y. "There's a lot of young barbers around that are fantastic, doing straight-razor shaves and high-and-tight haircuts. I started when I was 32. I'm the old dog now. These young barbers coming up do amazing work."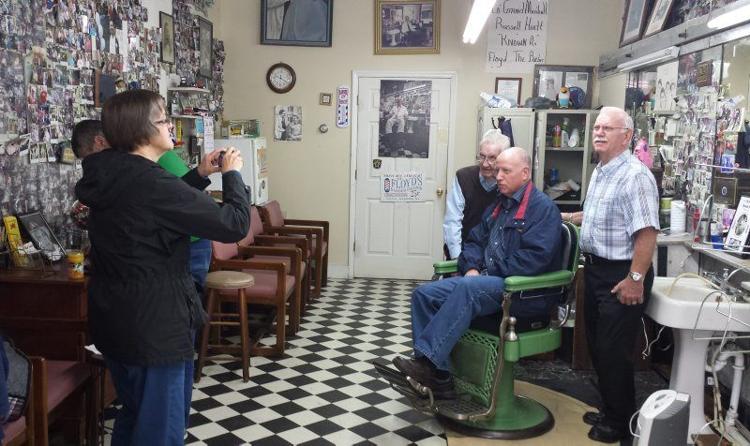 "Now it's cool to be a barber," Dare said. "There's a lot of guys who are really artists. Instead of tattooing or painting on a subway, they can make money doing art in hair."
Dare's shop pays tribute to "Floyd the Barber," with numerous sketches and photos of him and other fun Mayberry characters such as Barney Fife.
Dare learned the business as an apprentice under the late Harry Betar Jr., whose shop he eventually took over. Betar and his father, Harry Betar Sr., had run it for 68 years. Dare saved many of the old items they used in years past such as shaving mugs and brushes, a strap for razor sharpening, lotions and colognes, hand clippers, a pair of shears, an antique glass Barbicide bottle, a miniature barber chair collectible and small ornamental barber poles.
"It's all part of the collection that I've kept for years," said Dare, who displays them in his shop.
Until recently, he also had an old-time barber's chair. But Dare's late father was a policeman. So, as a friend of law enforcement, he recently donated the chair to New York State Police motorcycle officers, to adorn club headquarters.
"They can sit in it and drink their coffee," Dare said, smiling. "It was vintage, all handmade in Italy."
Antique barber chairs are the focal point in many vintage-style shops, and some sell for up to $10,000.
"Modern barber shops today are so sterile," said Mike Ippoliti, National Barbers Hall of Fame curator and director. "Basically they have a chair, a mirror and a sink. Back then, they used to have these elaborate back bars made of oak and a lot of chairs were wood, hand-carved. Now there's a resurgence as far as going back to the old ways."
Back bars, made of wood, were usually 10 feet long, with elaborate designs just for barbers, with mirrors and drawers tucked up under.
The Hall of Fame has more than 75 barber poles, nearly 40 chairs and thousands of straight and safety razors in its museum collection.
One group, the National Shaving Mug Collector's Association, is dedicated to the preservation of barbering memorabilia.
"They not only collect mugs, they go back and study the genealogy of the person who had it. It's pretty in-depth," Ippoliti said. "One guy, for years, has been looking for Pat Garrett's mug, the sheriff who killed Billy the Kid. There's a picture of him in a barber shop with his name on the mug. It's probably out there someplace in a collection or antique shop. Nobody knows."
The easiest way to find old barbershop collectibles is online at sites such as eBay and Craigslist.
Orange, California-based Mantiques Network is an industry leader.
"People just want to go retro," co-owner Jim Schafer said. "Young barbers are taking their one-, two- and three-chair shops and decorating them with antique stuff. They're looking for cast iron and porcelain chairs like Koken and Koch from the '20s, '30s and '40s, hanging up antique advertising and installing antique back bars. It just makes a more Disneyland-pleasant atmosphere for patrons."
Mantiques features all kinds of barbering equipment.
"I deal in everything that's cool, from antique hand towel warmers to ceiling fans," Schafer said. "What's also pretty hot right now is little chrome lather machines that heat up and give you hot foam, and sanitizing equipment that would heat up tools to keep them clean. There's so many things that went in your typical, old-time barber shop."
His business also specializes in refurbishing old chairs.
"Vintage shop owners like porcelain chairs because they're sturdy, they still work fantastic," Schafer said. "Nobody really goes for the turn-of-the-century wooden oak chairs. Most of those end up in a house as decorations. They're old, they aren't going to take the punishment a cast-iron porcelain chair can take. Vintage shops are trying to give patrons a step back in time. They can easily buy all kinds of new equipment, but that's not what the 30-, 40- and even 50-year-old customers are going for."
Schafer said it costs about $5,000 to restore an old chair.
"There's a lot of work to restoring a barber chair," he said. "You knock it completely down. The porcelain goes out for sand blasting and comes back with car paint. The chrome and upholstery also goes out and it all has to come back and be reassembled. There's a lot of man hours in one of those things. But they fly out of here because when we're done they're a perfect 10, they're beautiful."
"It's hard to buy a professionally restored chair for less than $6,000, but they're worth that kind of money," he said.
Vintage shops and private collectors are the two main types of buyers. Sometimes, people may find items at auction houses as well.
"A family might have had a chair forever, it's been pushed from house to house, setting in a garage and they want to get rid of it," Schafer said. "With barber chairs, people didn't have the heart to throw them away. They didn't just put them out on the curb, and if they did, somebody else would take them home because they're that cool, right?"
"If you're auctioning it, there is no price," Schafer said. "An auctioneer's job is to market and advertise his product. Then the general public or dealers come and it's a bidding war. Whoever pays the most money gets it. I sold a unique barber pole recently to a lawyer back East for 15,000 bucks. The rarity is the price."
But, as with any collectible, Ippoliti urged buyers to verify the authenticity of items before completing a purchase.
"You just have to be careful to make sure it's not a reproduction, that it's an original," he said. "There are a lot of collector's sites out there, and people who will help you out."