GORDONVILLE, Pa. —What do an anchor, a meat grinder, quoits, an anvil and replicas of antique farm machinery have in common? All of them are among the metallic goods manufactured at Gordonville's Cattail Foundry in Lancaster County. That's only a few of the items produced by this 44-year-old, family-owned company.
Its founder, Benjamin L. King, got his start back in 1976 after not being able to locate a replacement grate he needed for his Frick steam engine. He knew of a foundry in northern Lancaster County, but when he went there, he found it was boarded up. Fortunately, he was able to track down the owner and, instead of making the grate for King, the former foundry owner taught Benjamin how to make one for himself.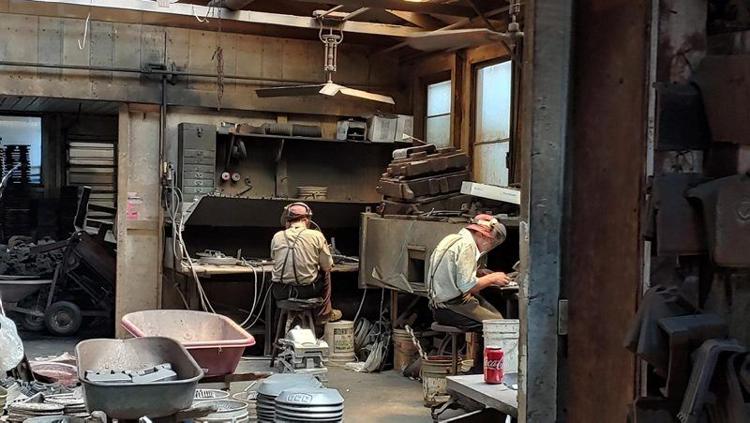 Before long, King had purchased an old propane furnace and relocated it to his family's 70-acre crop and dairy farm in Leacock Township. He started out small, but today, the business, which is now owned by Benjamin's son, Emmanuel, has grown to encompass eight full-time employees, all of which are members of the King family. Another son, Reuben, works at the foundry part time as his farming schedule permits.
Family patriarch Benjamin King is still actively involved with the foundry, which is named after the Cattail Creek that flows nearby. He has retained the original furnace he used in the foundry's early days, but it is too small to meet current demand and has been replaced by two other furnaces.
Making steam engine parts might've launched Cattail Foundry, but these days it makes up only about 5% of the foundry's business. Instead, the foundry relies on custom orders for everything ranging from motorcycle and antique auto parts to replicas of historic ornate posts for parks and railroad stations.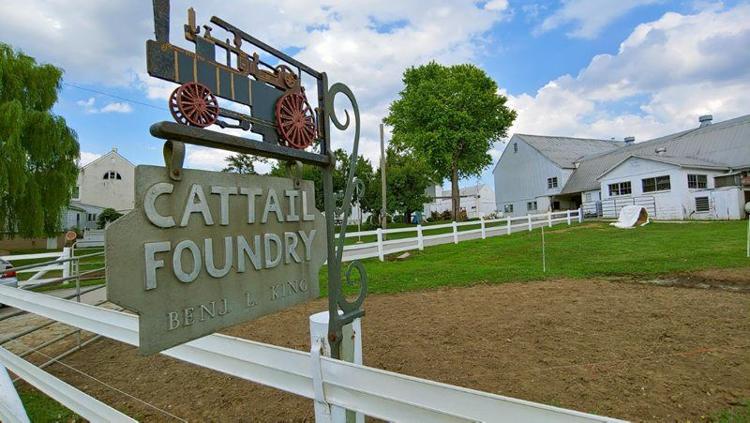 "There's no let-up since we got started," said Benjamin, who notes that they rarely do any advertising beyond occasionally passing out small business cards, since word of mouth already keeps them well-supplied with customers.
Perhaps surprisingly, this foundry, located on the King family's home farm, receives orders mostly via mail, and ships finished products not only all over the United States, but also as far as England, Ireland and Holland.
"You never know what's next," he said about the wide variety of jobs Cattail Foundry is called upon to do. The foundry works in cast iron, silica bronze and aluminum.
For the aluminum and bronze, the foundry uses a propane-powered furnace that reaches temperatures of 1,400 to 1,600 degrees Fahrenheit to liquify aluminum and 1,800-2,000 degrees to create molten silica bronze. A 40-pound crucible of aluminum melts and is ready to be poured into molds in about 20 minutes, while silica bronze requires about 45 minutes of heating to attain a liquid state. These relatively short heating cycles allow for multiple batches of aluminum and bronze to pass through the propane furnace during the course of a day.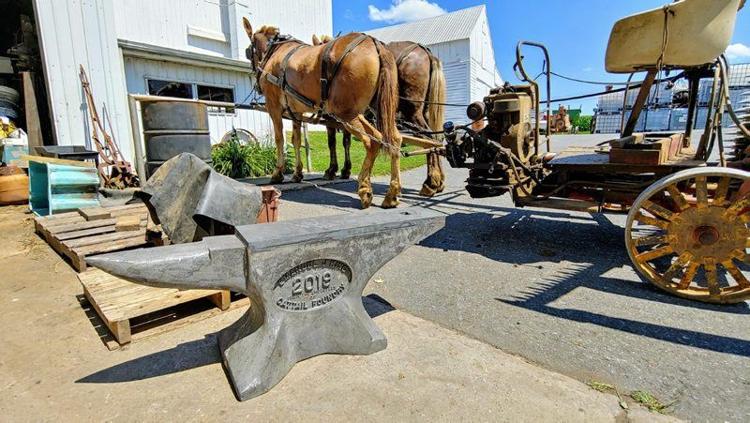 Cattail is one of the few places making silica bronze quoits. This old-fashioned lawn game is so popular that King said, "Every time we pour, we pour quoits," most of which are sold at nearby variety stores.
A much larger, two-story furnace powered by coke (partially-burned bituminous coal) is used to bring cast iron to its liquid state at 2,600 to 2,800 degrees. The Kings process up to 6 tons at a time, layering a "sandwich" of iron and coke with high calcium limestone to flux or promote liquidity and remove impurities from the iron during the smelting process.
Benjamin King, who operates this furnace, explains that it takes from 8 a.m., when the furnace is fired, until 2 p.m. to ready the iron and pour it into the desired molds; the resulting cast-iron products are then removed from their molds the following morning. These pours are done about once every 10 days, year-round.
As for where the foundry gets its raw materials, King said they buy ingots of aluminum, but also recycle junk aluminum. Their bronze comes from a foundry supplier in Lancaster. Some of the iron used at Cattail is recycled cast iron, such as old brake rotors and plumbing fixtures, but about a third of their cast-iron supply is "broken iron," which has been collected and crushed into small chunks by a Reading-area recycling company. Twelve percent new iron is also added to the mix; King laments that no iron has been mined locally since flooding from 1972's Hurricane Agnes closed both the Cornwall Ore Mine and Grace Mines in Morgantown. Instead, their new iron is now imported from Russia and Austria.
Of course, pouring molten metal is just the final step in a lengthy process that starts with the creation of custom-made patterns to form molds for the desired products. These patterns are pressed into sand that will be chemically hardened into the mold for the item being fabricated, as well as the core, which defines the interior lines of the object. Some of the patterns are made in-house at the Cattail Foundry, but their operation has become so busy that increasingly they work with specialty businesses like Steffy's Pattern Shop in nearby Leola.
A walk through Cattail Foundry is like a treasure hunt, with familiar useful items appearing at every turn. Here's a Jeep manifold, there's a stack of tractor wheel weights. Parts for cast-iron stoves are intermingled with ornate bench bases. Nearby sit toy replicas of old locomotives. Ornate, historically accurate posts are being cast for use in Washington, D.C., as well as for train stations in Harrisburg and Lancaster.
Cattail also manufactures small, cast-iron troughs on legs, based on the No. 5 Brunnerville pattern for this item, which can be personalized. Sausage stuffers, sewing machine treadles, manure spreader gears — you name it, they make it.
The only items regularly stocked at the foundry reflect Benjamin King's ongoing love for steam engines, such as his two circa-1921 9x10 Frick steam engines. He used one of them to power his late grandfather's 1943 Frick 28x47 threshing machine, processing the Kings' wheat as recently as early July 2020. While there are a half dozen steam engines residing around the Cattail Foundry, the parts kept on hand at the foundry are grates for Peerless, Frick and Case steam engines brought to events at the Rough and Tumble Engineers Museum in neighboring Kinzers.
King owns a nearly complete set of 120-year-old patterns for Frick steam engines, once manufactured in Waynesboro. These patterns were purchased by a North Carolina man in the 1950s and required five box trucks to relocate to Gordonville when King bought them in the early 1980s.
King said that steam engines remain popular locally for steaming tobacco and vegetable planting beds. This process is organic-friendly, killing nematodes and weeds; the heat also releases otherwise untapped nitrogen into the soil.
King's hobby is restoring old agricultural apparatus, such as the 1920s-era two-hole International corn sheller he's working on. He also builds one-third scale replicas of vintage farm machinery.
"I just like to have a project," confesses King.
Cattail Foundry is located at 137 W. Cattail Road, Gordonville, PA 17529, and can be reached by telephone at 717-768-7323.