The humble spittoon has come a long way from being a functional necessity to a popular collectible. Prices can be over $1,000 for a rarity. A Japanese Imari porcelain spittoon, made for the American market (1880-1889), has a current retail value of $1,285. Currently offered on 1stDibs is a Chinese cinnabar spittoon historically made around 1662-1722 for royalty. It is priced at $14,850.
Prices can depend on maker, materials and age. For instance, an American Bennington pottery can be priced as low as $50. Common brass spittoons are the cheapest with prices under $20.
The spittoon is also known as a cuspidor, a Portuguese term.
They first came into use in 18th century-England when chewing tobacco became popular. By the late 19th century, they entered public places to improve public health and manners. They can be seen in historical photos displayed in saloons, train stations, banks and even in the U.S. Congress. Chewing tobacco and the use of spittoons remained popular well into the 1930s when smoking cigarettes became trendy.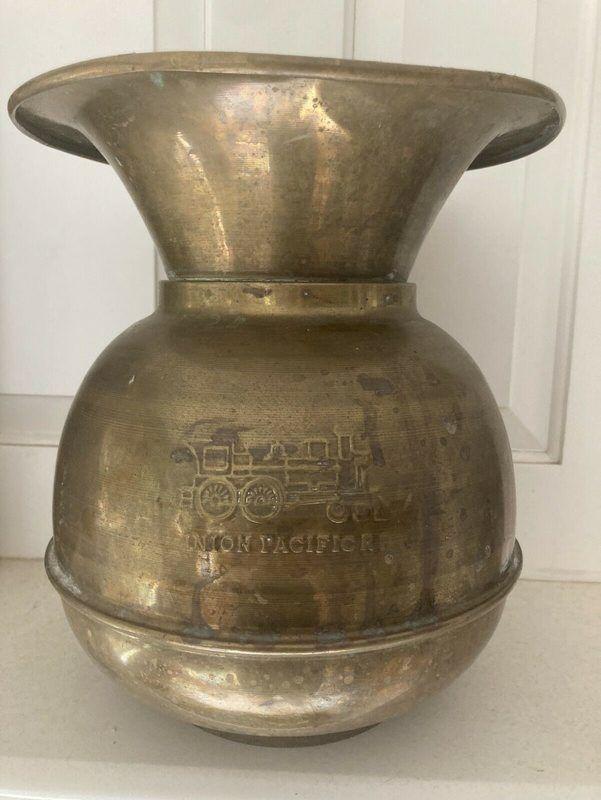 Historically, they were made in a variety of materials. Popular with collectors are the brass railroad spittoons with the name of the railroad engraved. Examples are the Chattanooga Choo Choo and the Union Pacific. The authentic Union Pacific had an engraved image of the train and the railroad name. A double-sided image version can sell for over $100 these days.
Ladies enjoyed chewing and smoking cigars in the late 19th century. They had spittoons made just for them in lady-like patterns. Known as "spit cups," some were in the shape of little baskets or drawstring purses. Limoges made them in fine porcelain. They were hand-painted and some were artist-signed. Prices are usually over $200 in a retail setting.
CLUES: Unfortunately there are fakes and reproductions being made. Among them is the brass, Union Pacific railroad spittoon. They are of interest not just to spittoon collectors but military, railroad and other categories. Check out your local historical societies for examples.