CORNWALL, Pa. — While Adam and Eve, the keepers of Eden, surely qualify as the world's first gardeners, Colonial and Early America also had their "founding gardeners" — some famous, some lesser-known.
Irwin Richman highlighted many of these 18th- and early 19th-century American horticulturists during a recent presentation that was part of the Friends of the Cornwall Iron Furnace's monthly lecture series in Lebanon County.
Richman, a research associate at Landis Valley Farm and Museum in Lancaster, who also holds a Longwood Gardens ornamental plants certificate and a Ph.D. from the University of Pennsylvania in history, offers an unusual combination of expertise. Said Michael Emery, site administrator at the Cornwall Iron Furnace, "Irwin is one of those rare individuals well-versed in both history and gardening."
Richman opened his program by pointing out that America's founders envisioned it as a lush country. Ben Franklin wanted Philadelphia to be a city filled with greenery, while both George Washington and Thomas Jefferson foresaw an agrarian America. They derived these ideas using Europe as their measuring stick. As was the case elsewhere in the world, during the 17th and 18th centuries, it was rare that a woman would be a principal in any large-scale garden undertaking; these were largely undertaken by men. In England's upper class, it was the gentlemen's culture of gardening that was emulated by prominent Anglo-American gentlemen.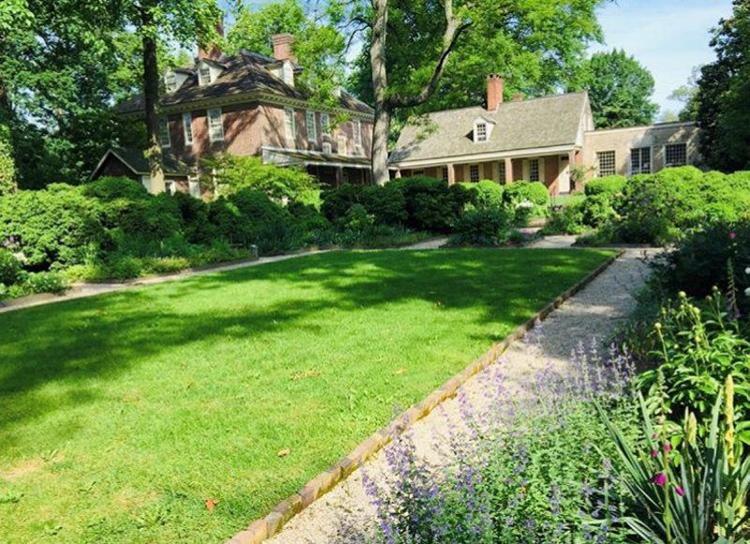 These "founding gardeners" in America relied primarily on knowledge gained from books. One such book from which both Washington and Jefferson learned was the classic 1597 book by John Gerard, "Herball or Generall Historie of Plantes," based largely on an earlier work by Flemish author Rembert Dodoens.
One of America's Colonial gardeners was William Penn, a Quaker who is credited as the founder of Pennsylvania. His Pennsbury estate on the Delaware River featured extensive gardens. Penn travelled frequently, so many of the details known about his gardens come from letters he sent to his gardeners with instructions about what he wanted them to grow. Mostly these were food gardens, but there were also beautiful plants and flowers grown.
Some of Penn's gardeners were imported from England and brought European technological advances of the time with them. While there were no greenhouses at Pennsbury, there were cold frames, designed to protect fledgling plants from frost, as well as hot houses, which were enclosures heated by decomposing manure. Detailed diagrams show that Pennsbury's gardens were built surrounding a centrally located well.
Quakers were among the earliest and most important groups involved in botany and advanced horticulture in the Colonies. Penn's secretary, James Logan, who, in effect, functioned as the acting governor of Pennsylvania, wrote extensively about horticulture and botany, especially in his correspondence with like-minded gentlemen in England.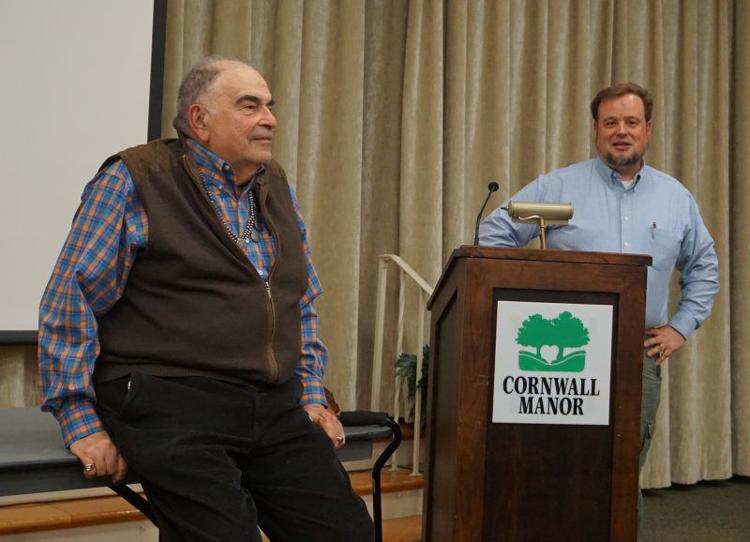 Logan's son, William, built one of the first greenhouses in Pennsylvania and the American Colonies at their home, Stenton. Stenton was a horticultural nexus in its day and still stands in the Germantown section of Philadelphia. However, that original greenhouse was replaced around 1811 with the current stucco structure.
It should be kept in mind that early greenhouses were designed to keep frost away and to allow plants to "winter over" until the next growing season. Meanwhile, "hot houses" differed in that they were intended to create an environment in which tropical plants such as pineapples and citrus fruits could be grown.
Richman said that Quakers and Mennonites also were on the cutting edge of Colonial America's horticulture.
As American horticultural activities grew and improved, exchanges of plants between America and the British arose. "Ground zero" for such exchanges during the 18th century, said Richman, were the Philadelphia gardens of John Bartram. Bartram is credited with growing and distributing some of the first geraniums. He also specialized in native American plants such as phlox. Additionally, he, his sons and grandsons ran a nursery and shipped plants to England.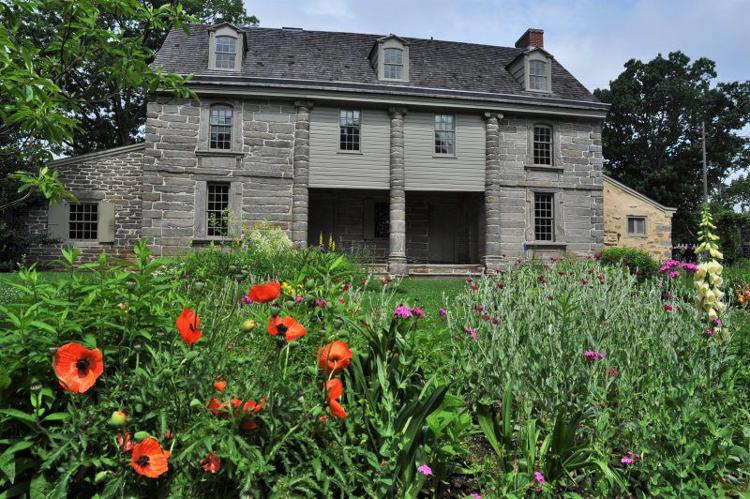 At one point, Bartram's gardens included seven or eight greenhouses. Among his customers were Washington, Jefferson and John Adams. Bartram's gardens attracted everyone interested in horticulture, including delegates from the fledgling nation's 1787 Constitutional Convention.
Richman said that at one point during the convention, when the mood "grew testy," the delegates took a day trip to Bartram's gardens to help restore their civility.
Bartram was popular on both sides of the Atlantic. In fact, the king of England designated him as a royal botanist and paid Bartram an annual stipend of 60 pounds. Richman said that Bartram's gardens and nursery can still be visited.
"You just don't believe you're in Philly when you go down to visit Bartram's garden," he said.
Washington was proud of his gardens at Mount Vernon, Virginia, and kept garden diaries to record information about his plantings. His gardens grew vegetables on one side and flowers on the other. American honeysuckle covered the arches connecting the kitchen and his office, while small apple trees lined the garden paths.
Mount Clare in Baltimore was the estate of barrister Charles Carroll and his wife, Margaret Tillman Carroll. Margaret was known for her brick greenhouse, which was heated by flues under its stone floor. She also made use of glass cloches to force plants in the spring. Washington modeled his own greenhouse after hers and, when he asked her for a few plants, she sent him a shipload.
Washington bought plants from Bartram and also received numerous plants as gifts. He maintained them in his greenhouse, which had wings on either side of it that served as slave quarters. The slaves' function was to keep the fires burning around the clock so that the greenhouse would constantly remain warm. This was important, since Washington wintered orange and lemon trees, palms and oleander there, bringing them outdoors when summer arrived.
Richman described Jefferson as "the gardener of gardeners," adding that "he didn't love the English, but he loved their gardens."
Jefferson's home, Monticello, had grounds that were enhanced by serpentine walkways lined with flower beds; however, he reportedly never grew more than two varieties per location.
Acacia trees were Jefferson's favorite, with their little yellow, lovely-smelling flowers.
After seeing Washington's greenhouse, Jefferson drew up plans for "Mulberry Row," Monticello's service area. Although he designed two greenhouses, neither of them was ever built. Instead, he used an enclosed glass piazza as a greenhouse. It was attached to his private suite, but was never heated, so some plants were lost. However, his family eventually learned to bring the plants into warmer rooms during extreme cold.
Jefferson grew over 360 varieties of vegetables in both a production garden and an experimental garden. He grew so many experimental varieties that at times he bought produce from his slaves' gardens.
A man who liked to put his hands in the soil, Richman said, Jefferson planted lettuce seeds almost daily to assure a year-round supply.
The formal gardens at Versailles, France, fascinated Jefferson, who had served as the former U.S. Minister to France. So Jefferson incorporated similar-style gardens around the library and Academical Village during his 1820 design of the University of Virginia's campus in Charlottesville. That configuration, in turn, inspired Pierre L'Enfant when he laid out The Mall in Washington, D.C.
As a tribute to Jefferson, when President John F. Kennedy established the White House Rose Garden, he included only plants that Jefferson would have grown.