MARENGO, N.Y. — Photos, stories and ephemera help preserve railroad history. However, to people like Tim Guenther, there's nothing better than digging in and getting your hands dirty to build a model train. The Henrietta, New York, resident serves as secretary of Finger Lakes Live Steamers in Marengo, a hamlet in upstate New York, about halfway between Rochester and Syracuse.
"I think it's very important to build model trains," Guenther said. "There's a few organizations around that preserve the full-sized locomotives, but model railroaders play a role in keeping railroading alive, because we model things that are no longer in existence. For example, New York Central Railroad had thousands of locomotives, but were not interested in saving any for posterity. If a model builder makes one, he's preserving something that no longer exists."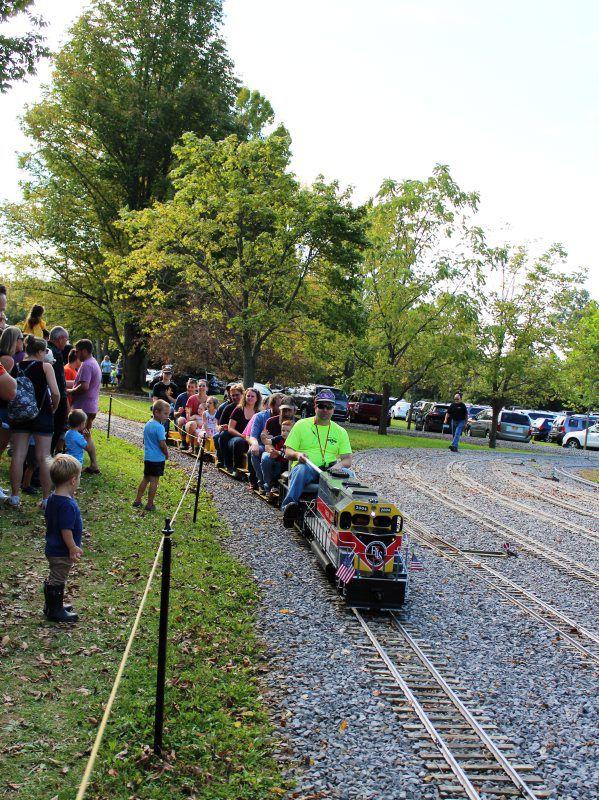 The organization's 130 members hail from as far away as Buffalo or Williamsport, Pennsylvania. The club focuses on education as well as building and running large-scale model railroad equipment for both their enjoyment and the public. Members meet twice a week to work on projects.
Guenther said that although some members build fantasy locomotives, most models represent trains that existed at one time.
"They go to great lengths to research what they're building," Guenther said.
He likes steam engines of the late-19th century, and builds models that run on coal, just like the real thing.
But, other FLLS members like modern diesels and build train models that run on kerosene or propane.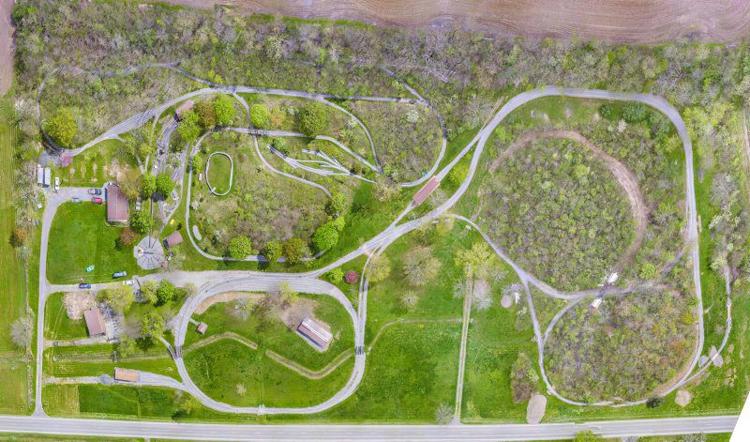 Guenther said that propane burns a lot cleaner, but he enjoys the authenticity of coal.
"As long as it runs on rails, anything is OK to model," he said. "Some even model European or English prototypes. It is a worldwide hobby. You find them all over the world."
In addition to setting up a "depot" for rides, the FLLS club also includes scaled trestles, bridges, pedestrian crossings and buildings around its 12 acres of train track layout. Part of the track winds through a mature forest, enhancing the enjoyment of the train ride for many, as squirrels, chipmunks, birds and other wildlife skitter through the trees.
Model builders with FLLS usually purchase either plans or kits and parts for models, which are widely available. Despite this, Guenther said "there's still a lot of building involved and many need to machine many parts. It promotes machining, like tool and die work."
The FLLS owns a machine shop and offers a few machines available for members' use.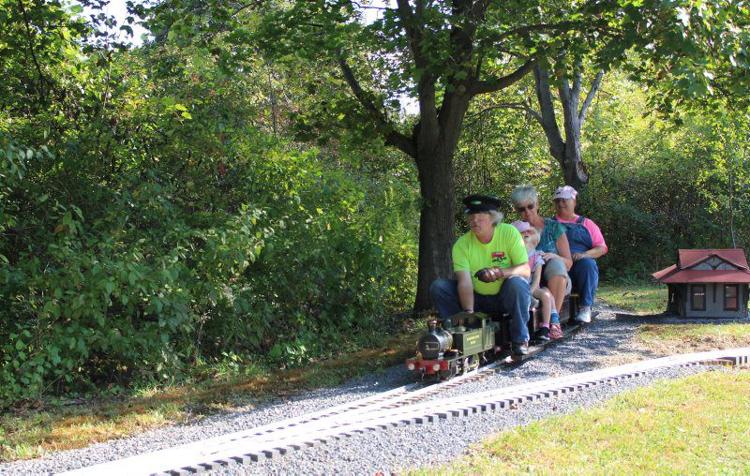 Founded in 1969 by James V. Wright of Pittsford, New York, and called Genesee Valley Live Steamers (the group later changed its name), the FLLS celebrates its 50th anniversary this year. The board-run organization is a 501(c)(3) nonprofit that relies upon both donations and its semi-annual open house fundraiser events in the spring and fall.
According to Guenther, the club's Sept. 28-29 open house drew visitors "in the thousands" who came to ride on the 1/8-scale trains. These scaled train models can accommodate adults and children. The smaller 1/12th-scale trains are meant for children. The garden railroad on site is scaled at 1/32 and 1/20, and is just for observation.
"It was probably the largest crowd we've ever seen attend," Guenther said.
Many visitors were grandparents, or parents with youngsters in tow. Others came because they were train enthusiasts. Some children wore striped engineer caps, perfect for photo opportunities with the trains.
The small locomotives are operated by FLLS members experienced in model railroading.
At its recent open house, the club had six trains running on the larger scale and two on the smaller scale. At one point, there were nearly 400 people waiting in line for a train ride. And, since parking, admission and rides are free, the FLLS sells keepsakes and concessions as its fundraiser and accepts voluntary donations.
"Occasionally, a corporate donation or a member of the club will donate," Guenther said.
One recent addition to the club's two miles of track is a bridge that took 13 years to complete. FLLS member Hank Mastalski of Webster, New York, donated the funding needed to construct the bridge as well as the few thousand feet of track necessary to connect it with the rest of the track.
The train rides operate at about three to four miles per hour, though its proximity to the ground makes it feel faster. Children of any age are permitted on the cars, although those younger than five are required to be held by a parent.
"We try to be a family-oriented club," Guenther said. "We don't allow alcohol or drugs on the premises. It's a family destination for the summer and we have a family membership so families will join the club. We host car clubs and all kinds of groups, like the Boy Scouts, and offer train rides for them while they're here."
The club lacks the infrastructure, such as a large enough kitchen and sufficient restrooms, to host more events.
Guenther retired three years ago from working as a quality assurance manager for Glass Fab Inc. in Rochester, New York.
He said his wife, Monica, "is very supportive of my hobby."
For more information, go to www.fingerlakeslivesteamers.org.