SUNBURY, Pa. — Jeff Pontius admits it takes a lot of work to maintain machinery used to farm his 1,800 acres of corn, wheat and soybeans in Sunbury, Northumberland County.
Almost as much work as it takes to maintain a train.
Pontius has farmed all of his life, raising hogs years ago, before switching to grain. And while he farmed, Pontius also worked for several short-line railroads across the state, balancing the two occupations for decades.
But, when Pontius retired from his railroad job, he still had the urge to hear the clank of steel wheels on the tracks and the whistle of an engine.
Like farming, the railroad was also in his blood.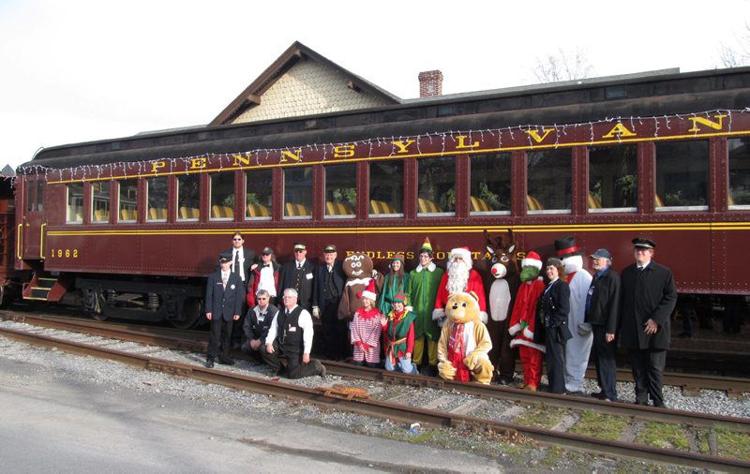 But how does a person who worked in the railroad industry for decades satisfy their passion for trains even after they retire?
In Pontius' case, he purchased and restored locomotives, cars and a caboose, and started his own railroad.
More than 20 years ago, Pontius started the Penn Valley Railroad, which is a train consisting of vintage cars dating back to 1924. Many of the cars Pontius purchased from Conrail in 1999, and others he acquired from private owners. Each one has been meticulously restored and updated to comply with modern regulations in Pontius' shop in Berwick, Columbia County. He replaced wheels — which cost $25,000 for a set of four — installed new brakes, remodeled interiors and painted each one Tuscan red in honor of the old Pennsylvania Railroad.
But these trains have another purpose other than looking good. Throughout the year, they run on the tracks on several short lines in the state, serving as a fundraiser for communities that sell tickets for rides. The endeavor is a joint effort: Pontius supplies the cars and caboose, the SEDA-COG Joint Rail Authority owns the tracks, and the North Shore Railroad provides a locomotive.
Among the most popular rides is the "Santa Train" that Pontius operates in several regions during the weeks leading up to Christmas. It's an impressive affair, as a locomotive pulls eight cars and a caboose decked out in Christmas lights. Inside, passengers bundle up in blankets and Christmas-themed characters walk through each car, greeting children. The ride is highlighted by an appearance from a Santa Claus.
Perhaps the best part about the ride is that Pontius usually donates a portion of the proceeds back to the community.
"The community groups sponsor the train and I give half of the tickets sales back right off the top," he said. "It's a big help for anything they are trying to raise money for. The Catawissa Historical Society does a fundraiser for an old schoolhouse they're restoring. There's a playground in Sunbury that we've helped, and so many other things."
Still, Pontius relies on plenty of help to conduct the rides each weekend.
Fellow railroad retirees help load passengers and also assist with maintenance on the cars. Volunteers don Christmas costumes, clean the cars and decorate.
And, back on the farm, Pontius relies on two full-time employees to keep things running when he's away with the train.
"It's a pretty unique thing that we've been able to do. It's important to me to keep everything at the farm in tip-top shape, and I take the same approach with my railroad cars," Pontius said. "There's a lot of work to do at the farm, but I always make sure I'm at every trip with the train. I don't run the engine anymore, but I like to go back in the train and visit people."
And there are always plenty of passengers waiting to board.
Every Christmas trip sells out, Pontius said, and often the tickets go quickly. A Christmas trip held in Bellefonte, he said, sold all 10,000 tickets in 19 minutes. Each ride attracts 450 passengers, and Pontius holds 40 Christmas trips each year.
"After we load and if there are still people standing that couldn't' get a ticket, I try to squeeze them on," Pontius said. "You see how happy these kids are and you just know you're creating good memories."
Pontius has been holding the Christmas rides for 20 years and there's a good chance they'll continue for many more years.
John Spychalski, a SEDA-COG Joint Rail Authority board member from Centre County, said the Christmas rides have staying power because of the initiative of community sponsors to sell tickets, and, in large part, Pontius' generosity.
"Jeff has a business sense, but he's willing to share. He puts in an enormous amount of time and effort to maintain that train, and that's not a task many people can take on," Spychalski said. "Jeff really likes to help people and there's really nothing that compares to this."
Still, the undertaking is significant and Pontius said it takes him a week to rest and recuperate after conducting holiday rides each weekend.
"I leave at 5 a.m. to get the train started and warmed up. When you get older, it's a lot of work," he said. "I've been asking myself how long I'm going to keep doing this, but I'm blessed to have so many good friends that help."
While help from friends certainly makes it feasible for Pontius to keep his train on the tracks each holiday season, he's also motivated by something else.
While the train rides bring happiness to children and their families every year, and the revenue benefits a variety of causes in the small towns that sponsor the trips, Pontius is satisfied just knowing he is doing something good for so many.
"I have a room in the farmhouse filled with all the letters and pictures kids have given me over the years," Pontius said. "The train creates good memories for them, and that gives me plenty of good memories as well."
Tom Venesky is a freelance writer in northeast Pennsylvania.
22
Photo by Bellefonte Historical Society
Grain farmer Jeff Pontius, owner of the Santa Express train, conducts 40 rides during the Christmas season. Maintaining the trains and preparing the rides is a large undertaking, and Pontius relies on the many volunteers shown here to assist with boarding and entertaining passengers.
21
Photo by Bellefonte Historical Society
Santa waves from the caboose, one of the train cars that Pontius restored.