MADISON, Conn. — If you live on the Connecticut shoreline, you know the difference between an estate sale and a yard sale. It's the difference between reality TV's "Antiques Roadshow" and "American Pickers."
Ann Pfisterer has lived in Madison for 45 years, smack dab in the middle of historic New England homes, mostly from the late 17th and 18th centuries, and many still filled with antiques and vintage treasures.
Pfisterer, a co-founder of Grand Finale Estate Sales, is a respected estate sales business owner who has worked in the profession for more than two decades. Like her colleagues, she is adjusting to a new paradigm of how the business operates today and probably into the future.
Growing up in a home with antiques, Ann's mother-in-law, a Vermont native, also collected antiques and passed along that interest to her son, Chuck, and daughter-in-law. She took them to auction galleries on weekends dating to the 1960s.
"I love the history that surrounds antiques," Pfisterer said, "and got started in the business by co-owning a small dealer antique gallery in Wallingford, Connecticut."
One of Pfisterer's colleagues in the business conducted estate sales and Pfisterer began to help her, eventually taking over the business with another colleague.
Pfisterer worked with partners for a decade before taking over the business on her own.
The estate sales professional has seen the business change in her time as a business owner.
"The internet has touched every business, including estate sales," Pfisterer said, "and people think by doing it themselves, to avoid paying a commission to a professional estate sales company, they'll net more money from the sale."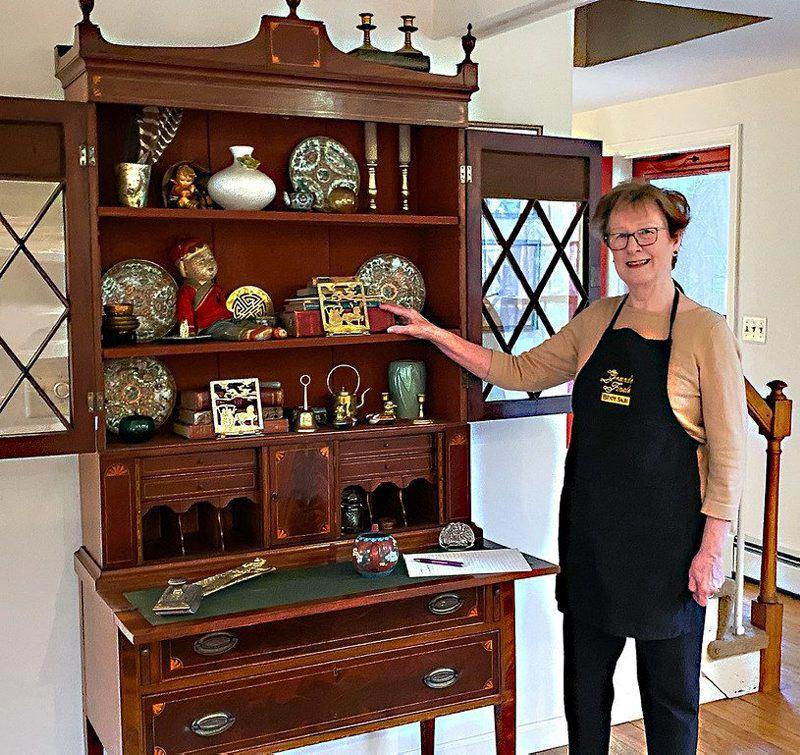 What do-it-yourself sellers don't realize, Pfisterer said, is that estate sales are labor-intensive. She explains that they take time to evaluate, stage, market and then run properly to maximize attendance and sales.
"Unfortunately," she said, "I've seen DIY estate sales turn into disasters and actually net less revenue for the owners or survivors, and that's sad."
New England estate sales usually take place in the owner's home over a weekend to maximize attendance. They are unlike estate auctions or catalog sales in other parts of the country, that are held at auction houses.
"A New England estate sale may take a couple of weeks to a couple of months to evaluate inventory and stage properly," Pfisterer said.
She hires about six to eight part-time colleagues to, as she describes, "help her empty closets and cabinets, move furniture and carefully stage items. My staff will not only keep an eye on the merchandise during the sale, but assist buyers as needed."
"Buyers today," Pfisterer said, "are looking for midcentury furniture, art pottery, vintage toys, small tribal or oriental rugs, early rock and roll and jazz vinyl records, art glass and books."
Similar to all antiques and auction appraisers, Pfisterer is called out often to evaluate and appraise antiques and vintage collectibles.
"At times," she said, "even to learn about a sale, it can be whom you know and not just what you know."
Many of her leads come from friends, attorneys, and former clients.
"Its all about connections," she said.
Many times, Pfisterer explains, individuals will want to run an estate sale to downsize and turn things into cash for retirement.
Also, at times, Pfisterer said, children who have inherited a home and its contents, on their parents passing, will question the knowledge of the person they call in.
"It's like a little test," Pfisterer said, "especially when people think they have an original Remington bronze sculpture and it's a copy. Or, when they have something truly unique and valuable, and they aren't aware of it. Our job is to help the owner maximize sale revenue while we receive a fair commission — usually in the 60/40 area, but can be different for every sale."
Pfisterer believes programs like "Antiques Roadshow" — watched by both buyers and sellers — can be a double-edged sword.
"On one hand, 'Antiques Roadshow' can encourage home owners to seek professional help before thinking about a sale or," she said. "For others, when they see the value of some items, (they) feel that it is a simple business and they can handle it themselves, but they quickly get in over their head."
Pfisterer remembers two very memorable sales in her career. First, in a fairly regular estate sale she was staging several years ago for the children of deceased parents, she came across what she believed was an original Tiffany shade tucked away in a box in an attic.
"I let the owners know that I had an item I thought might be valuable, and wanted a specialty appraiser to confirm it and to see if she was interested to purchase or knew possible buyers," Pfisterer said.
She got the OK to proceed and to sell the item if she could.
It turned out that the shade was indeed a Tiffany and her antique-expert friend not only confirmed it, but also had a buyer who paid top dollar for it without batting an eye.
Grand Finale Estate Sales' biggest job was a historic, 1690s home in Westbrook, further east on the Connecticut shoreline from Madison. The owner was in a health care facility and her married daughter was referred to Pfisterer through a restoration painter.
Pfisterer said she and her partner took almost five months working in the house — an antique itself that did not have heat or running water — to inventory and stage the contents. Pfisterer said they brought in a well-known New Hampshire antiques expert who frequently appeared on "Antiques Roadshow" to help evaluate many of the items.
"The three-day sale grossed six figures," Pfisterer said, "and even the leftovers where scooped up quickly by a cleanout company that handles small estate or yard sales."
People still come out to estate sales in New England, Pfisterer said. But, she said, "you need to adjust to 2020. I advertise on the worldwide web, Craigslist and other internet sites, and am sure my colleagues in the business are aware of the sale and what type of merchandise will be available."
Pfisterer also uses the internet to take visual tours of historic homes that are up for sale to see if they are candidates for estate sales, before reaching out to owners or real estate agents she may already know, about handling a sale.
"This business is not going away," Pfisterer said about the changing environment. "And, to succeed, you need to be knowledgeable about antiques and vintage merchandise, have a group of experts you can call on to evaluate something you may not have knowledge about and a team of colleagues to help you stage and run the sale."
"You also need to be able to evaluate the potential gross income from a sale, before you make a proposal to the owners. And then, you need to be organized to a fault to deliver what you promise."
Her goal is to make each sale a win-win for both sellers and the estate sales company: "That's what we like," she said.
Art Petrosemolo is a freelance correspondent and photojournalist in Lancaster County, Pennsylvania.