For watchmaker Paul Hurst, it has always been about time.
Hurst's late father Samuel Hurst started repairing watches in Lancaster County, Pennsylvania, in 1957. As a youth, Paul Hurst began to learn about opening and closing watch cases and working with springs and small movements even before he formally apprenticed in the business, at 16, in 1989.
Today, Paul Hurst, 47, is mentoring a young relative, Jordan Hurst, 21, who started in the business right out of school a few years back.
Together, Paul, Jordan and Paul's mother Irene run Hurst's Watch and Clock Repair from a shop on Linden Street in the borough of Terre Hill in East Earl Township, Pennsylvania.
Along with servicing and repairing antique tall clocks and watches, Hurst also sells watches and clocks, including modern grandfather, floor and mantel clocks.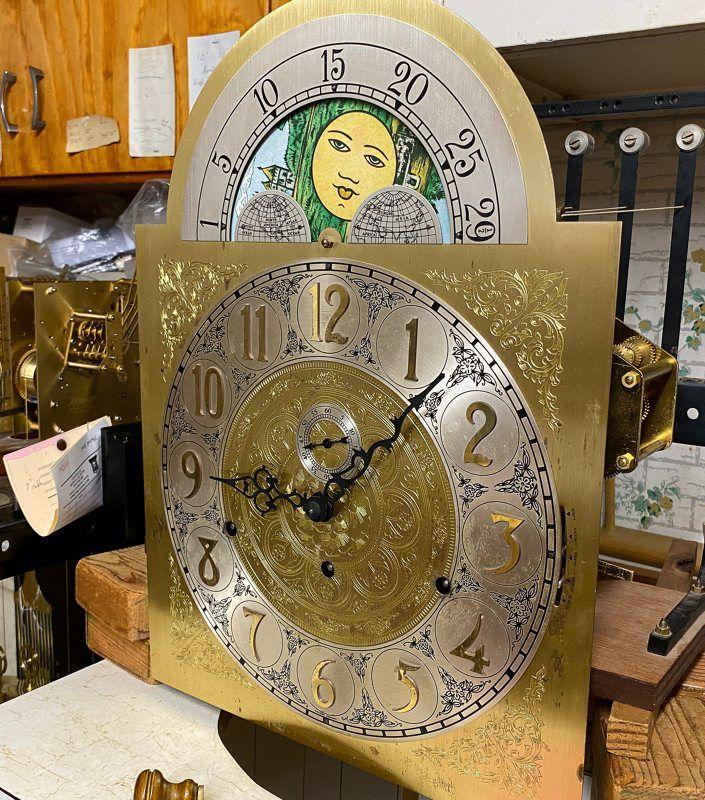 "It's a business that has gone through many changes in my lifetime," Hurst said, "but we have adjusted and continue to adjust, as needed. There is still a place for skilled craftsmen doing the work we do. We keep busy."
During the mid-20th century, after the Korean War, there were many veterans who became skilled watch repair technicians. They were hired by jewelry and department stores that sold American-made mechanical watches with hand-wound mainsprings that needed servicing and repair.
Now, at the end of the second decade of the 21st century, there are less than 3,000 skilled watch and clock repair technicians across the country. And Swiss watchmaker Rolex, facing a shortage of skilled technicians to service their luxury watches, built and runs a school in Lititz, Lancaster County, Pennsylvania, to train a new generation of specialists to service high-quality, mechanical wristwatches.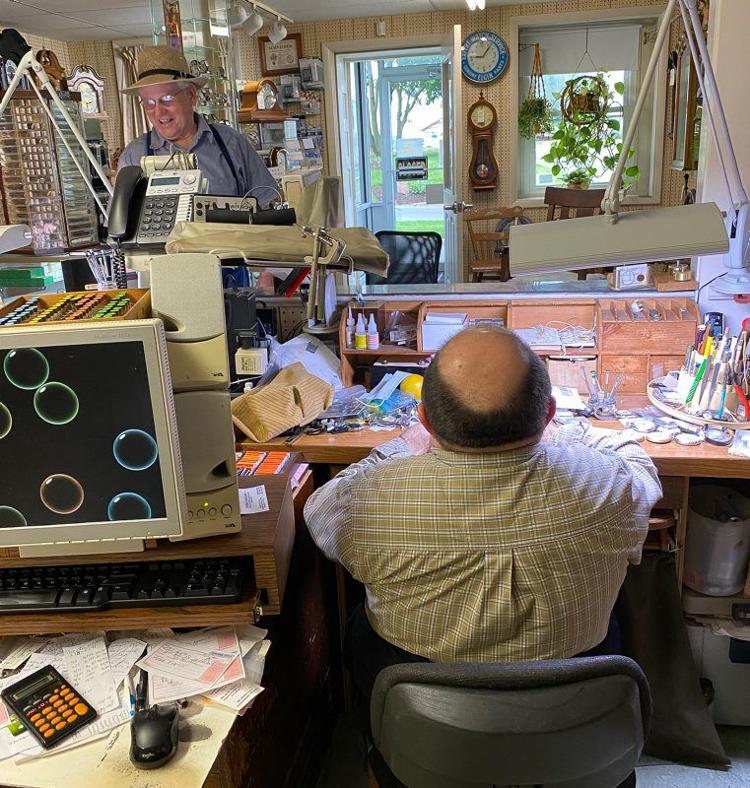 There also are some technical schools that teach watch repair and programs in junior colleges. Graduates are in demand for jobs at jewelers who are seeing an uptick in the purchase of vintage and new Swiss mechanical watches that all require regular servicing and repair.
The Hurst shop is a location where you can purchase an American-made Howard Miller or German Hermle grandfather clock. Or, you could find a unique Hurst wall clock with custom, hand-made wood cases that, like floor clocks, are frequently given as engagement or wedding presents by husbands in the Plain Sect community. You also can stop at Hurst just get the battery changed in your Seiko, Timex or any wristwatch.
Hurst, when asked, is happy to talk about changes to the watch and clock industry that began to take place in the 1960s. That was when changes to watch movements — from mechanical movements that were run by hand-winding the mainspring — to the introduction of new movements that were mechanical, but powered by a battery.
Bulova Watch Co. is a New York City watch company that was founded in 1875. It was an innovator in personal timepieces, manufacturing what is believed to be the first fully electronic timepiece, with its battery-powered Accutron watch in 1960. It used a tuning fork movement without the need for a balancing wheel.
Accutron watches were followed by quartz watches that used a battery to power an electronic oscillator that was regulated by a quartz crystal with a precise frequency to provide extremely accurate time. This period in watchmaking has been dubbed "the quartz revolution," and was a reaction to the early American space program and NASA's demand for precise timing for space flight navigation. It continues to this day.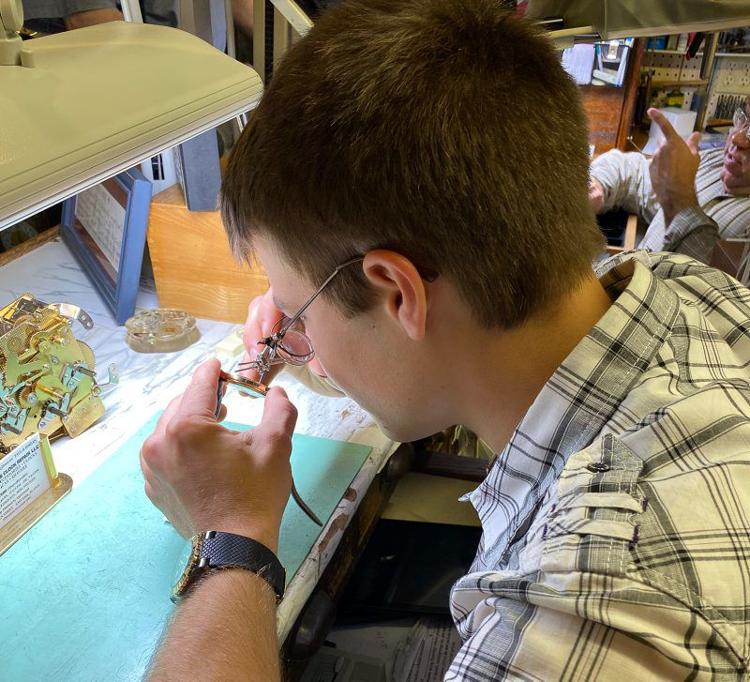 Paul Hurst explained that changes in modern wristwatches are tied closely to Lancaster County. The historic Hamilton Watch Co., founded in Lancaster in 1892, manufactured quality watches for 111 years until being sold to a Swiss company in 2003. Hamilton pioneered digital-face watches, Hurst said, with its Pulsar division in 1970. They were inspired by the digital clock that the company made for the 1968 iconic science fiction film, "2001: A Space Odyssey."
Hamilton's digital watches led the market for several years until Texas Instruments started to mass produce LED watches in plastic cases. This dropped the prices to just a few dollars each. In the process, Hamilton lost $6 million and sold Pulsar to Japanese watchmaker Seiko.
"LED watches are like shoes, today," Hurst said, "and are almost disposable. If they fail, you dispose of them and buy something new."
However, Hurst said, "Higher quality watches with quartz movements — many made by the Japanese (Citizen, Seiko) and Swiss (Swatch, Swiss Army, Tissot, Wenger) — are available in a variety of price ranges and are usually the standard movement today in watches and clocks, and are serviced and repaired by watchmakers."
While Hurst sells and repairs mostly modern watches, he still sees (and repairs) a lot of vintage watches worn by seniors or their offspring who treasure older, vintage or antique timepieces. "Some of these watches are vintage, square-faced Hamilton or Bulova timepieces that may be 50, or more, years old," Hurst said, "but their owners keep them both to tell time and for sentimental value. Jordan and I work hard to source the parts to repair them."
The elder Hurst has enjoyed seeing Jordan's skills improve. Jordan had worked with his own dad for years to repair everything mechanical, including clocks found at yard sales. "You can't just say I want to be a watch technician," Hurst said, "you need to have been tinkering with fixing things and have that curiosity, as well as the patience to work with, at times, very small pieces."
The young Hurst is the point person on servicing floor and mantel clocks. He can make two or three house calls a week. "If a clock needs regular servicing, I may just be able to do that in the owner's home," Jordan said, "but if it needs repair, I have to remove the movement and bring it back to the shop to make repairs and then install it on our test stand for days or a few weeks to be sure that it is keeping accurate time."
Modern grandfather clocks today are made across the world, many in China. But, Hurst said, Howard Miller in Zeeland, Michigan, has been making quality floor clocks since 1926.
"We started making smaller, attractive and decorative wall clocks with German-made mechanical movements or, chiming quartz movements in locally hand-fashioned wooden cases," Hurst said, "as many individuals were looking for something of quality at a lower price point and this has filled the bill that the 'wedding clock husband-to-wife gift' had in the past."
With a strong U.S. economy in the past decade, Hurst said that there has been continuing interest in quality — many times mechanical — personal timepieces as well as vintage floor and wall clocks that need a trained professional just to open and service.
There are a lot fewer businesses like Hurst's shop that do on-site repair today than there were even 20 years ago. Hurst has not seen any drop in business in recent years. "As a matter of fact," he said, "a county watch and clock retailer's repair technician passed away a few years ago and they brought all their in-progress work to me to finish. They have never replaced him, and refer repair customers to us."
Art Petrosemolo is a freelance correspondent and photojournalist in Lancaster County, Pennsylvania.