In 1766, John Spilsbury, a British cartographer, created an educational tool to teach schoolchildren geography when he affixed a map to a flat board and then carved out each country. He called it a "dissected map." In the process, Spilsbury created the first jigsaw puzzle. Today, more than 250 years later, jigsaw puzzles delight everyone and some 60 million puzzles are sold yearly with a value estimated at more than $600 million.
In the early 1970s, two friends from northern New England started a small puzzle and game company that over time has taken the jigsaw puzzle to a new level of enjoyment and challenge. In the process, Stave Puzzles has become a successful niche business and one of the most, if not the most, creative puzzle manufacturers in the world.
Stave has a large following of puzzle customers who can spend thousands of dollars each year to be challenged — and sometimes tormented — by founder Steve Richardson and current owners Jennifer Lennox and Paula Tardie.
What makes the company unique? From the first creations of Richardson and co-founder Dave Tibbetts, Stave's mission has been to produce collectible, quality, hand-cut, wooden puzzles that can be extremely complicated and give their customers hours of pleasure in assembling.
With stay-at-home health guidelines in place during the 2020 coronavirus pandemic, many families have re-discovered puzzles as a way to keep themselves and their children busy, and a whole new generation has discovered this Norwich, Vermont, company that itself had to close for several weeks to meet Vermont health directives and is currently working hard to fill a backlog of orders.
Richardson taught himself to cut puzzles in the family garage using his father-in-law's scroll saw.
An early Stave creation was sold to National Football League (NFL properties) and was rolled out as a board game on placemats in IHOP restaurants. The sale gave the fledging company time to attract new customers while growing its reputation.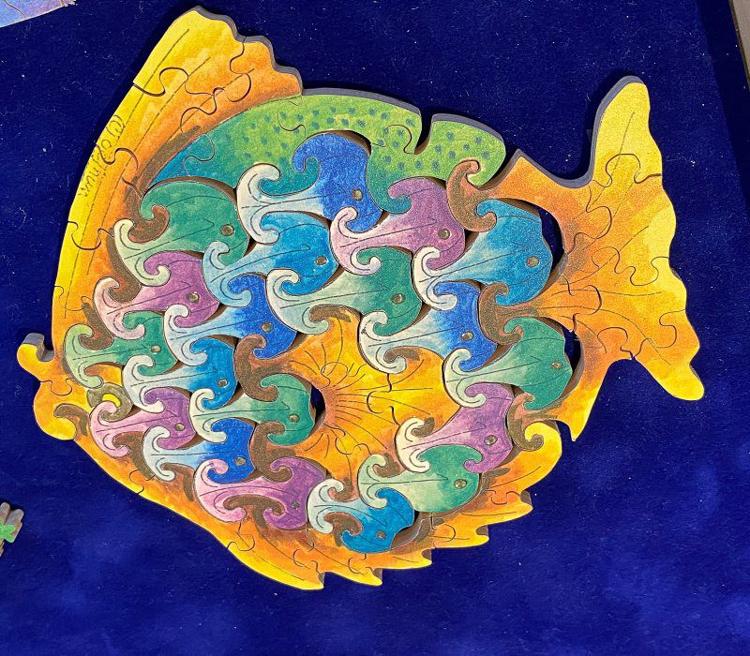 Tibbetts, one of the original partners, left Stave a few years after its founding. Richardson and his wife Martha were the sole owners until 2015, when they began to transition ownership to veteran employees Lennox and Tardie.
During the current pandemic, the popularity of jigsaw puzzles has exploded and they have become as popular as they were during the Great Depression in the early 20th century. Then, the puzzles had their heyday when a new "Jig of the Week" was available at newsstands every Wednesday, and during one week in 1933, some 10 million puzzles were sold.
Although Richardson learned how to cut puzzle shapes quickly, he faced a challenge of getting the puzzle to fit firmly together.
"It was the thickness of my scroll saw blade," Richardson said, "and no U.S. manufacturer made one thinner."
In the 1970s, without the World Wide Web and internet searches available, Richardson reached out to European manufacturers through a number of embassies. He soon found a German company that produced a blade with the right cutting thickness that both allowed him to cut pieces accurately while providing a tight puzzle fit.
Although Stave made a quality and challenging puzzle from day one, it needed customers to survive, and Richardson placed small ads in the Boston Globe and the New Yorker magazine to generate inquiries.
"We had a call from a Boston businessman who had been unable to get new puzzles from a previous supplier and saw our ad," Richardson said. "(He) was hungry for more challenging designs and we gave him just what he was looking for. He became a regular customer."
Richardson goes on to explain that their ad in the New Yorker attracted a member of the Eli Lilly & Co. pharmaceutical family, who became a longtime supporting customer with purchases for himself, family and friends that averaged $50,000 a year.
"He had a standing order for our puzzles for some 20 years," Richardson said. "We will always be grateful for his support."
Although the company still has a few customers who make purchases in that range yearly, there also are a lot of customers who spend $10,000 to $20,000 yearly to test their wits, ingenuity and patience. Over the years, Stave Puzzles has caught the attention of — and been purchased by — many well-known American families including the DuPonts, Rockefellers, Gateses, Bushes and Mellons. The company was recently featured in the Bloomberg Business Week magazine.
Stave puzzles can be categorized several ways and are rated for difficulty. Its hardest puzzles are called Trick puzzles and are rated with lightning bolts, with the most difficult given a five-bolt rating. These puzzles aren't sold to customers until they have successfully mastered a lower-rated Trick puzzle.
Tidbit puzzles are small and described as the right amount of puzzle for when you have just a few moments to relax. Treat puzzles are more than a Tidbit, but not quite a Teaser, and do not include trick pieces or devilish teaser elements. Treat puzzles offer a wide range of challenges; some are designed with solid areas and offer room for personalization while others are designed with repeating colors and void spaces. Treat puzzles are rated from one to four hearts in difficulty.
Teaser puzzles were invented by founder Richardson to be very challenging, with artwork specifically designed to maximize befuddlement and minimize any solving clues. The exterior pieces interlock together as one snug frame, but the center is where you find the real challenge.
The interior Teaser pieces nestle together, while still leaving some or empty space between each piece, creating a surprising challenge. Teaser puzzles are rated from one to four swords in difficulty.
Regardless of their difficulty, one thing all Stave puzzles have in common is that they are made of a five-layer, cherry-wood laminate backed onto plywood and hand cut by an experienced puzzle maker
Even the most experienced puzzle cutters, many of whom have been with the company for years, can take three or more days to complete an intricate design. Richardson explained that it can take months to fully train a new puzzle cutter and apprentices to perfect their craft with the small, less intricate designs.
The company's clown logo that graphic designer and co-founder Tibbetts came up with, both adorns puzzle boxes and is a piece in every design.
"It is just the right symbol," Richardson said, "as it could be laughing at you as you struggle to complete the puzzle."
Subject matter for Stave puzzles run the gamut from original artwork to prints of landscapes and Impressionist scenes to photographs and everything in between. Many custom puzzles are crafted with an irregular shape or include unique pieces with personalized names, dates or special silhouette figure shapes.
With a resurgence in puzzle interest, and an energetic leadership team dedicated to the company's founding principals — with a founder who keeps coming up with mind-boggling puzzle ideas — there is no reason to believe that this small and respected company won't continue to grow in the years ahead.
You can visit Stave Puzzle on the web at: https://www.stavepuzzles.com.