LITITZ, Pa. — Dean Brandt manufactures antique flooring and his customers are — more often than not — high-end builders and architects working on mega-homes where historic wood for flooring makes them truly distinctive. He sells to architects and contractors nationwide.
Brandt owns Sylvan Brandt in Lititz, a second-generation business that restores salvage wood from 17th and 18th century barns and homes into antique wood for both new construction and restored homes.
"Antique flooring can't be manufactured from scratch. It needs to be restored from lumber secured from centuries-old barns and homes, many in rural areas where today these structures are valued only (for) such materials and the land," said Brandt.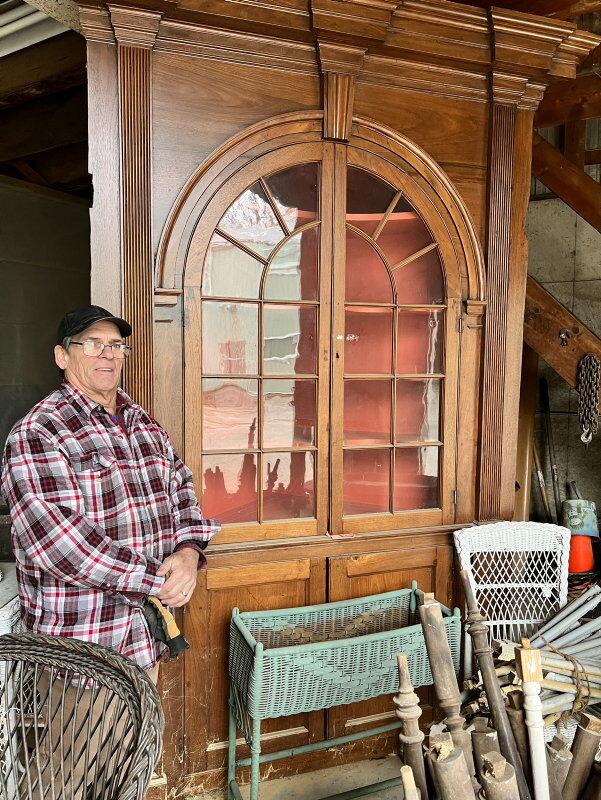 Brandt's company turns salvaged wood from floors, walls and ceilings into tongue and groove planking to be finished after installation as flooring or beams usually in high-end residential homes.
The business got its start when Brandt's dad, Sylvan Brandt, and a friend salvaged materials from an old stone home in Lancaster County in 1960. They sold all the vintage lumber, doors and porch posts they had collected. Sylvan's son Dean joined him in the new business and he now runs it with two daughters and a son-in-law.
Brandt continues to find and purchase old homes and barns throughout Pennsylvania and surrounding states to manufacture antique flooring while offering the salvaged architectural pieces — doors, shutters, columns and hardware — to buyers from the Sylvan Brandt Antiques Loft, a 1,000-foot-plus storage space in an on-site building along Route 772.
Architectural antique finds there can include rare cross and Bible-designed doors, handmade cabinets, columns, trim and original architectural hardware including door knobs, and hinges that date as far back as 17th century construction by the area's earliest settlers.
The Antiques Loft also is home to a co-op with 18 antique sellers of vintage items and hidden treasures. The Antiques Loft is open to builders, collectors and browsers Tuesdays through Saturdays from 8 a.m. to 4 p.m.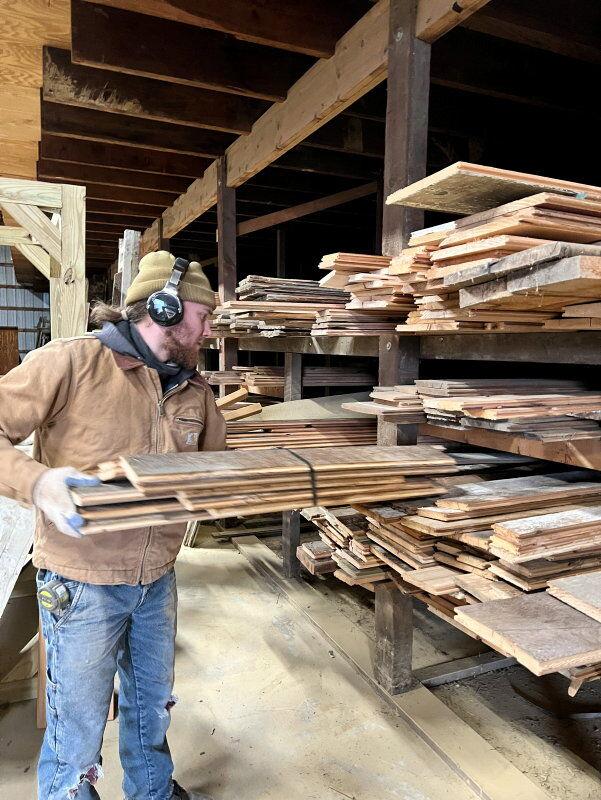 "My dad, Sylvan, who passed away in 1998, had developed an eye for vintage, old growth, solid hardwood, hundreds of years old, that could be milled and turned into unique flooring or decorative beams. I learned these homes also contained valuable windows, doors and architectural pieces that came with salvage rights, before the buildings were razed, and they are part of our antique's business today," said Brandt.
Vintage hardwood has character, explains Brandt. "It has a patina, worm trails and even marks from wood-boring beetles that all contribute to its value as salvage and as restored, antique flooring."
Recovered, vintage wood is of a better grade and denser than even the finest woods you can purchase today, Brandt feels.
"This wood came from old growth forests close to where the homes and barns were constructed. With the increasing cost of new lumber for building as well as for fine flooring, we feel restored antique flooring, although expensive, is a solid investment," Brandt said.
In the 21st century, according to Brandt, old homes and barns, some on acres of farmland, are coveted for their open space to develop residential homes and, at times, the salvaged planks — after they are restored — can go back into these homes as flooring.
Although the interest in and sale of antique flooring is "hot" in 2021, with a boom in residential construction, Brandt explained it hasn't always been that way. "The business of reclaimed flooring came to a standstill during the 2007-2009 recession.
"That's when I decided to turn a storage building into an antique co-op for a group of sellers as well as a place to display our architectural salvage pieces."
The site has two floors of space encompassing 1,500 square feet where Brandt also sells sought-after antique wood board "cuts" in small bundles at $5 a board foot.
All the antique and vintage collectibles in the booths at the Antiques Loft are tagged, and buyers just bring their selections to the office for payment. Several times yearly, Brandt will host a Loft sale, which attracts new visitors, many of whom learn, for the first time, about architectural salvage and antique flooring.
"Occasionally we even have visitors from the Midwest with trailers similar to other Lancaster County barn and salvage sites," Brandt said, "as there is a market nationwide for old, architectural pieces and original hardware."
Brandt points out that the cost of salvage rights to an old barn or house will vary depending on its size and the amount of salvageable flooring and other materials available but may exceed $5,000.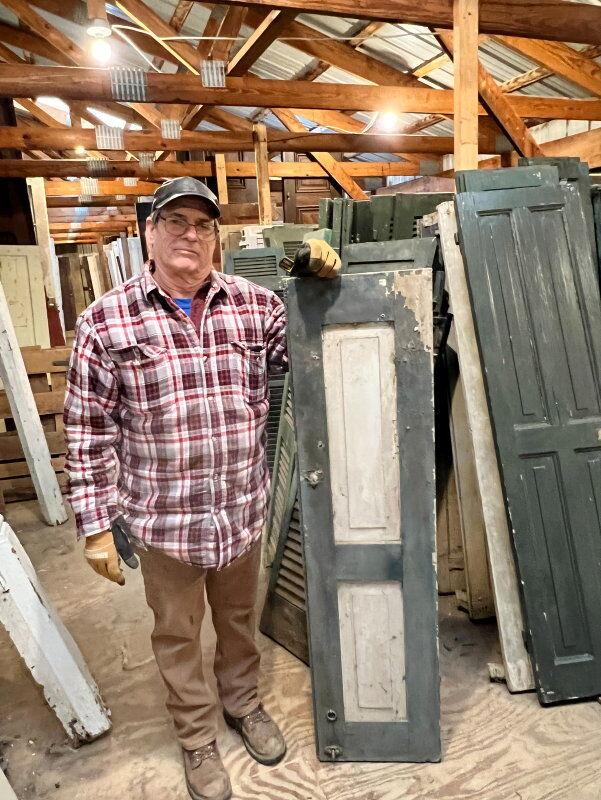 Brandt explains that historic structures were often built from more than one tree species depending on what timber was available in the area for construction so they don't know all the woods available in a salvage operation until they begin. "There was an abundance of virgin, old growth forests in North America during the Colonial era," said Brandt.
One of the most valuable antique pieces Brandt salvaged was a solid walnut, 9-foot tall, corner cupboard from a Pennsylvania home that was buried under seven layers of paint when recovered. Brandt spent several thousand dollars to have the cupboard stripped and feels he will recover that money when the piece is sold to the right buyer who will have the space for it and also appreciate its historic value. "The corner cabinet, as extraordinary a find as it was, was just a small part of the salvaged materials we removed from that house," said Brandt.
Brandt sells restored antique lumber, ready for flooring, for between $8-$12 a board foot and he has filled orders for flooring as large as 24,000 board feet. He stocks antique flooring made from oak, hemlock, heart pine, white pine and chestnut, in his showroom office and has multiple examples of these woods repurposed into flooring.
Brandt explains the process of manufacturing antique flooring is pretty straightforward. Once the flooring, ceiling and clapboard siding is salvaged, it is brought to the Sylvan Brandt mill, where the nails or nail heads are first removed.
"Then," says Brandt, "we kiln dry it for 10 days and remove any remaining paint with very light sanding. Finally," he continues, "we tongue and groove the boards, and inventory the flooring by wood type."
All antique flooring is finished, explains Brandt, including sanding, staining and sealing on-site by contractors and flooring experts trained in handling the valuable wood.
In an age of online shopping, the majority of Sylvan Brandt's business comes through the company website (sylvanbrandt.com) where buyers can see what wood is available.
"There are still hundreds and hundreds of these old structures in different parts of the country and their wood will be salvaged and repurposed for the foreseeable future," said Brandt. "Our business is counting on it."