LANCASTER, Pa. — In an era of high-tech agricultural equipment, it can be difficult to recall when mechanized farm machinery was something new. A recent Landis Valley Village & Farm Museum program saluted a largely unsung Lancaster County inventor who obtained more than 50 patents, mostly for products designed to make the farmer's life easier.
William Chester Ruth was an African-American native of Chester County, Pennsylvania, born in 1882 to a father who was a freed slave from South Carolina and his wife, a free woman. Always a lover of mechanical things, the young Ruth would sometimes receive parental scoldings for "not keeping his curiosity in check." He was known to disassemble an interesting object to see how it worked — and then be unable to put the pieces back together again.
Although limited to a grade school education, as a boy Ruth was soon able to put those pieces back together as well as make creative new devices of his own. Among the first was a wagon jack he adapted from a bicycle pump. By the age of 12, he was forging nails and in 1923 he opened a blacksmith shop in the town of Gap, in Lancaster County. He made many of his own tools, some of which he fashioned using old buggy springs.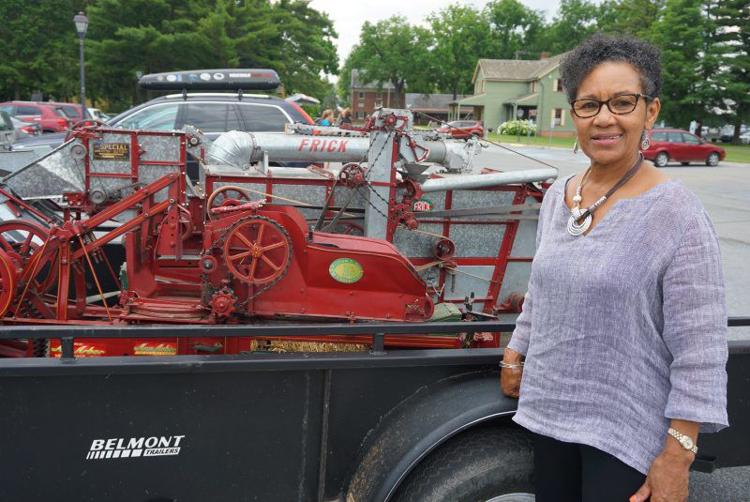 At the program, the story of Ruth's life was presented eloquently by his granddaughter, Gwendolyn Ruth Dickinson. Dickinson, a Hahnemann University graduate with a successful career as a physician's assistant and health care advocate, spoke to an audience of nearly 150, including numerous Ruth family members, as well as friends and neighbors of the late Gap resident, who died in 1971. Many of them used the occasion to share memories of a man who was respected for his accomplishments, as well as his congeniality.
One, Barbara Fox, grew up living next door to the Ruth family in Gap, where Dickinson's older siblings, the late Janie and Richard, were Fox's playmates. Fox recalled Ruth sitting on a rocking chair listening to newscaster Gabriel Heatter. She remembered Ruth as a pleasantly meek gentleman and said his wife, Gertrude, was "like a second mom to me."
Dickinson said that Ruth, as an African-American moving to rural Gap in the early 1900s, must have been "an eternal optimist" to open a business, survive and thrive. Among others, it was Mennonite and Amish farmers in the Gap area who especially kept Ruth's blacksmithing skills in steady demand. He was known for analyzing problem jobs that customers presented to him and saying, "I'll see what I can do."
Having been raised on a farm, Ruth was familiar with farming's back-breaking work, particularly the labors required to harvest and thresh grain. Perhaps those experiences spawned his seemingly instinctive desire to find mechanical alternatives. Among the agricultural inventions credited to Ruth is his "baler feeder" — an apparatus that fit behind a threshing machine to deliver the hulled grain stems to the baling chamber, where bales of straw were formed and bound. This alleviated the need for workers using forks to prevent clogs from the threshing machine's uneven straw output into the baler — a dangerous and brutally hot job in summer's heat.
Ruth perfected this apparatus in 1924 and it went on to become his first of many patent applications. After receiving a patent for his design of the "Ruth Combination Baler Feeder" in 1928, he sold 21 of them in one day alone. He went on to market and sell over 5,000 of them, with many going to the grain belt in the American Midwest, as well as to Canada. The name plate on this product proclaimed, "The Ruth Improved Feeder, Gap, PA."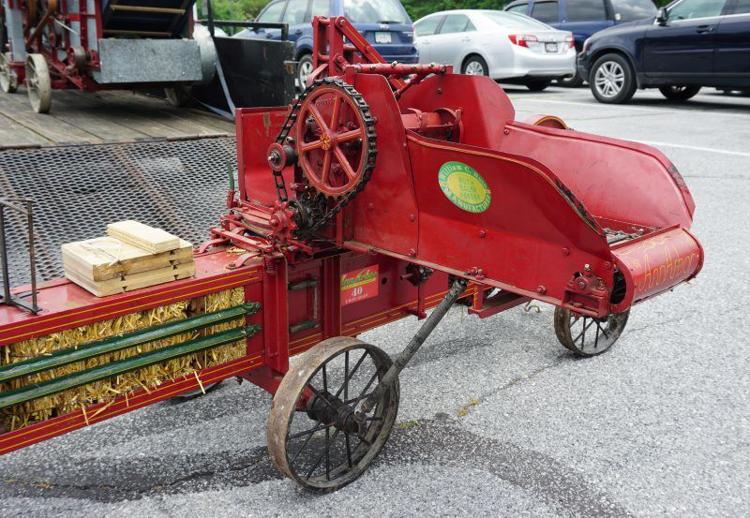 Benjamin L. King, owner of Gordonville's Cattail Foundry, not only attended the session at Landis Valley Farm Museum, but also brought along with him 1/3-scale replicas of a steam-era threshing machine and a bale press complete with a replica Ruth feeder attached to the baler. He said it took him approximately four years each to construct the threshing machine and the bale press. King invited Dickinson out to the parking lot to view his handiwork, leading her to exclaim, "This is like Christmas morning!"
For each of his inventions, Ruth first developed a prototype, or a scale model. Ruth's son, Richard Ruth, donated a model of his father's mechanical hoist, a self-lifting elevator, to Landis Valley Farm Museum, where it and his baler feeder, are on display in the Bitzer Building. While William Chester Ruth originally invented this elevator with the goal of raising hay and straw bales into the upper levels of barns, he later adapted it for use with other farm produce, such as ear corn, mushrooms and potatoes.
Another multi-purpose invention by Ruth was the Ruth Cinder Spreader. In 1934, he sold over 150 of these spreaders to the Pennsylvania Department of Highways (now PennDOT) for use on icy state roadways. But farming was never far from Ruth's mind, so he also adapted this apparatus to be used as a manure spreader.
Among his non-farming inventions was an amusement park aerial ride, as well as the Ruth Clean Cut lawn mower attachment. This 1940s-era invention cut a swathe wider than the basic mower's width.
It was in 1942 that Ruth was commissioned by the U.S. government to make secret devices for the war effort during World War II. Some of the technology he pioneered was later used in the development of the Trident missile.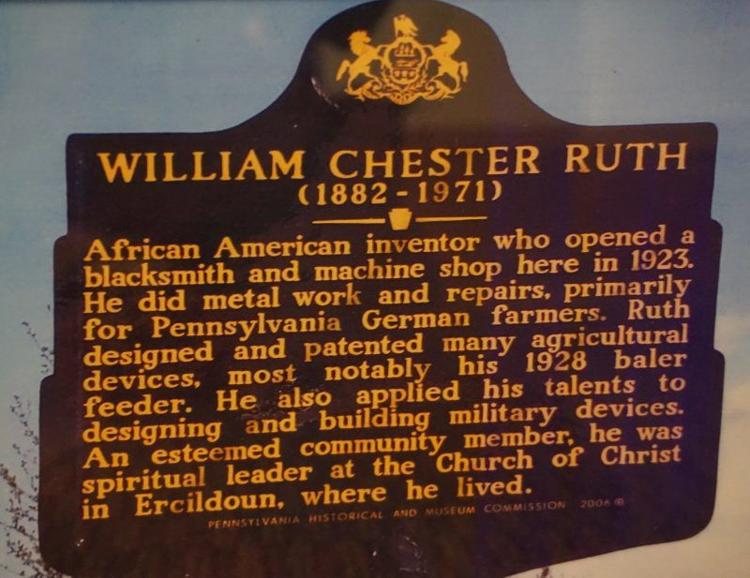 It is perhaps surprising that Ruth's many intricate inventions and their prototypes were constructed in the confines of his small, non-imposing machine shop in Gap. This building no longer exists, but along U.S. Route 30, near its former site, now stands a Pennsylvania historical marker commemorating his many achievements.
Dickinson wanted to make sure that those attending the event understood that her grandfather was much more than just a prodigious inventor. She called him "a charismatic man" and a gentleman, and said he was extremely disciplined.
"You could set your watch by him," she said, adding that he was a "seer, dreamer, draftsman, engineer, mechanic and a laborer."
She spoke about his devotion as a family man and also as a man of God. Ruth was a lay minister in the Church of Christ, and spent many hours preparing and delivering his sermons. In later years, he became a spiritual advisor, until his death in 1971.
In closing, Dickinson shared a quote from Ruth that seemed to summarize his life in two brief, but inspiring sentences: "You are born with a purpose for being in the world. Develop your capabilities to the fullest."