WERNERSVILLE, Pa. — If you threw a birthday party for your house, how many candles would there be on the cake?
Assuming your house is a historic one, dating to the 1800s or earlier, you'll want to invite Susan Speros to the party and ask for her help to identify the age of your abode.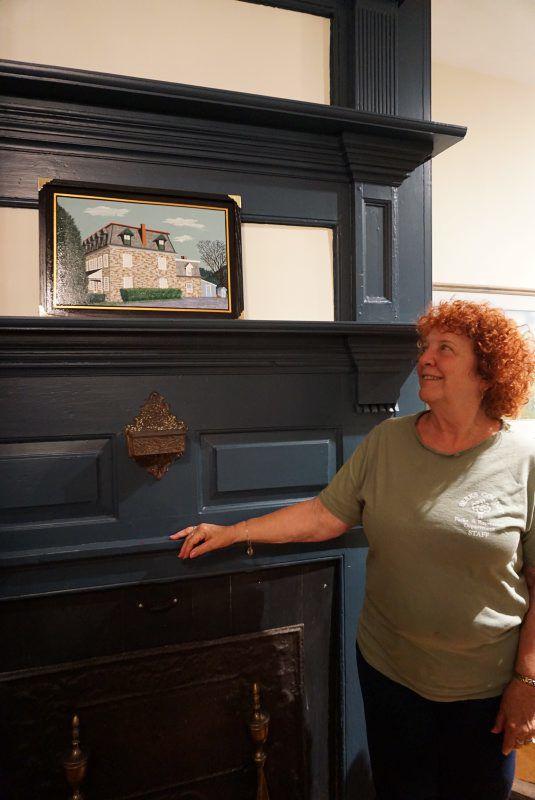 Speros, who works as the site manager for Berks County's Allegheny Aqueduct Historical Park and is also a columnist for the Reading Eagle's Berks Country magazine, has degrees in anthropology and historic tourism. What might look like "just another old house," actually offers many clues about its age, according to Speros. Details like its roof line, floor plan, construction materials and styles of doors, windows, stairs and moldings are all important to identifying the era to which a historic home belongs.
During a presentation to the Heidelberg Heritage Society at its Wernersville headquarters, Speros discussed the four basic home styles common in Pennsylvania from the 1700s to early 1800s. These styles are: English hall-parlor/Quaker; Pennsylvania German vernacular; Georgian; and Federal. Recognizing the style of a home is a major step toward knowing its age.
Given that the first settlers in Berks County and adjacent areas were English and Welsh Quakers, the English hall-parlor/Quaker home style is reflective of homes from 1682 to 1740. It features a steeply pitched roof with side gables and narrow overhanging eaves that lack cornice detail. These houses are only one room deep, with the hall leading from the front door to the back door, typically a part of the kitchen, which is partitioned off from the adjacent parlor. Other characteristics include a sizable chimney, either in the center of the structure or on the gable end. Windows generally are either small, multi-paned casement-style or fixed in place.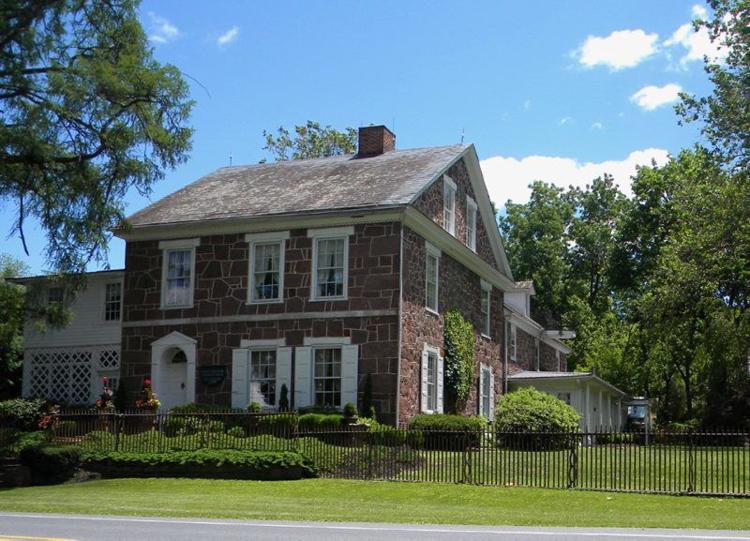 If the home is two stories high, the English hall-parlor/Quaker style usually features "boxwinder" stairs, which have treads that are wider on one side than the other, allowing the stairs to change direction without a landing. Such staircases are typically located next to a fireplace, and this style home has a large "walk-in" fireplace used for cooking. Built-in cupboards are absent, since the English preferred chests of drawers. Handmade wrought nails were used in the 1700s with rosehead (fluted) nails for attaching flooring. Doors are a simple vertical board style.
Dating from the mid-1700s, Pennsylvania German vernacular houses have a steep pitch to their roofs and can be stone, brick, log or frame, usually with two-and-a-half stories. The first floor generally displays a three-room continental floor plan, consisting of a kitchen, or kuche, a stove room, or stube, and a small bedroom, or kammer. Like the English hall-parlor/Quaker style, the Pennsylvania German vernacular home has a large walk-in fireplace in the kitchen, sometimes with access to a beehive oven built into the fireplace's wall. Often, boxwinder stairs are located beside this fireplace.
The stube, also known as the parlor, originally included a stove &tstr; usually a 10-plate, cast iron stove.
"The Germans knew how to keep themselves comfy," Speros said. "Nearly 70% to 80% of heat went up the gable end chimneys, so the Germans used hot coals from the fireplace and stuffed them into the cast iron stove to radiate heat" into the parlor. Instead of closets or built-in cupboards, the Pennsylvania Germans used schranks," two-doored, freestanding clothes cabinets.
Since the Pennsylvania German vernacular homes often had heavy, red-clay tile roofs, a stout support system was necessary to bear the weight. The typical liegender-stuhl (literally "lying chair") roof braces provided the necessary extra strength. The clay tiles had shallow channels on their exterior to direct rain water away from the structure. Also used for roofing were wooden side-lap shingles, such as those on the historic Ephrata Cloister's Saron building, or Pennsylvania black slate. Windows were mostly six-over-six panes, but with brick arches above them. Sometimes a keystone was also included in the arch over the windows or exterior doors. The doors themselves were paneled, but simple, without extra pieces.
A more formal type of house is the Georgian style popular between 1700 and 1800. Such homes are characterized by their symmetrical form and window placement. The typical Georgian house is constructed from stone or brick, has windows with 12 panes per sash accented by pediments above them, and often features a transom window over the paneled front door. Its side-gabled roof usually has a cornice ornamented with dentils. There may be corner quoins for added strength. Below the first-floor windows might be a decorative water table or belt course of contrasting brick or stone.
The Georgian home's central hallway includes an often-steep stairway to the second floor. The heavy handrail usually has a squared off newel post that sometimes includes a removable mid-peg; supposedly when the home's mortgage was paid off, the homeowner stuffed the deed and mortgage into this hidden compartment. There may also be a second handrail built into the wall of the staircase. The Georgian fireplace has a plain, heavy-paneled mantel, with corner fireplaces sometimes being placed back to back using the same chimney. Fancy amenities like ornate crown moldings and corner cupboards with glass-paned doors and butterfly shelves on which to display one's prized possessions were commonplace.
Another ornate house style favored between 1780 and 1820 is the Federal-style home. In some ways it is similar to the Georgian style, often displaying a symmetrical layout. However, Speros said that Federal elements tend to be more delicate than their Georgian counterparts, such as the fan light often positioned over the front door. A Federal floor plan might feature a central hall, but side entry hallways are also common.
One similarity between these two more formal house styles are their attic rafters, which use collar ties to connect trusses on the roof's two sides. Mortise and tenon construction held together with pegs is the norm. Federal-style stairs are less steep, lighter and more elegant than their Georgian counterparts. Likewise, compared to a Georgian house, the Federal fireplace is lighter and fancier with a decorative mantel that might feature fluting and gouging done by master carpenters. Doorways are likely to be arched as are the doors of interior cupboards, and carved keystones may adorn these arched doorframes. Overall, moldings are ornate, but with a lighter touch than those found in Georgian structures.
If uncertainty remains about the era of a home, Speros recommended consulting resources such as old county maps, records in county Recorder of Deeds and Register of Wills offices, as well as researching Pennsylvania's historic architectural styles on the Pennsylvania Historic and Museum Commission's website at http://www.phmc.state.pa.us/portal/communities/architecture/types/traditional-house-forms.html.
As simple rules of thumb, Speros summarized that the steeper the roof, the larger the fireplace, and the simpler the moldings, the older the house.