SCHAEFFERSTOWN, Pa. — Gravestones might seem like a dead subject, but Michael Emery, an employee of the Pennsylvania Historical and Museum Commission for more than 20 years, brought the topic to life recently for a standing-room-only crowd at Historic Schaefferstown's Thomas R. Brendle Museum.
Emery, the site administrator at the Cornwall Iron Furnace since June 2018 after a 13-year stint at Landis Valley Village and Farm Museum in Lancaster, has had a longtime interest in Pennsylvania German folk art. He began by studying pottery, hex signs and quilts, but soon noticed that many of the same artistic symbols were used on tombstones of the Pennsylvania Germans. Before long, he was making the rounds of old cemeteries in Berks, Lancaster and Lebanon counties and photographing tombstones of interest.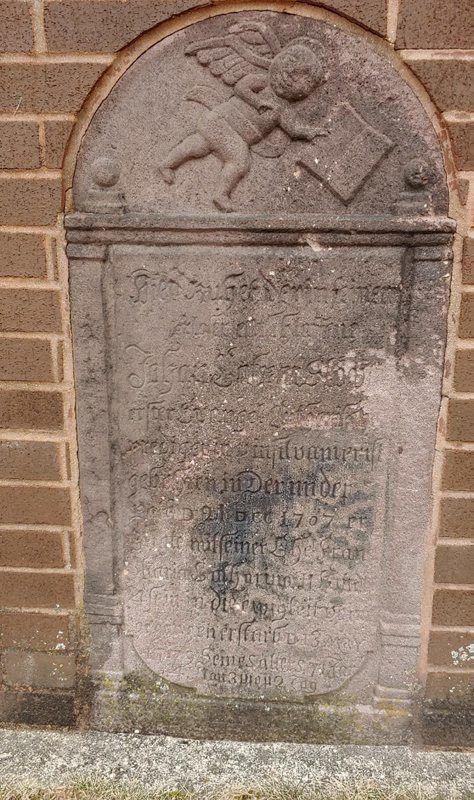 Emery said that studying gravestones yields information not only about history and genealogy, but also points to a culture's religious beliefs, language, artwork and even trade route patterns. One reason that grave markers are especially valuable artifacts is that, in contrast to other historical objects, their size, weight and purpose dictate that their content tends to be undisturbed.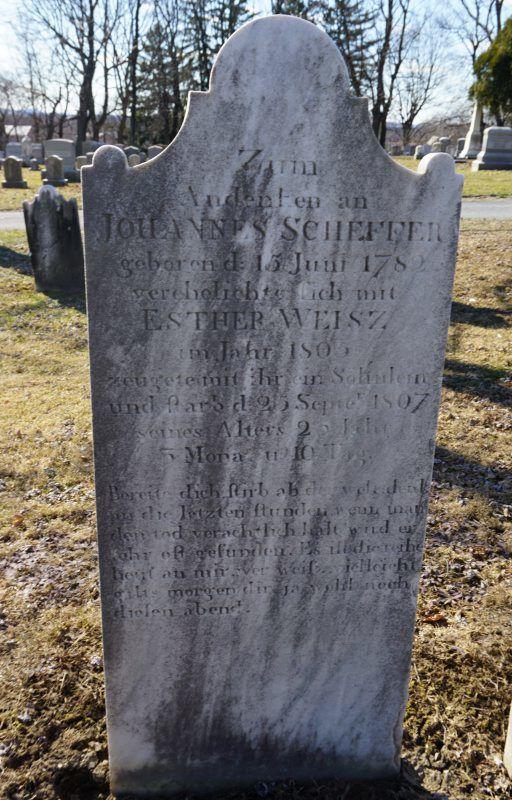 In the 18th and 19th centuries, rock used for gravestones was hand quarried, shaped into a tombstone and then carved with the deceased's relevant information. The tools of the trade were stone hammers and chisels. The amount of stone cutting required meant that a tombstone was a relatively expensive commodity.
In central Pennsylvania until around 1800, native red sandstone predominated for gravestone use, but native fieldstone was sometimes used as well. Emery pointed out that slate gravestones are prominent in a few southern Lancaster County cemeteries. Since it is very hard, slate retains crisp-looking carvings for a long time. Pennsylvania clouded limestone, also known as King of Prussia marble, gained popularity as a tombstone material during the 1800s. Also used in tabletops and fireplace surrounds, this stone is notable for its bluish-gray veining. Unfortunately, it does not weather well.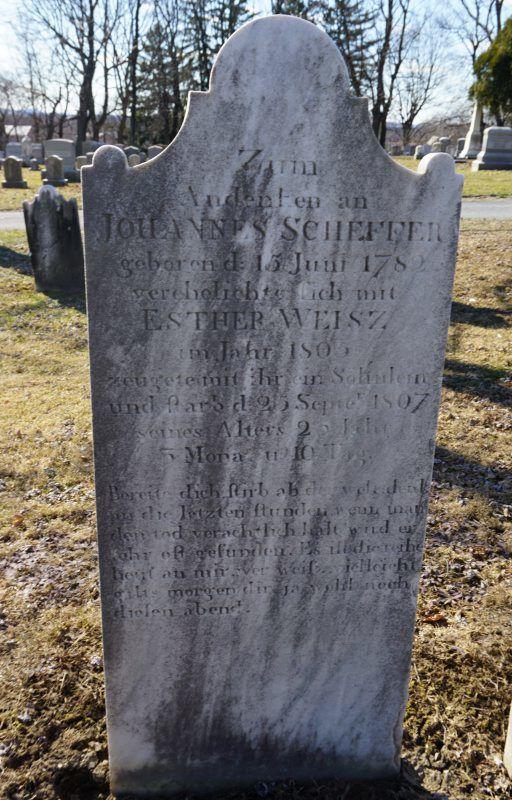 By the late 1800s, marble and granite became the prevalent materials used for gravestones.
Most early tombstones were rectangular in shape, often with an arched top. However, Emery said there were other styles as well. In the late 1700s, ledger stones were used for important members of a community or congregation. These large, flat engraved stones were laid parallel to the ground atop a raised foundation. Emery cited local figures Conrad Beissel and Isaac Meier as examples of those buried under ledger stones.
The Moravians had some distinctive burial practices, Emery said. In addition to placing their grave markers, known as "Moravian tablets," flat into the ground, these stones were typically inscribed in English, not German. Rather than burying the dead in family groupings, the Moravian cemetery in Lititz, Pennsylvania, was laid out with a men's side and a women's side. In both areas, burial plots were placed consecutively according to the dates of death.
Emery described how, during the "age of marble," sizeable monuments, often in the shape of an obelisk or life-size figure and bearing a familial surname, were placed in cemeteries by well-to-do families to denote their family's burial area. While local craftsmen made most of the traditional headstones, these large monuments typically came from bigger cities, where they were made in sections that were then assembled on site.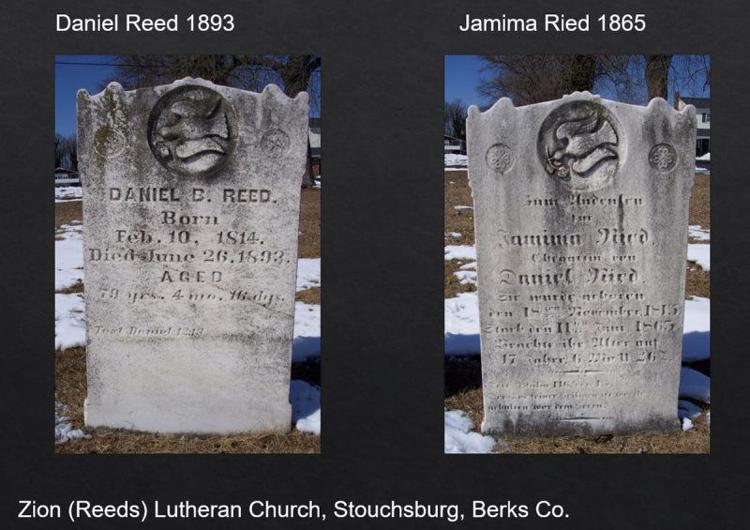 One type of grave marker that has no remaining examples are those made from wood. Emery said it is common to see old graveyards with areas that appear unused because there are no tombstones present. He explained that often these are areas where wooden grave markers have deteriorated and disappeared. In some cases, memorials to these lost ancestors were erected after the fact, often taking the form of a granite headstone listing multiple names of deceased family members. This practice was spurred by America's 1876 Centennial and also by the increased interest in ancestry spawned by the 1890s formation of the Pennsylvania German Society.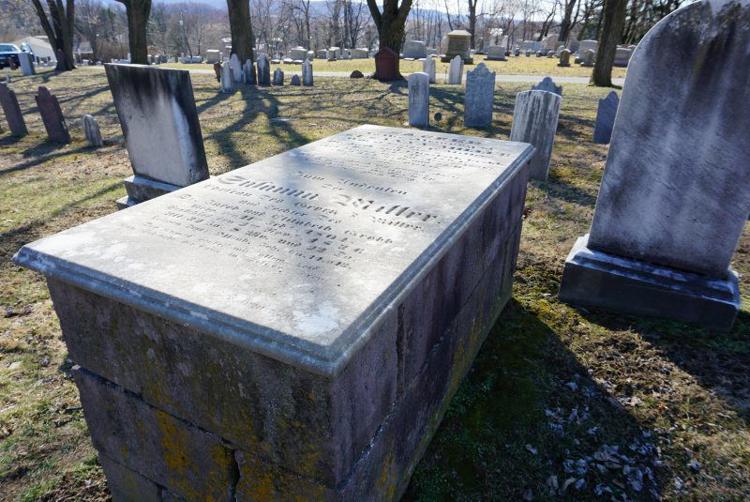 It's helpful to understand the information typically included on gravestones from the 1700s and 1800s, which would usually have been written in German until the latter part of the 19th century. Emery listed the following common components: name of the deceased; name of spouse, or parents' names if a child; the month, day and year of birth; sometimes the place of birth, especially if the deceased had been born in Europe; the month, day and year of death; the deceased's exact age at death, given in years, months and days; and a funeral text or other biblical text.
Emery said that the oldest gravestones have the plainest lettering. This was due to the straight lines of the early chisels being used; for instance, a "U" was shown as a "V" and a "J" was shown as an "I." And, he said that since the lettering engraved on a tombstone was priced per individual character, the thrifty Pennsylvania Germans were prone to using abbreviations.
As for the words most common on gravestones, Emery provided these major ones in German along with their English counterparts:
Hier liegt Here Lies
Gebeine Bones
Begraben Buried
Gebohren Born
Gestarben or Starbt Died
Alt Age (Old)
Jahr Year
Monat Month
Woche Week
Tag Day
Der, die, das or "d" The
Emery said that some gravestones have no inscriptions. While weathering can blur the words on tombstones that traditionally face eastward — the direction from which the Bible says Jesus will return — more often the missing lettering had been painted onto the gravestone and was washed away over time. In an era when many were illiterate, these inscriptions in black and white paint were often done using fraktur script by the local schoolmaster, who was frequently the church organist and a fraktur artist as well. Emery said the Amish are among the few who still use white-painted letters on gravestones.
Emery highlighted the folk-art aspect of Pennsylvania German tombstones, citing the variety of gravestone decorations he had encountered in his studies of old graveyards in the Lancaster-Reading-Lebanon area. He found many different engravings of human forms portrayed, such as a winged woman and a cherub with fruit. There were also occasional examples of death symbols, ranging from skulls and long bones to hourglasses; these tended to be found on the earliest Pennsylvania German gravestones from the mid-1700s.
More commonly, Emery said, he found decorative images like hearts, six-pointed stars, four-leaf clovers and three-pointed tulips, which are thought to symbolize the Holy Trinity. He said these are the same designs found locally painted on barns and blanket chests, or depicted in frakturs and quilts.
The transition period from Pennsylvania German language tombstones to those in English occurred in the latter half of the 19th century. Emery presented as evidence two gravestones in the cemetery of Zion (Reed's) Lutheran Church in Stouchsburg. When Jamima Ried died in 1865, her husband, Daniel, had her gravestone inscribed in German. When Daniel died in 1893, his last name had been anglicized to "Reed" and an English font was used, signifying the end of a cultural era.