Tractor collectors are more than a bit like football fans. Both can be fiercely loyal to their teams and their colors, they buy tons of merch, they're immersed in the history and minutiae of their "teams" and they're not averse to hurling insults at each other and the others' teams/machines.
Actually "hurl" might be an appropriate description for fist-clenched, tight-jawed verbal confrontations between Eagles and Cowboys fans. But if you happened to be at the Rough & Tumble Engineers 71st annual threshermen's reunion in Kinzers on Aug. 17, and if you happened to be checking out a 1950 John Deere Model M, as was this reporter, and a guy in a Massey-Ferguson hat happened to walk by while you were checking out the M, the Massey guy might say, "Huh. You're looking at the wrong color, buddy."
Only it wouldn't be a hurled insult, it would be a gentle lob from a guy who's smiling a bit as he disparages a gleaming hunk of old iron. Because no matter the hue of the ride, the red tractor guy and the green tractor guy both respect the fact that no matter what color they take to the field, they and their machines both do hard, sweaty work that feeds the world and pays down the mortgage.
Unlike the giant $10 million green-clad lineman, armored from head to foot, who takes to a carefully coiffed field not to work but to play...well, probably not a good idea to take this line of thought too far, because a lot of tractor guys hereabouts really, really like their Eagles almost as much as they like their tractors.
Almost.
We didn't ask Jesse Knaub who he roots for on Sundays, but we know for certain he's a big fan of John Deere green. He's also a big blue fan, with a bachelor's in science and a master's in biotechnology from Penn State. That makes him a member of two of the planet's most fiercely loyal groups of fans.
Knaub is something of an anomaly in the world of tractor collecting. He's not a farmer but a process scientist at the Exton facility for Eisai US, a subsidiary of a Japanese pharmaceutical company. He's younger &tstr; 40ish &tstr; than most collectors, and only has two tractors. Or only has six tractors. Or maybe it's seven.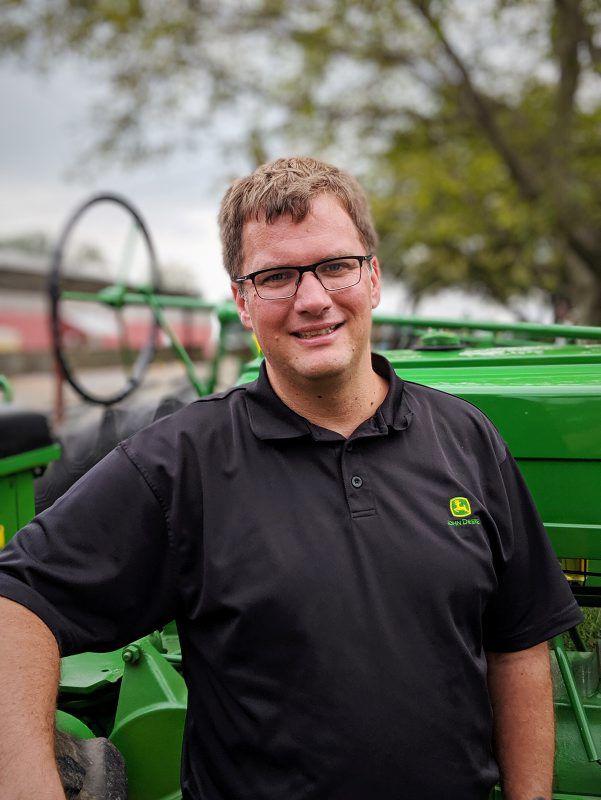 He owns some in partnership with his father-in-law, Terry Wilt. He is nevertheless current president of the Waterloo Boys of Southeastern Pennsylvania, one of the country's preeminent John Deere collector clubs. The Waterlooy Boys number about 300 and their big green toys number in the thousands, according to Knaub.
From the Beginning
They are called the Waterloo Boys because that was the name of the first tractor marketed by John Deere & Company. The name and the tractor were acquired in 1918 when Deere bought out the Waterloo Gasoline Engine Company in Waterloo, Iowa. The company had been building tractors for a number of years. In its first year in the tractor business, Deere sold 5,634 Waterloo Boys. It continued using the Waterloo Boy name until 1923, when the John Deere Model D was introduced.
In the early part of the 20th century, tractors, which ran on kerosene and gasoline, revolutionized agriculture by replacing horses and mules, which ran on oats. Mechanization also freed up millions of farm workers to work in manufacturing facilities like the John Deere plant in Waterloo. John Deere equipment is still made in Waterloo, but the company now has more than 100 manufacturing, sales and administrative operations around the world.
No matter how big, sleek, efficient, air-conditioned and self-driving new tractors are, nothing can quite match the historic allure of the early Waterloo Boy and other John Deere tractors. Many tractor brands have come and gone in the years since John Deere got into the business, but John Deere is the only brand still standing.
Growing up, Knaub spent a lot of time on his grandparents' small farm in York County. Every tractor has a story, according to Knaub. The story of the Knaub family's Model 60 is that it was parked in a woodlot for about 15 years until Jesse Knaub took it upon himself to have it restored. Two parts he didn't have restored were the brake and clutch pedals. They're worn, but they were worn down by his grandfather's boots.
Today, he said, the 60 is in the best condition it's been in since it first rolled off the assembly line.
The restoration project began in part with a suggestion by his wife, Katie, who thought the Waterloo Boys might add some variety to his daily routine, which was taken up largely by driving to work from their home in Gordonville, then coming back home at the end of the day. So he joined the club in 2009, and hasn't looked back.
Help at Home
An antique tractor hobby doesn't have to be nearly as expensive as a boat or antique cars. For example, we used Lancaster Farming's online locator service to find a 1952 Massey-Ferguson Model 30 for $1,750. It needs a bit of work, but that's part of the fun. A little cash, a vision, and lots of elbow grease are important parts of the tractor collector hobby, but probably even more important is a supportive spouse.
Katie Knaub actually edits the Waterloo Boys "Tractor Tread" newsletter, which is about as supportive as it gets. And Jesse gets an occasional hand in the shop from his two daughters, the oldest of whom is 6.
The Waterloo Boys have been a 501(c)(3) nonprofit club since the first members came together in 1990. They have their own barn and meeting facilities at the Rough and Tumble Engineers Historical Association on Route 30 in Kinzers. Their barn houses three of the earliest John Deere tractors, including a 1920 Waterloo Boy, which will be celebrated with a 100th birthday party during R&T's John Deere days on July 24 and 25, 2020.
R&T is usually open Saturdays from May through mid-October of every year, and there are events scheduled regularly throughout their season. The organization's final event for 2019, "A Time of Harvest," will be held Oct. 11 and 12. The R&T website is roughandtumble.org.