Dollhouses and their miniature furnishings have a history going back centuries. Not only has their purpose changed, but what is being collected is different.
Some dollhouses are famous and worth thousands of dollars. One, created by silent film actress Colleen Moore in 1949, is on permanent display at the Museum of Science and Industry in Chicago.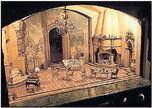 Historically, the earliest examples of dollhouses have been found in Egyptian tombs dating back 5,000 years. They were small wooden models of servants, animals and furnishings placed in the pyramids for religious purposes and their next lives.
Fast forward to the 15th century, when dollhouses were referred to as "baby houses." They were in the form of cabinet display cases. They consisted of individual rooms, strictly for the enjoyment of wealthy adults.
Dollhouses as we know them were first built in the 17th century in Germany, Holland, England and France as a measure of social status.
It wasn't till the early 19th century that dollhouses and their contents were considered suitable for children. An early English toy catalog featured doll and dollhouse miniatures made by the German firm of Lindner in 1840. With the advent of the Industrial Revolution, factories began mass-producing toys, dollhouses and miniature furnishings.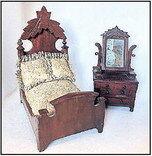 By the 1850s, dollhouse furniture was being made in the popular styles of the day.
In 1889, American department stores, such as Marshall Field in Chicago, and Montgomery Ward catalogs were advertising dollhouses and their furnishings. As families began buying dollhouses and miniature accessories, manufacturers in Germany and America made replicas of mini Victorian furniture.
By 1917, the American companies making them were the Tynietoy Co., Schoenhut and the Wisconsin Toy Co. Up until World War I, Germany produced the most prized dollhouses and miniatures.
The materials that dollhouse furnishings were made of have changed over the decades, as have the dollhouses. By the 1950s, the typical dollhouse sold commercially was made of painted sheet metal and filled with plastic furniture.
CLUES: Serious dollhouse collecting by adults began in the 1960s. A new wrinkle began in the 1970s when "do-it-yourself" dollhouse compartment rooms, made by amateur miniaturists, and furnishings were trendy. Today they are seriously collected. Newly made miniature rooms designed by famous interior designer Michael Hogan are popular and costly.
Check the internet to find out about shows and associations to join.