When I first wrote about collecting transistor radios over a decade ago, interest was beginning to grow. Currently, there are collector clubs around the country. These days, with all of the new advances in technology, prices are mostly low. In fact, with the exception of collectors, who even remembers what a transistor radio is? Some novelty types didn't even look like the usual box-form portable radio.
A now-out-of-print book, "Made in Japan: Transistor Radios of the 1950s and 1960s," began the serious collector interest. It was written by Roger Handy, a conceptual artist and an early collector. He was inspired to collect them because of the variety of unique and appealing designs. The transistor radios became an art form that often was part of pop culture. The fact that they were made in post-World War II eras marked the beginning of America's continuing product competition with Japan. Handy also wrote that the radios were "one of the first distinctive emblems of the emerging post-war youth culture, relating to the issues of defiance, sexual freedom and mobility."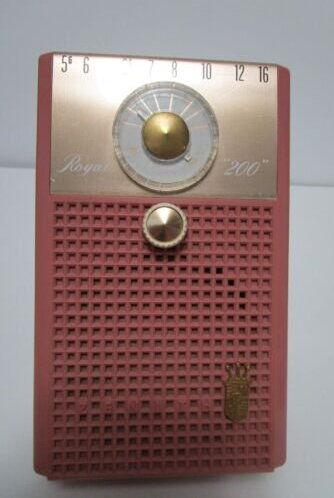 Historically, the transistor became an actuality in America in 1947, at the Bell Laboratories in New Jersey. A team of scientists created the first solid-state amplifier, which they named the "transistor." However, it wasn't until 1954 that the first shirt-pocket size, all-transistor device was available to the public. It was named the TR-1. More than a hundred thousand were sold that year.
By 1955, the TR-1 had received design awards from the Museum of Modern Art and the Industrial Designers Institute of New York. It was later made smaller and using new materials such as plastic. From then on, radio manufacturers such as Motorola and Philco competed using colorful new case designs.
The Japanese officially entered the market in 1955, with a coat-pocket model called the TR-55. The brand name was "Sony" and it was sold only in Japan until 1957, when it was introduced to America. It was followed by other Japanese transistor radio makers such as Toshiba, Mitsubishi and Hitachi.
CLUES: Prices on eBay are as low as $20 or less. Novelties can be priced at $300 or more. There are so many types of transistor radios that many collectors specialize. Collecting can be by design, manufacturer, or if made in America or Japan. There are also minis, with tiny transistors that still work. In addition, there are toy transistors that worked on less than the usual six transistors.
The most popular transistor radios are novelties such as flying saucers and cartoon characters.
There are many advertising transistors including beer and liquor forms.
If you find a rarity in need of repair, don't despair. You'll find help listed on the internet.