NEW PARK, Pa. — As rural properties continue to vanish beneath suburban housing developments and sprawling mall parking lots, passing farmland down through succeeding generations has become challenging.
As a consequence, farms that have remained under family ownership for more than a century, like that of the McElwain and Wilt families, near New Park in southern York County, are becoming increasingly rare.
During the Pennsylvania Farm Show in January, the 93-acre farm was among the state's newest Century Farms recognized for their land stewardship continuing through several generations.
"The whole area was once known as 'Boyd's Woods,'" said Dan McElwain.
He was referring to the history of the place, and how an early entrepreneur in the Wiley family acquired a large tract in the area upwards of 1,000 acres, in the era of 1832-1835.
Today's locals are more familiar with the rural area being known as "Wiley's Station."
The land had stayed in the Wiley family until about 1912. After Mr. Wiley's passing, his widow sold it to a Dunnick, who kept it for the next six years.
"My grandmother, Golda, was a Wiley," McElwain said.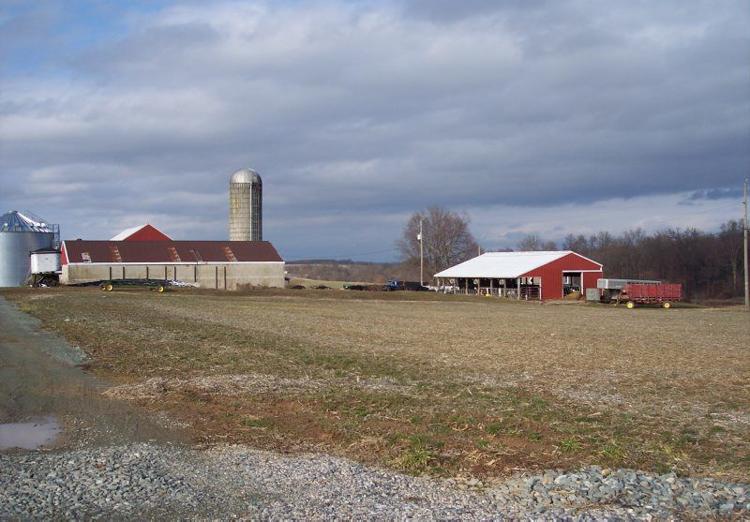 Then, in 1918, Dan's grandfather, Robert Carl McElwain, and his wife, Golda, purchased back 93 acres of the land, paying $107 per acre. They tended a few dairy cows, steers, hogs and cropped the ground.
"He milked cows all his life," McElwain said about his grandfather, who started with eight cows, later expanding to 17 stalls, and also raised meat chickens and turkeys. The couple also raised three children, Robert Wiley, who went by R. Wiley, Laura and Margaret. Laura worked as a schoolteacher and remained single, while Margaret married and raised a family. They both lived on another small farm purchased by the Wiley family in the 1930s.
R. Wiley took over the family farm, adding eight more stalls to the barn and expanding the dairy herd to 25 cows.
"Sometime between 1935 and 1939, they started using milking machines," McElwain said about the family's history of modernization.
His father was still in high school, but the family hoped that R. Wiley would continue on in the farming tradition. They saw the value of embracing the then-new milking technology.
"And, they bought a new tractor, too," McElwain said, noting that his grandfather had been "100% a horse man."
"Nellie was our last horse, replaced in 1948 for a Farmall B-N cultivating tractor," McElwain added.
While his father was very attached to his horses, McElwain today continues to have a soft spot in his heart for the tractors of his earlier years. He has restored, or partially restored, all but one of them, which was used for a trade-in on another tractor upgrade.
In 1954, R. Wiley and his wife, Marian, became the next generational owners of the family's 93 acres. They continued dairying until 1966. When he was 16, Dan McElwain urged his dad to refill the barn with a milking herd, but his father discouraged his son from continuing in dairying.
"Dad didn't think it had any future," he remembers. So, after finishing his schooling, McElwain went to work for the Manifold Feed Mill in nearby Fawn Grove. At age 20, he purchased Manifold's grain tractor-trailer and took up trucking, both local and long-haul drives.
While trucking full-time, from 1971 to 1991, he continued to farm the family's land in his spare time.
Then, the farm again had another generational ownership change, when Dan and his wife, Patty, inked their names in 1991 to a new deed for the 93 acres. Two years earlier, the acreage had been enrolled into farmland in perpetuity, and put into the county's fledgling farmland preservation program.
After two years of farming full-time, raising produce, and dealing with droughty weather, the couple looked for a more steady income. McElwain decided to return to his dairying roots. To enlarge cow housing from the 25 stalls in the barn, a wall was removed and a nearby shed turned into a loafing area, enabling the family to eventually grow the herd to 70 cows.
Their twin daughters, Kristina and Heather, were active in both 4-H programs and the local Kennard-Dale FFA chapter. The girls raised dairy animals and developed their own herds as part of the family milking string. During the years that the family raised and sold fresh produce, the sisters also tended the market stand on the farm's road frontage.
"It was a lot of long hours and we were the labor," Kristina said, recalling how she and Heather enjoyed the chance each day to slip across the road from the stand to have lunch with their great aunt at her home.
A new well dug for the farm in 2002 became problematic after two years, creating herd production problems. Eventually, the problems were traced to stray voltage from a bad wire in the well. While production rebounded, the voltage had taken an economic toll. The severe dairy-pricing downtown of 2009, followed two years later by a poor crop season, combined to convince the McElwains in 2012 to sell their milking herd.
No longer milking full-time, Dan tracked down the owner of the tractor-trailer he'd sold years earlier to go into full-time farming and bought it back, returning to the business of hauling grain and fertilizer. Today, he continues trucking, hauling for The Mill, based in White Hall, Maryland.
Daughter Kristina and her husband, Greg Wilt, want to continue the family's heritage of continuous land stewardship. In 2018, a century after her great-grandparents bought back 93 of the original Wiley family acres, Kristina and Greg became the latest generation to own the farm.
While Greg tends to the daily farm operations, Kristina is a full-time herd technician for Lancaster DHIA. Their children, Wiley, 16, and Emma, 6, help with the farm's chores and are involved in various 4-H projects. Wiley is looking ahead to continuing the family's farming heritage and plans to study diesel mechanics in preparation for his career path.
Heather, a bank teller, and her husband, Scott Houser, a self-employed trucker, have a farm near Thomasville. Their children, Katie, 15, Mason, 13, and Allie, 9, just like their Wilt cousins, are active in York County 4-H programs.
"And now I get to do the fun things," Dan McElwain said about being able to continue helping with the farm when he's not on the road hauling grain or fertilizer.
One of those "fun things" will be constructing a roadside frame for the large sign they were presented with during the Farm Show recognition, designating the property as a Century Farm.
And, with this New Park farm addition, the tally of York County's century operations rises to 52.
York County also has nine bicentennial farms, which are those farms that have 200 or more years of continuous family ownership.