SPRING GROVE, Pa. — During his childhood years in New York City, Paul Cusumano's family always had "little patches" of gardens.
"It was always my dream to have an old farmhouse," he said recently.
In 2005, that dream became a reality, when Cusumano and his wife, Diane, a Maryland native, purchased a small farm in southwestern York County. Since then, the couple have developed their passion for growing plants into a native-plant nursery business.
Their Meadowsweet Native Plant Farm business is aimed at filling another of Paul Cusumano's goals: to retire early.
"I wanted a 'hobby' income that could be developed toward retirement, and I loved this so much that I looked for it to help make up the early-retirement income difference," Cusumano said.
He currently continues his full-time employment with Pennsy Supply stone quarry, but spends much of his off-job hours dedicated to the couple's native plant business.
With no extensive gardening background, the Cusumanos began their initial planting venture on the property with trees that would tolerate the soggy conditions of its meadow areas. Much of the land was overgrown, and Paul remembers mowing down grasses that were taller than his tractor and bush hog equipment.
"We planted at least 100 trees to start with —moisture-loving species like birches and black willows. I had no desire to fight with Mother Nature," he said.
Diane Cusumano tackled landscaping, seeking out hardy perennials that would thrive under the conditions around their farm, including shady areas beneath large, old trees surrounding the stately farmhouse.
To learn more about native plants, the couple self-educated themselves at plant sales and events sponsored by MAEscapes, or Mid-Atlantic Ecological Landscapes Partnership. This Penn State Cooperative Extension program was developed to help educate gardeners and landscapers to select and maintain environmentally sustainable plantings, using species native the region.
"It's a learning curve," Paul Cusumano said of establishing such a new business and learning the "ins and outs" of plant propagation, sales and dealing with sometimes-quirky weather.
After several years of digging, dividing, seed saving and growing out plugs from suppliers, as well as ongoing study and experimentation with native perennials, Paul and Diane had expanded their inventory to the point where they could begin some limited marketing. A few signs put up around their area initially generated a small amount of local customer interest.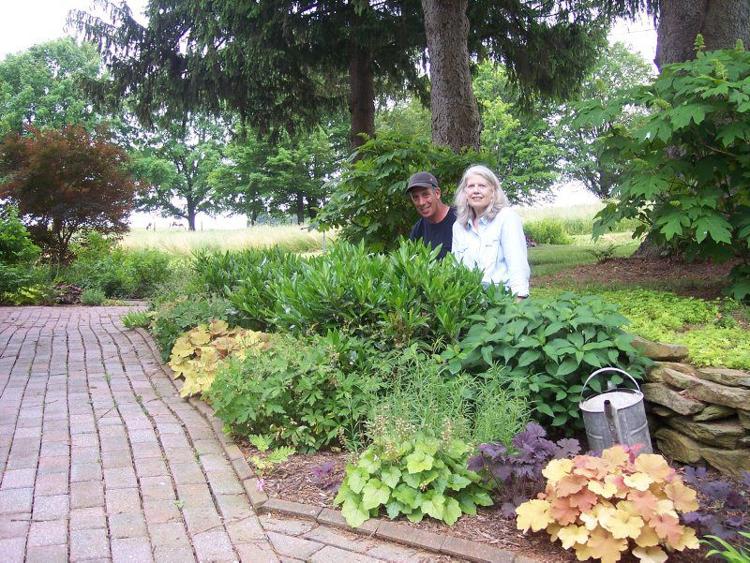 Most of its business growth has come from word-of-mouth and happy, repeat buyers. The biggest customer contact, however, developed as a result of the Cusumanos marketing through area plant sales. A friend of Diane's hosted a large sales event and then additional contacts were made through MAEscapes plant sale attendees. That early marketing strategy has continued to serve them well.
Customers are welcomed to the nursery to observe native perennials and shrubs in their preferred environments, but currently visits are by appointment only.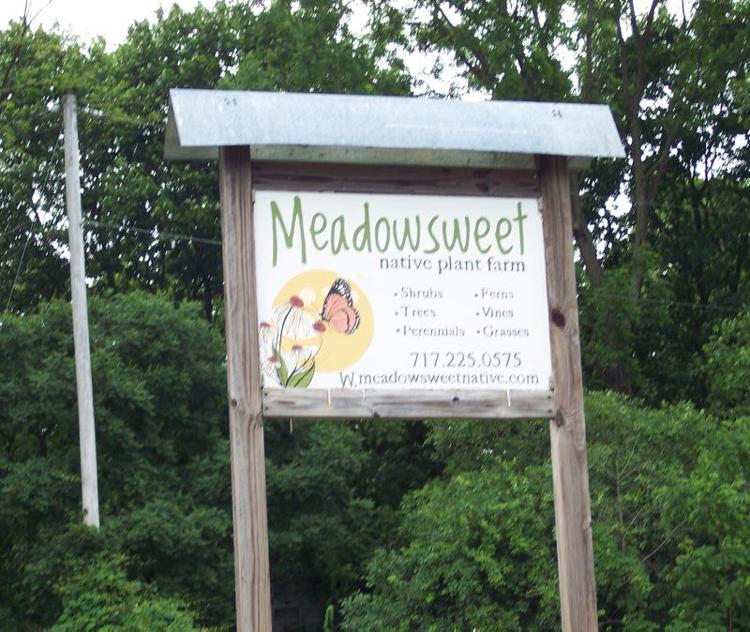 The Cusumanos' demonstration area is their own extensive plantings around the house, barn and farm, beautifully landscaped with the native herbaceous perennials and shrubs in which they specialize.
Butterflies, bees, hummingbirds and a wide variety of other insects visiting the flowering plants attest to the success of natives in attracting and supporting critical pollinator species.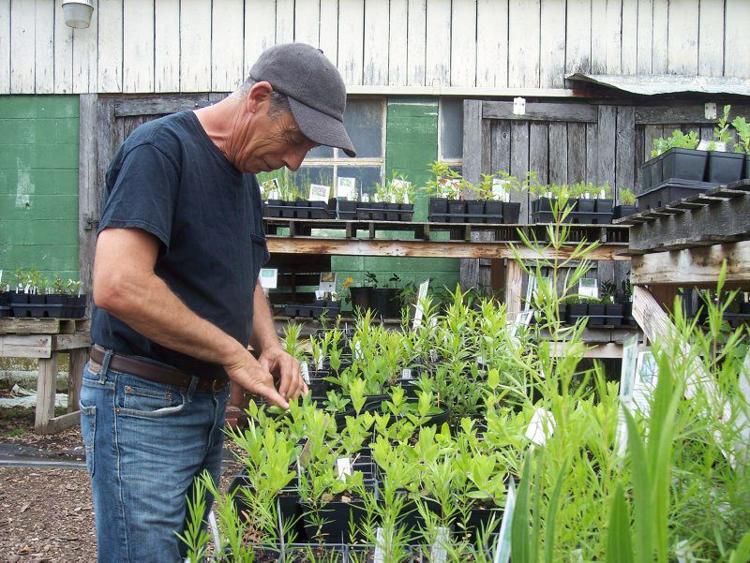 "We looked at wholesalers, to see what they had for ideas to expand our offerings," Paul Cusumano said.
"Now we have a pretty wide variety of native perennials, and have been adding some native shrubs. We didn't make any money the first few years, but the last two have been more profitable," Paul said about their re-investment in plants, materials and supplies that was necessary to get their inventory and sales offerings up and running.
"You have got to love it to do this. And, spousal support is so important and goes a long way toward success," he said. "Most weekends, from spring through early summer, and again in the fall, we are away doing plant sales somewhere."
The weather has a significant impact on plant sales, they have found. Pleasant weather readily draws customers eager to begin planting in the spring. But frequent rain, like last year's continuing downpours through much of the season, can wreak havoc with customer purchasing.
They are finding that more and more people are interested in the types of plants they sell.
"The public is being educated more on natives, and doing their homework," Diane said. "We have a lot of interest in our customers, and we want them to be successful with and enjoy their plants. It's a wonderful thing to hear when people are happy with them."
Trends come and go in native plants, just as they do in other retail fields.
"Elderberry is a 'hot' shrub right now," Diane Cusumano said. She believes that relates to the current popularity of elderberry syrup, made from the dried berries, and believed by some to be an antioxidant and helpful in warding off colds and flu.
Shrubs have been offered by Meadowsweet on a small scale since last season, primarily those providing berries and floral attraction for pollinators. Most are propagated by digging offshoots from parent plants, including the meadowsweet shrub which grew on the farm and from which the nursery got its name. This shrub's abundance of white flowers in early summer draws many pollinators.
As veterans of a native plant nursery start-up, the Cusumanos strongly advise others who might be considering venturing into a similar business to "start small." They also emphasize that plant cultivation and the nursery sales business require a great deal of physical labor, from digging, dividing, potting and soil moving to lifting, loading, moving and set-ups of plants for marketing.
"Go to a local native plant nursery and see what they are doing," the Cusumanos recommend to would-be plant-nursery entrepreneurs. "And you need to have some experience in growing things. It takes time, it takes space, and you need the right conditions for the plants to do well. And, you have to love it."
Meadowsweet does no formal advertising, but a website outlines its mission, background and the extensive list of native plants that are available for sale.
Having initially gotten their "feet wet" through their education and work with MAEscapes, the Cusumanos continue to be enthusiastic supporters of the Extension program. Later this summer, they will be one of the host sites for a MAEscapes annual tour.
For more information, go to meadowsweetnative.com or call 717-225-0575.