LANCASTER, Pa. — Cars, trucks and buses whizzed by on Route 30, just north of downtown Lancaster. It was about four in the afternoon, and there was also a steady stream of cars on Farmingdale Road, a popular but once little-known shortcut between some of the city's most heavily traveled thoroughfares.
Farmingdale Road bisects a 63-acre farm that's owned by brothers Robert and Marlin Miller. The Millers' land and an adjoining property are the only remnants of a landscape that once justified the "Farmingdale" label.
It was late afternoon on Wednesday, Oct. 30, and Pennsylvania Secretary of Agriculture Russell Redding had stopped to visit the Millers on his way to the annual dinner meeting of the Lancaster Farmland Trust. The trust has been a key partner with the county and state in obtaining perpetual conservation easements on more than a thousand farms and well over 100,000 acres of the county's most productive soils.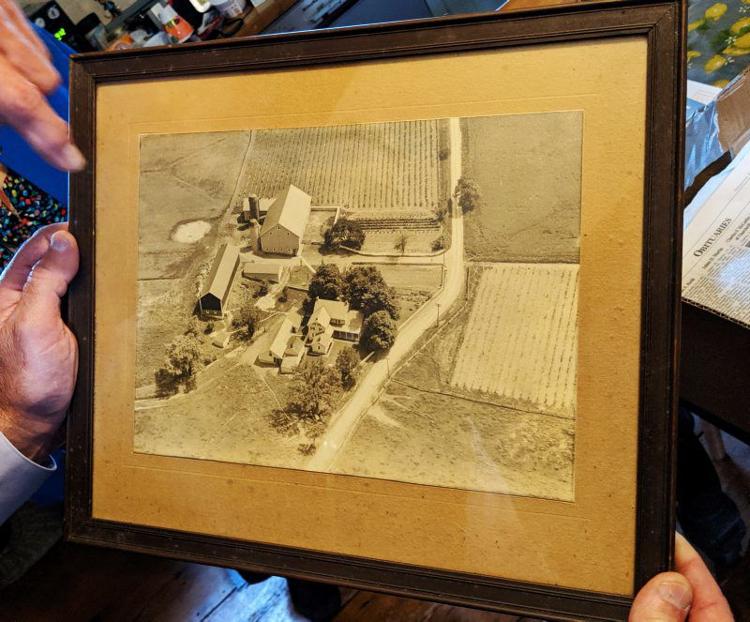 Standing in the front yard of the Miller ancestral home, Redding looked north to the Route 30 traffic, then west to a development across Farmingdale Road. In that sweep, his gaze took in raw land which, in the right hands — or the wrong hands, depending on your point of view — could be worth millions of dollars.
"How do you value that?" we asked. "How do you begin to figure out the cost of preserving it?"
"I wouldn't know where to begin," he said.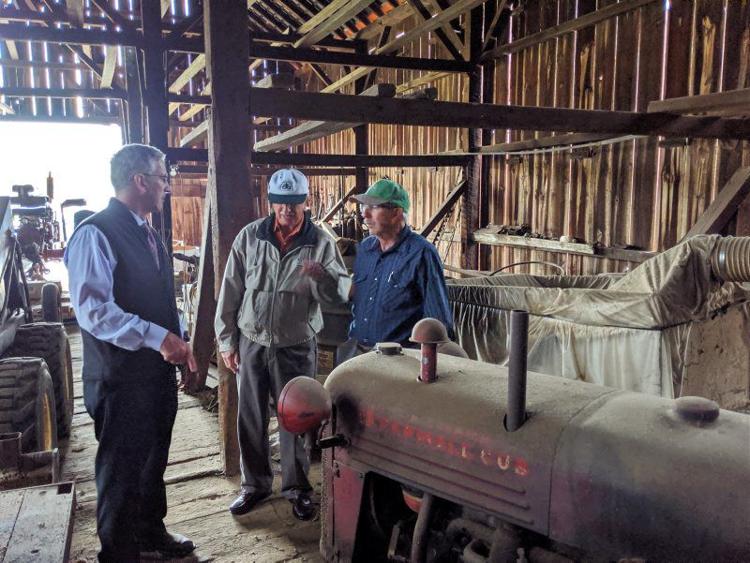 The issue is not just the Miller farmland, it is also the history of the place. The brothers are the direct descendants of Hans Brubaker, a German settler who bought the property from an agent for William Penn. The bothers are the ninth generation of their family to own and live on this land.
Brubaker bought 700 acres in 1717, in what is now East Hempfield Township, for about 49 cents an acre, or approximately $350. Experimenting with a variety of online inflation calculators, that would come out to about $3,500 an acre in today's dollars. Not a bad deal today, actually, for Lancaster farmland intended for agriculture, but it's unrealistic. According to Jeb Musser, deputy director of the Lancaster Farmland Trust, farmer-to-farmer land sales in the county go for $20,000 to $25,000 per acre.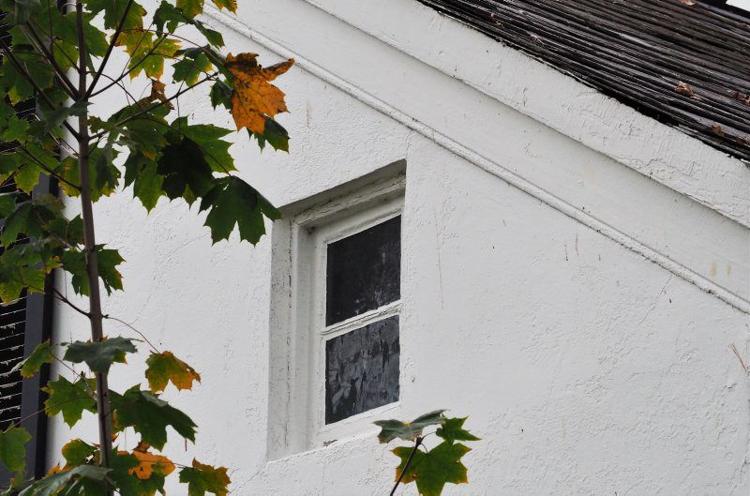 That doesn't compare to the nearly $90,000 per acre the High Real Estate Group paid three years ago for 80 acres of farmland which is literally in the Millers' backyard. It is home today of the Crossings development off Harrisburg Pike. High filled the land with a hotel, apartment buildings, retail shops, a Wegman's grocery store and all the concrete and asphalt those uses require.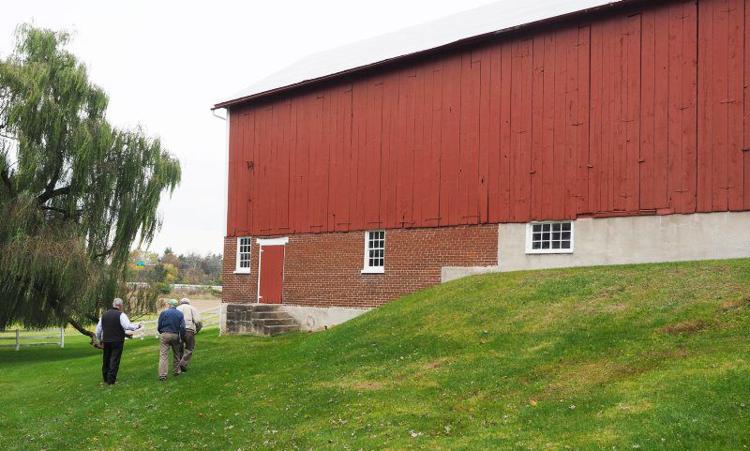 The spread between $25,000 and $90,000 — $65,000 an acre — is the development value of one acre of the Millers' farm. The total value of the land as farmland is approximately $25,000/acre times 63 acres, or $1.57 million. As raw developable land, the property is worth $90,000/acre times 63 acres, or $5.67 million, a difference of $4.1 million.
In purely economic terms, if the brothers agreed to attach a perpetual conservation easement to their deed, they could get a check for $4.1 million. Or they could donate a portion of their development value and accept a check for an even $4 million. Or they could donate the entire development value and take a symbolic check for $1 in return for the transfer of that development value to we the people of the Commonwealth, who would guarantee that those 63 acres just outside Lancaster city limits would stay farmland in perpetuity.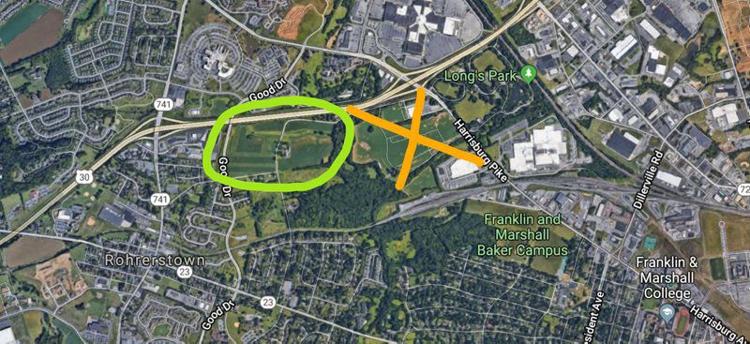 We the people would also give up the ability to collect taxes on the land's highest use value, "highest use" again depending on your point of view. Farmland taxed as farmland is taxed at a much lower rate than developed land. That lower tax rate is a permanent covenant between government and the farmland owners, whoever they may be now or decades or a century or two in the future.
"Perpetuity," Secretary Redding said, "means forever and a day." Once an acre is preserved it's always preserved.
Pennsylvania, and Lancaster County in particular, has done a model job of farmland preservation. "We have 550,000 preserved acres throughout the state," Redding said. "That's a testament to how much we value farmland."
Redding said he continues to be amazed at the results of the 1988 statewide ballot which authorized the establishment of a bureau of farmland preservation within the Pennsylvania Department of Agriculture. He likewise continues to be amazed that, compared to their rural cousins, urbanites were more than twice as likely to vote for preservation.
A lot of sentiment and a lot of dollars have been lavished on the state's preservation efforts. The dollars can be measured, but the sentiment can't. The Millers' 300-year family history may be huge in the family's hearts, but it will never register in anybody's bank account.
Not that it seems to matter.
The brothers are a couple of down-to-earth retired guys who have embraced their role as custodians of their family's history, and curators of the well-maintained buildings and the artifacts they contain. They grew up on the farm, and Robert still lives in the 13-room farmhouse, which bears an 1810 cornerstone. Marlin, retired from a division of Tyson Foods in New Holland, lives a mile or two away, but keeps his collection of antique tractors at the farm.
The family has produced many crops over the years, from corn and wheat to grapes, celery and tobacco. For a quarter-century, Marlin and his late wife grew an acre of strawberries. They sold berries in the spring and pumpkins in the fall, using a tobacco wagon as a self-service stand. That business ended about 20 years ago because of pumpkin thieves, Marlin said.
Today the farm is a no-till soybean and hay operation. The brothers hire custom operators to do most of the fieldwork, but they maintain control of seed selection, management decisions and crop marketing.
Brubakers owned the original land and also the various parcels sold off, inherited by, or gifted to other generations of Brubakers until Abraham Brubaker's daughter, Elizabeth, married Tobias Miller. On April 2, 1832, Tobias and Elizabeth bought Abraham's land. All the owners since then have shared the Miller family name.
The brothers were obviously more connected to the family memories and the historic (rather than the market) value of their farmland. They are enrolled in the state's Clean and Green program, which gives farms a property tax break and encourages keeping land in agriculture.
The Miller brothers are in no rush to cash in on the sale of their development rights and they may never do so. They are waiting patiently, because they are patient men, to see if Marlin's grandchildren may one day want to take over the farm.
"We'll see what happens in the future," he said. "You never know."