GREENWICH, N.Y. — Sale of development rights at John Hand's 425-acre produce farm allowed him to install money-saving solar power and state-of-the-art irrigation.
More importantly, it provided peace of mind by getting his business out of debt and providing a substantial nest egg for retirement.
But the decision wasn't easy because conservation easements, which prohibit residential or commercial development, are permanently binding.
"I couldn't help wondering, when I'm in my grave, if one of my future heirs is going to curse me for what I've done," Hand said. "Then I was surprised at how many people thanked me. Local people appreciate the fact that they know it's going to be there forever to provide food for the community."
Hand shared his experience with attendees of a New York State Farmland Protection Program information session led by Chris Krahling, of the Agricultural Stewardship Association, a non-profit land trust serving Washington and Rensselaer counties that has helped conserve more than 22,300 acres since its inception in 1990.
Krahling thoroughly explained program requirements and the process for submitting applications for the next round of state grants, expected to be announced next summer.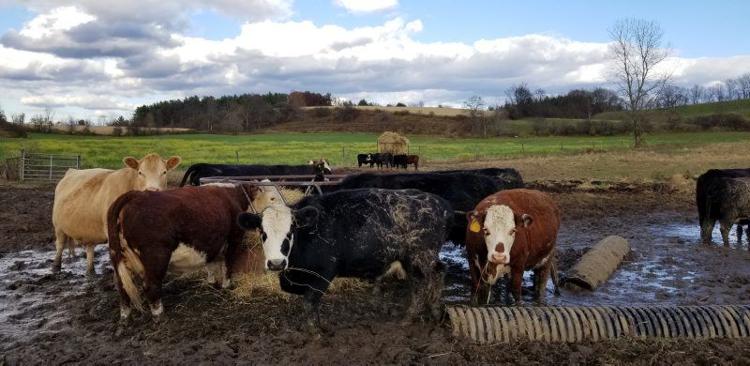 "We encourage farmers to talk with their heirs, talk with their kids before doing this," he said. "There's no undoing them. Once development rights are extinguished, they're gone."
The program allows people to stay on their land, which they continue to own. But it can never be turned into a subdivision, retail enterprise or industry.
"The purpose is to make sure that land can still be farmed," Krahling said. "Protected land is productive land."
For approved projects, the state pays owners up to 87.5% of a farm's development value. There is a $2 million cap and most awards are for several hundred thousand dollars. Typically, the farm owner donates the remaining 12.5% worth of development value.
First, an appraiser must be hired who determines the land's overall value, which is comprised of its separate development and agricultural values. If and when development rights are sold, the farm owner must still pay taxes on the land's ag value.
The land may still be sold or leased, but a legally-binding deed runs with the title, prohibiting future development.
A conservation easement is a formal agreement between farm owners and the land trust that helped them, such as ASA.
"We do all the heavy lifting and help people through the grant process," Krahling said.
Anyone wishing to sell development rights must submit a pre-application by Dec. 31. A local review committee then rates and ranks requests based on the likelihood of their gaining state approval.
Completed applications will be submitted to the state next spring.
To be eligible, projects must be consistent with local farmland protection plans and must involve at least one farm operation, which may include rental lands.
Good projects protect viable farmland at an active farm in an area faced with intense development pressure.
"The state puts a lot of weight on a farm's sustainability," Krahling said. "They want to know they're investing in a strong farm operation."
Projects that provide buffer for a significant ecosystem or habitat such as wetlands or a state forest are also viewed favorably.
Factors such as the farm's size, soil type and proximity to adjoining farms are also considered. Priority is likely given to dense agricultural areas, especially if neighboring farms have already sold development rights, so large blocks of land would be protected. Krahling pointed out common mistakes people sometimes make on their applications. These include:
• Failing to disclose reserved rights such as cell towers, life estates, rights of way, mineral leases and mortgages.
• Not disclosing all legal land owners or if the applicant also owns adjoining land.
• Not providing enough detail about the farming operation.
Once awards are announced, it takes from one to two years to complete the legal process and close the sale in order for farmers to receive money from the state.
"If you need money immediately this project isn't the one," Krahling said.
For successful projects, the ASA or other land trust makes annual inspections to make sure terms of the agreement are being upheld.
Hand encouraged farm owners who obtain grants to work with a lawyer, financial advisor and tax accountant, who can help make the most of whatever money they get. ASA is hosting another free informational Farmland Protection Program workshop from 7-9 p.m. on Thursday, Nov. 14 at Washington County Cornell Cooperative Extension Annex Building in Hudson Falls.
Registration information is available at AgStewardship.org. Krahling can be reached by email at Chris@agstewardship.org.