LANCASTER, Pa. — A packed audience chuckled, joked and bid quickly enough on Wednesday night to raise funds to preserve two Lancaster County farms and part of a third.
In the Acres For Auction event, auctioneer Steve Risk cajoled the crowd to contribute to an easement that will prevent the farmland from ever being developed.
The night's events also included awards for farmers, volunteers and businesses for supporting farmland preservation in the county.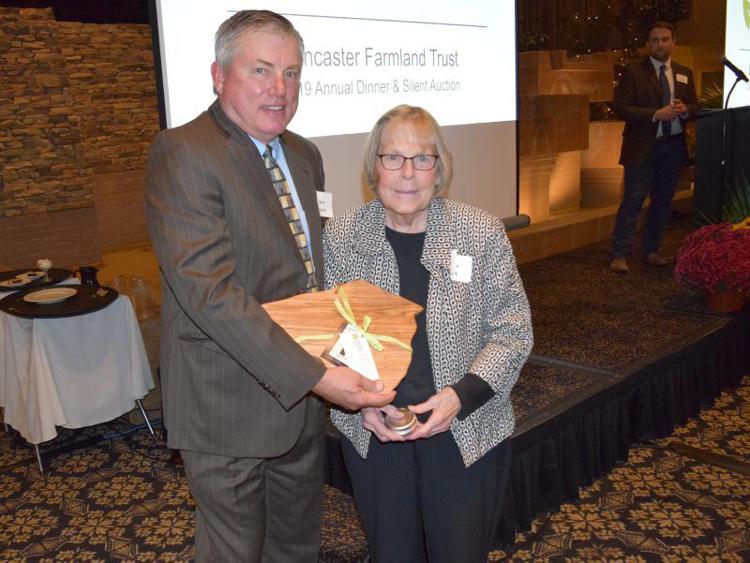 Karen Martynick, the Lancaster Farmland Trust's executive director, also announced that the trust is launching a $7.5 million capital campaign to fund preservation for all 50 Lancaster County farms currently on the trust's waiting list to be preserved.
The funds will also aid the trust's stewardship of its preservation easements into the future.
Landowner Paula Shirk was recognized at the event for preserving her family farm on Shirktown Road in Caernarvon Township this year.
Her daughter, Beth Shirk, who lives in a house on the parcel, said the farm has been in the family since 1792.
"Mom made it her thing to complete the farm preservation process after Dad passed away two-and-a-half years ago. He had started the preservation process," Beth Shirk said. "I'm really happy that we are part of this group and that it continues to grow."
Beiler-Campbell real estate agent Christ Taylor received the trust's Darvin E. Boyd Distinguished Service to Agriculture Award for encouraging farmers to preserve many of their farms over the decades. He also preserved nearly 100 acres of farmland that he owns.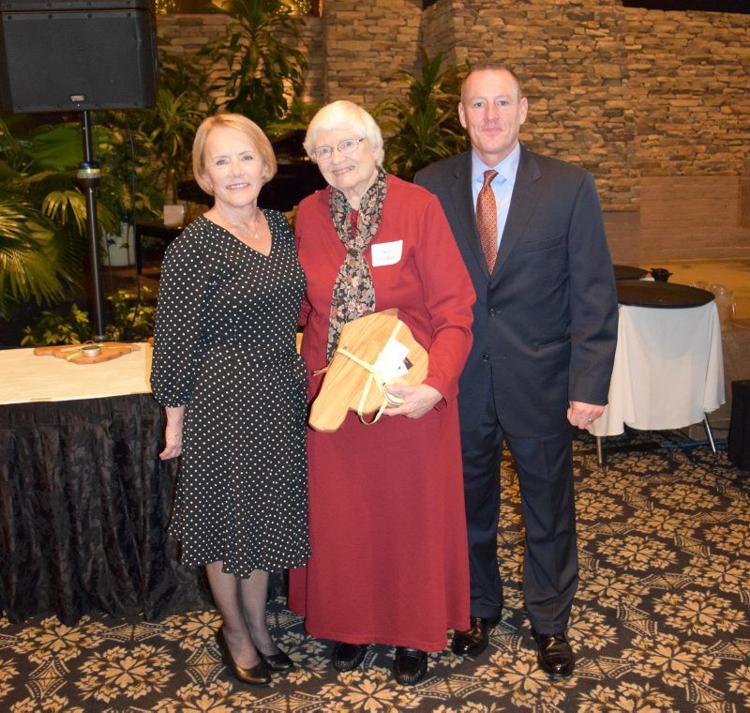 Many farmers have called the trust about preservation after Taylor recommended the process.
"Farmers don't realize when you sell a preserved farm that you get tax credits that help with capital gains," Taylor said.
He added that "It's better to be proactive about preserving farms."
He said he's seen rural communities caught by surprise when a developer swoops in, buys a non-preserved farm and develops it into shopping centers or houses.
"We went from having a large population of farmers to a small percentage of farmers in just 50 years," Taylor said.
Still, many farmers are adamant that they don't want their land turned into a development after it's sold.
The Amos H. Funk Spirit of Cooperation award went to Salisbury Township and supervisors Les Houck and Gordon Hoover for making extraordinary efforts this year to preserve farmland, improve best management practices on farms, and train local agriculture advisers.
Longtime volunteer Kay Collier received the Consider It Done award for being an avid Lancaster Farmland Trust supporter for 15 years. She recently developed a children's book called "We Need Them" about the work of the Farmland Trust.
When a farm is preserved, it should have a conservation plan, Martynick said. The trust can help with efforts to improve water quality in streams and reduce erosion.
If a farm family has objections to using government grants for conservation upgrades, the trust often will provide the funds, she said.
This year the trust began using drones, with landowner permission, to inspect its easements for compliance.
The trust demonstrated the technology to four families at the place where their farms adjoined.
"They were very curious," Martynick said. "One farmer even asked if they could send the drone over one of his corn fields that day because he needed to check out his corn and it would save him time."
During the banquet, Pennsylvania Agriculture Secretary Russell Redding thanked the trust and the work done in Lancaster to save land for future generations.
"Over 30 years ago, Lancaster County had the foresight to begin investing in the future and preserving its agricultural land for perpetuity," Redding said.
The PA Farm Bill, passed this summer, aids the preservation movement by providing a realty transfer tax exemption for the transfer of preserved farmland to a qualified beginning farmer.
And the new Agricultural Business Development Center provides resources will support farm business planning, marketing, diversification and transition planning, Redding said.