FIVEPOINTVILLE, Pa. — Agriculture is the biggest source of Lancaster County's water pollution entering the Chesapeake Bay, but homeowners and businesses also have an opportunity to clean up their local creeks.
Improving water quality does more than satisfy government mandates or improve wildlife habitat. It improves people's quality of life, said Allyson Gibson, coordinator of the Lancaster Clean Water Partners.
Gibson spoke at a July 10 meeting of the Lancaster Chamber's Cocalico/Ephrata Consortium at Weaver's Store.
The goal of the partnership, formed just a few years ago, is to get Lancaster County's rivers and streams clean and clear within a generation.
It's a monumental task that involves local governments, nonprofits, businesses and individuals, and Gibson's job is to help all of those entities collaborate.
The group, which has no dues or official signup, has over 160 partners.
"If you're involved in clean water, you're part of the partnership," Gibson said.
Gibson, the partnership's only full-time staffer, is housed at the Lancaster County Conservation District, but she helps all participants.
The work is funded by grants from the National Fish and Wildlife Foundation, and the Campbell Foundation.
Over half of Lancaster County's streams are impaired, which means the water quality is poor for supporting life.
In the Cocalico area, the impaired streams include the Conestoga River, Cocalico Creek and many of their tributaries.
Some local streams are no longer good for fishing or swimming either.
"If we can't do that anymore, that's starting to impact our own quality of life," Gibson said.
While the partnership emphasizes the environmental and recreational benefits of the work, the Chesapeake Bay cleanup looms large over the project.
By 2025, the states in the bay watershed have to meet challenging goals for nitrogen, phosphorus and sediment pollution reductions — or face possible punishment from the Environmental Protection Agency.
Farm-rich Lancaster County is by far Pennsylvania's biggest source of bay pollution.
As a result, "there is a full-court press around clean water in Lancaster County. We have a bull's eye on us," said Fritz Schroeder, director of development at the Lancaster County Conservancy, one of the partnership members.
The Lancaster partners hope to reduce the nitrogen pollution by 11 million pounds, and also reduce phosphorus and sediment runoff.
One of the strategies they'll use is planting forested buffers along streams. The trees trap nutrients, reduce erosion and provide a cool, shady habitat for aquatic life.
Buffers are often planted on farms, but any tract that holds a stream is a candidate.
At the same time, the partners can help businesses find benefits in the stormwater management projects often considered a necessary evil of construction.
That was easy for the Shoppes at Belmont in Manheim Township.
A stormwater retention basin is part of the landscaping for the shopping center's sign.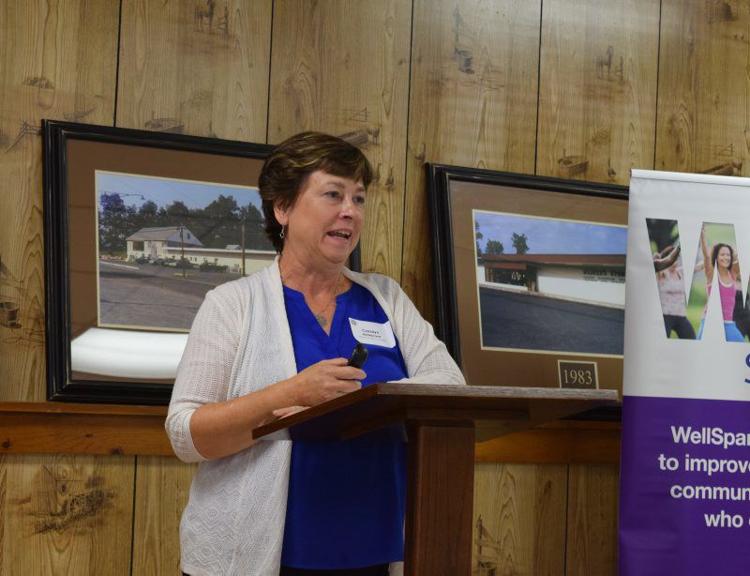 The installation looks nice, but "when I look at that, I see a lot of maintenance," said Carolyn Hildebrand, the manager of West Cocalico Township. "And when I see a lot of maintenance, it's a lot of cost."
A lower-maintenance alternative is floodplain restoration, in which sediment built up around streams by human activity is removed.
Rock Lititz, a rehearsal site for touring musical acts, did a 17-acre stream restoration on its property, a former farm that flooded frequently.
The work allowed the stream basin to hold more water during heavy rains, reducing the flood risk.
And the modifications opened up 9 acres that otherwise could not have been developed, Hildebrand said.
Getting more buildable land also appealed to Landis Homes, a retirement community in Manheim Township without much room to expand.
By restoring a stream floodplain, the business was able to remove some of its retention basins and build 11 more cottages.
"Not too much maintenance. Pretty to look at for the residents," Hildebrand said.
Homeowners can also increase the amount of rain that their ground absorbs.
They can plant rain gardens and replace some of their lawn with deep-rooted plants that can retain lots of water.
And because fertilizer is a major source of nutrient runoff, "we're generally encouraging people to stop fertilizing their lawns and embrace the dandelions," Schroeder said.
West Cocalico Township offers home visits to suggest ways residents can reduce their runoff, Hildebrand said.
In the latter part of 2018, the Lancaster Clean Water Partners led the development of the county's bay plan.
As part of an update to its broader bay strategy, Pennsylvania asked its counties in the watershed to create their own roadmaps for local water-quality improvement.
The plan addresses agriculture, stormwater and data-gathering needs.
"I'm excited to start implementing where it makes sense," Gibson said.
The partnership funds some of its work through the the Clean Water Fund at the Lancaster Community Foundation.
Applications for the next round of funding are due July 26.
Only municipalities and nonprofits can apply, so landowners or businesses can participate by joining forces with an eligible entity, Gibson said.