NEWMANSTOWN, Pa. — When Amber Fessler was using her new home's 1950 double oven, she couldn't turn it on to make pizza. As a newlywed who had just moved into the home with her husband, Dustin, a broken kitchen appliance became the catalyst to the couple's plan for a new kitchen, one they had hoped to delay for a while after they were settled into their new place. It took the couple a while to find a home before they agreed on the .39 acre Lebanon County property. 
"Location was very important to us," Amber said.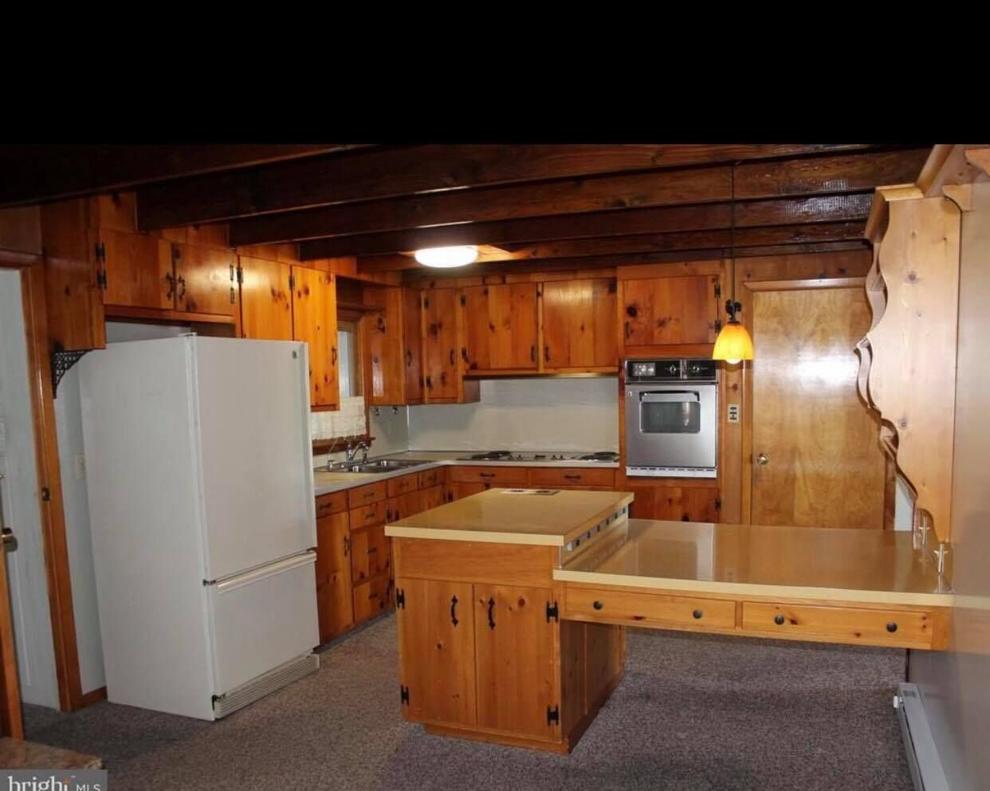 She and Dustin grew up in neighboring Berks County on beef farms. With Amber's work at Penn Hershey, she wanted to be an easy driving distance from it, but also close to her family, and Dustin works full-time on his parents' farm. The house met their need, but also offered them more. 
"We always wanted a little fixer upper until we have enough saved for a farm," she said. 
Let the Renovations Begin
Starting renovations early benefited the couple because it modernized the untouched 1956 home. The previous owner, a cabinetmaker, had lived in it and only made additions such as creating extra storage space with cabinets and closets until moving out in 2019, Fessler said. She and Dustin began renovating by ripping out the pioneer-stained wooden cabinets, carpeting and peninsula, a 1950-style island.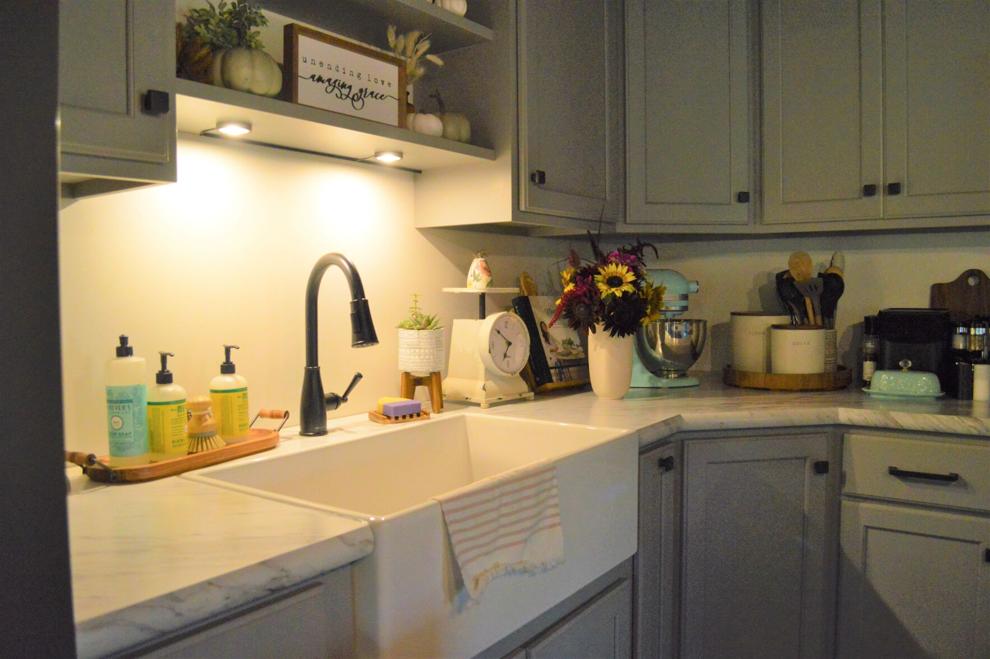 Fessler says that she and Dustin hired a local contractor and plumber, Berry Wessner, who spent two to three days replacing water pipes, rewiring or adding outlets, and doing minor construction on the kitchen counter spaces. He also replaced the old sink with a white porcelain deep-sitting farmhouse sink and kitchen cabinets with deep custom cabinets from Penncraft Cabinetry in Womelsdorf. Wessner helped the couple place the rounded, laminated marble printed material that covers the kitchen island and counter space. 
"I like the rounded edge because then you don't have the lines," Fessler said. 
Amber and Dustin tackled the flooring themselves. The couple removed the old carpet and replaced the house's original brick vinyl with a newer layer of vinyl planks that gives the room a rustic barn feel.  They also invested in some modern kitchen applications like a stainless finished dishwasher and stove with an oven.  There was a lot of debate over what to paint the plain new cabinets in the kitchen. 
"I was nervous going with gray, but I had always envisioned a gray kitchen," she said. 
She and Dustin painted the upper and lower cabinets and island a gray shade called Acier. They also painted the backsplash with a shade of white called origami white. The white paint lightens up the room a lot when the sun shines through the windows, Fessler said. The couple also re-painted the wall that was attached to the peninsula in origami white.
Decorating their Home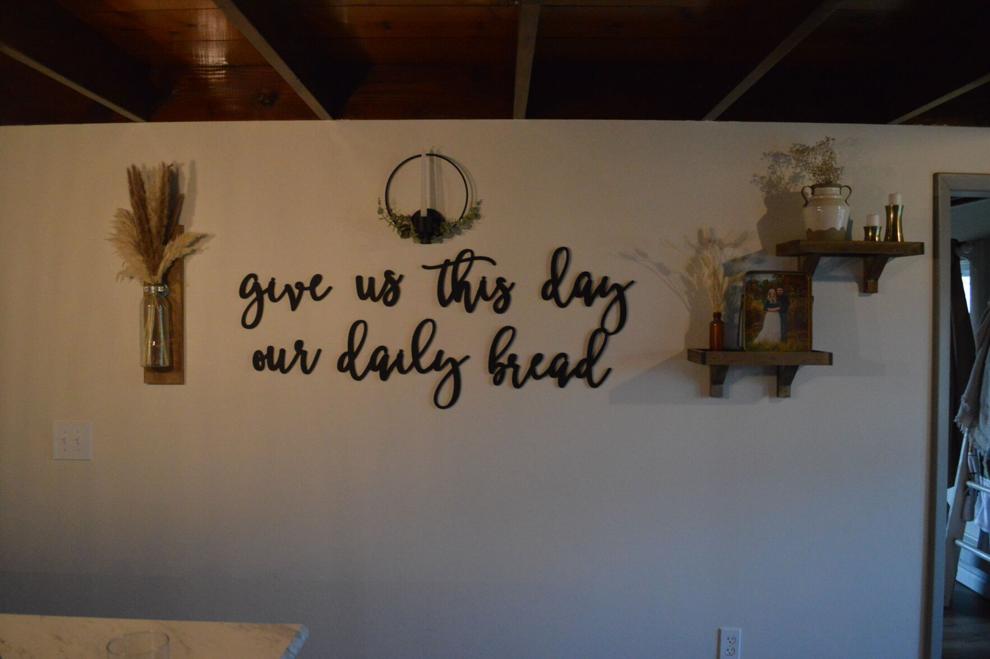 Amber also added a custom design of wooden letters to make the quote, "Give us our daily bread," that she ordered from a crafter on Esty, an online platform for creatives to sell their wares. It was a finishing touch to the room that Amber and Dustin use daily. 
"It's very homey," she said. "We wanted something that felt like home to us."
A Nook For A Bookworm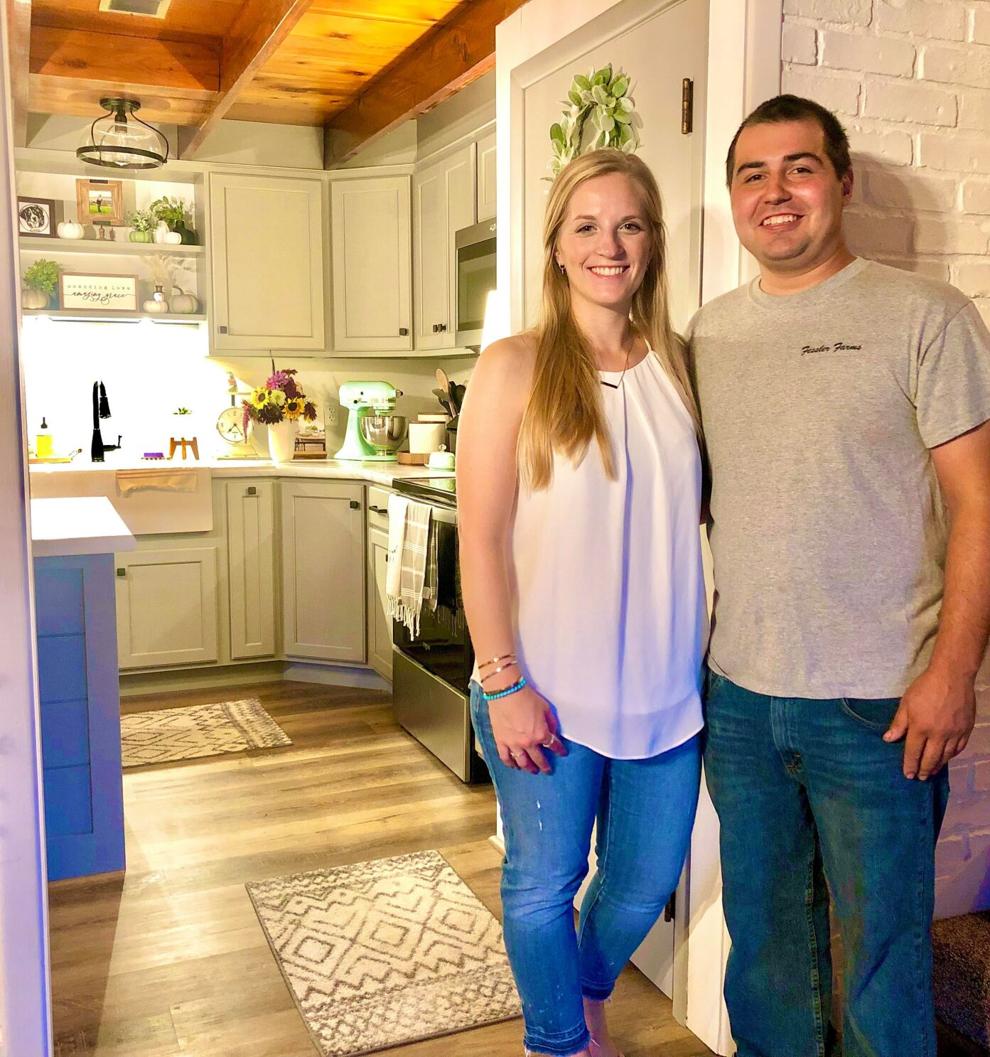 One of the standout features in their home is the nook, or deep-seated window seat near the fireplace. It's a spot in their home that catches a lot of attention from guests and it's one of Amber's favorite places, too. However, the nook didn't receive a big facelift like the kitchen. Amber just placed a slipcover over the original long cushion. She also re-stained the nook's wood paneling and added a rod to hang long drapes to replace the individual lace shades that were covering the windows.
"Having the curtains really frames the space and sets the mood to read a book," she said. 
The couple has yet to finish their improvements and there's plenty to do, especially outside with the patio. But, the Fesslers don't mind. 
"It's been such a fun process and we can't wait to do more," she said.