Mark Bradley's dairy farm in northern Bradford County, Pennsylvania, is a picturesque scene with cows on pasture and a barn that is whitewashed and spotless inside.
It's a true representation of the dairy industry, he believes, and he wants to share it with others to combat what he says are misconceptions about milk production.
So three years ago, Bradley started taking a part of his farm to local classrooms.
Each year, he takes a calf to participating schools while giving presentations on various facets of dairy production, including cow care, crops, milking and the supply chain.
Classes "adopt" the calf, and they follow its growth and development through frequent videos that Bradley sends to teachers from his farm.
At the end of the school year, his Adopt-a-Calf program culminates with an on-farm visit for the students where they get to see the cows in action.
The program provides nonfarmers with a personal connection to the farm during a time when many people are generations removed from agriculture, Bradley said.
"Part of our job as dairy farmers is to push our product and get the truth out there. Farmers are the best source to do that," he said. "Schools are the easiest place to start because kids are eager to learn about dairy."
That eagerness was apparent to Bradley the first year he implemented Adopt-a-Calf. Three classes totaling nearly 70 children signed up for the program, and it has been expanding into other schools ever since.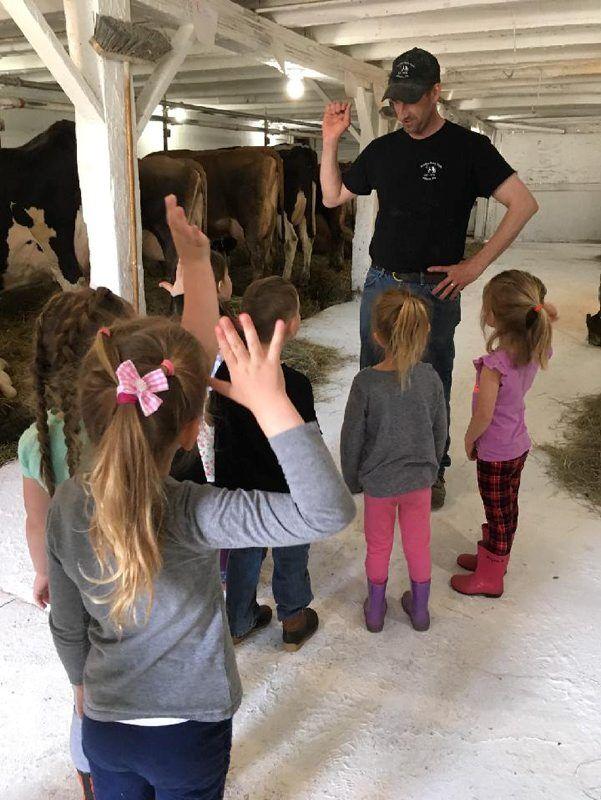 The calf visiting the school is always the highlight.
"When you bring a calf to the school, the whole school stops and everyone comes out to see it," he said. "I take a calf that's born around the start of the school year, and I make sure it has a good temperament. It's always been a positive experience."
Last year's program was conducted virtually due to COVID-19 restrictions, and it still grew in popularity.
He asked teachers to enroll in the program by submitting their email addresses, and more than 75 responded from all over the country. The reach grew even more as educators shared the virtual lessons with their colleagues.
"A lot of homeschool parents signed up last year as well. I really didn't expect it to grow this much," Bradley said. "I wear shirts with the farm name when I run to the store, and I've had parents stop and tell me how their kids are always talking about the program at home. It's been a pleasant surprise."
'The Sky is the Limit'
Due to Adopt-a-Calf's growth, Bradley has had to limits the on-farm visits to local school districts. Travel for schools out of the area isn't feasible. He also used to let the students pick a name for the adopted calf, but with so many kids involved, he was getting too many names.
The program could eventually expand to even more schools, but Bradley is building a creamery on the farm and doesn't have the extra time ... for now.
He did have time, though, to recently publish a children's book, "A Very Moo-ey Christmas," based on his interactions with the students.
"The sky is the limit, but my time is limited too," Bradley said, adding he welcomes other farmers to contact him on Facebook about starting a program in their areas. "I would love to be in more schools, and I hope more farmers do this because it really makes a difference for the future of agriculture.
"Kids, and even adults, have a lot of questions about dairy, and it's nice to have them answered by a farmer and not from a search on Google."
Bradley's experience in the dairy industry began when his parents purchased the farm near Athens in 1979. He's the second generation to run it, becoming a partner in 2001.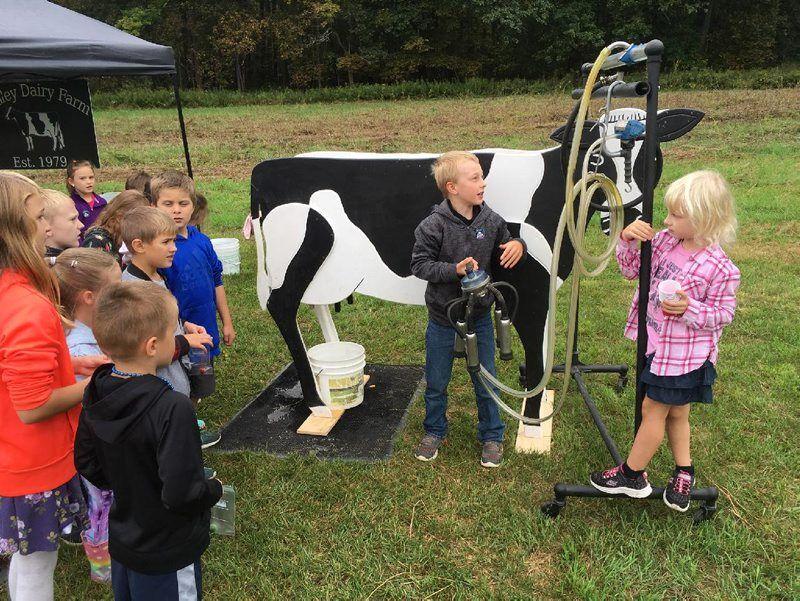 But Bradley's career path wasn't always defined by cows.
He left the farm for four years to attend Lock Haven University, and he intended to become a teacher. But after he got a degree in physics and geology, he decided his passion was dairy.
That hasn't changed, and today he is especially eager to present the occupation he loves in a positive light.
"A lot of the misconceptions I hear are related to what activists are putting out there," Bradley said. "When I explain that we use antibiotics to save a cow's life, and the milk isn't used, it blows their mind to hear the truth about it. It's good to squash those myths and make a difference. That's what drives me."
Perhaps the icing on the cake is when a student expresses an interest in becoming a dairy farmer after listening to Bradley speak and visiting his farm.
"I get a lot of feedback from kids that want to be a farmer one day, and that makes your heart swell to hear that," he said. "All you have to do is give them the idea and see where it goes."
What type of milk packaging provides the best drinking experience?